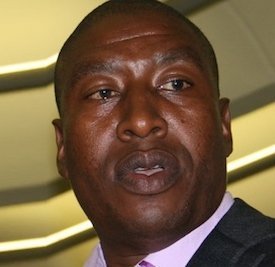 To advance our social mission at Brilliant Earth, we work closely with advocacy organizations in diamond-rich developing countries. Although we have always greatly admired the people who staff and lead these groups, we recently were reminded that their work can be dangerous—and that at any time, they can be called upon to exhibit extraordinary courage.
In this regard, we would like to call attention to the plight of Farai Maguwu, one of our contacts in Zimbabwe. Farai is the director of the Centre for Research and Development, a small non-profit organization based in Zimbabwe that is working to end diamond-related human rights abuses in Zimbabwe's mining fields. We began communicating with Farai about a month ago when we were looking for ways to make a positive impact in Zimbabwe. Little did we realize then that Farai was about to be imprisoned by Zimbabwean authorities—not for any crime, but for exposing the government's own wrongdoing.
In 2008, the Zimbabwean armed forces took over the diamond fields in the Marange region of eastern Zimbabwe and began using forced labor, child labor, rape, torture, and murder to take charge of the area and extract the mineral wealth. The Kimberley Process, the international scheme created to stop the trade in conflict diamonds, has instituted a temporary ban on the export of Marange diamonds, but has stopped short of banning all Zimbabwean diamonds.
Beginning today and continuing through Wednesday, members of the Kimberley Process will be meeting in Israel to determine whether to lift the ban on Marange diamonds, continue the ban, or suspend Zimbabwe from the Kimberley Process altogether.
In advance of the Kimberley Process meeting, the CRD issued a report providing stunning evidence that elements in the Zimbabwean government, in defiance of the Kimberley Process, have been secretly exporting Marange diamonds to the United Arab Emirates. Independent news organizations have confirmed the report's allegations. Additionally, Farai and his colleagues at the CRD have documented continued human rights abuses – beatings, rape, and robberies – committed by Zimbabwean soldiers in the communities close to the diamond fields.
Because of the CRD's track record in defending the rights of Zimbabwe's mining communities, we decided in May to make a donation to the organization. (Through our non-profit fund, we donate five percent of our profits to communities directly impacted by the diamond trade.) We communicated our intention to make the donation and spoke with Farai in late May to discuss some of the details. We were set to move forward.
Then, on May 28, Farai met with Abby Chikane, the Kimberley Process monitor in Zimbabwe, to share some of the CRD's findings. The following day, Zimbabwean police raided the CRD office in Mutare, in search of Farai. Concerned that Zimbabwean authorities were preparing to take action against him, Farai had stayed at home that morning. Police next raided his home, confiscating documentation on recent injustices. According to Farai, he escaped out a window, but police still beat his family and then arrested his brothers. One brother was tortured.
Farai remained in hiding for a few days, organizing a legal defense against trumped up charges, until submitting himself to arrest on June 3. On the eve of his arrest, he gave a radio interview. He remains imprisoned, unable to attend this week's Kimberley Process meeting at which he had been planning to present his organization's findings. He has been named a prisoner of conscience by Amnesty International.
Despite Farai's arrest and the raid on the CRD office, we are hoping that it will still be possible for us to go forward with our donation. In the meantime, we are concerned about Farai's safety. We know that for at least a day and a night, the Zimbabwean government brought him to the Matapi police cells, which human rights organizations believe is a torture center. We wish Farai continued strength and hope. He will be in our thoughts and prayers.