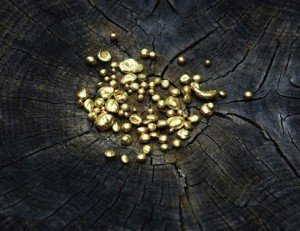 An important milestone has been reached in the effort to create a supply of certified fair trade gold. Thanks to a promising new initiative, thousands of artisanal gold miners in developing countries will soon be able to sell their gold under a new, fair trade labeling system, a partnership between the Alliance for Responsible Mining (ARM) and Fair Trade Labeling Organizations International (FLO). Consumers will be able to buy fair trade gold, just like they already can buy fair trade coffee, tea, olive oil, or avocados.
Although most of the world's gold is produced by large gold mining companies, about 15 percent comes from artisanal and small-scale miners—people who simple tools and equipment to mine for gold. Because many of these miners come from impoverished communities, artisanal and small-scale mining has the potential to be a positive force for economic development; about 100 million people worldwide live in communities that depend on artisanal and small-scale mining. Unfortunately, artisanal miners often do not receive a fair price for the gold they mine. Frequently living in rural areas and lacking access to global markets, they commonly have no alternative but to sell their gold to middle-men at bargain prices. The new labeling system, which will use the labels "FAIRTRADE" and "FAIRMINED," will require that miners receive a fair price for their gold based on international gold prices.
Other problems plague artisanal and small-scale gold mining. First, artisanal miners almost always use mercury, a toxic element, to isolate gold from unwanted rock and minerals. Mercury can cause long-term damage to ecosystems and harm the health of both the miners and their communities. Second, artisanal and small-scale gold mining has been tied to wars and violence in countries such as the Democratic Republic of Congo, where a civil conflict has claimed more than 5 million lives. To address these problems, the new labeling system will require that all gold receiving fair trade certification has been produced in a way that minimizes harm to the environment and that does not cause violence. An "ecological premium" will be paid to miners who avoid using toxic chemicals altogether.
Our experience has taught us to be wary of the risk that mining certification schemes will backfire. The Kimberley Process, the international certification scheme whose stated purpose is to prevent the sale of conflict diamonds, has instead shielded human rights abusers and sapped political will for meaningful solutions. Yet, in this case, the two organizations implementing the fair trade gold standards are credible and ideally-suited to make them work. Since its establishment in 2004, ARM's primary mission has been to improve conditions for artisanal and small-scale miners. ARM works closely with miners themselves and includes them in its governing structure. The FLO is the global umbrella organization for the fair trade movement, and it has experience in labeling over 4,500 fair trade products.
Brilliant Earth has sourced fair trade gold from a mining cooperative in the Chocó region of Colombia. We are proud to say that our supplier of fair trade gold is one of several producer organizations to have participated in a pilot program for the new standards and to have already received certification from FLO and ARM. Thus, Brilliant Earth is already offering fair trade gold that has been certified under the new labeling system. As the supply of fair trade gold expands, we envision being able to offer our customers more products made from fair trade gold to go along with the other jewelry in our collection, all of which is made with recycled precious metals. As always, we will continue to be at the forefront of the effort to make gold mining, and jewelry production in general, more responsible.