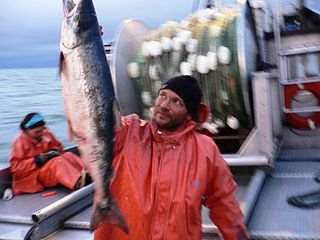 The Environmental Protection Agency (EPA) has released a report showing that a proposed gold and copper mine in the Bristol Bay region of Alaska could be disastrous for the word's largest sockeye salmon fishery and the people who depend on it. The report provides scientific support for what local residents and many others have been saying all along: the mine is a very bad idea.
The proposed Pebble Mine would be located in the Bristol Bay watershed, home to about half the world's wild sockeye salmon. The mine's supporters say that the environmental risks are being exaggerated. But according to the EPA report, the mine's threat to the fishery isn't speculative. The footprint of the mine would destroy up to 94 miles of streams that the salmon depend on for spawning, as well as up to 5,350 acres of wetlands, ponds, and lakes. The salmon fishery employs about 14,000 people and generates $480 million in revenue per year.
The report also looked at what would happen if a dam constructed to hold toxic waste—a dam that could be taller than the Washington Monument—ever failed. It found that a river near the mine would not support salmon for at least 10 years and that nearby streams would be affected for decades. Although the probability of a dam failure is low, such dams are permanent and the odds of failure would increase over time. The report also noted that there could be as many as eight dams.
Local indigenous groups have depended on the salmon for centuries and are adamantly opposed to the mine. They are joined by a growing coalition of environmental groups, fishermen, jewelers, and political leaders.  Although the Governor of Alaska and many of its politicians support the mine, the study convinced Alaskan Senator Mark Begich to declare his opposition to the mine. "Wrong mine, wrong place, too big," he told the Alaska Dispatch News.
Unfortunately, the Canadian company that wants to dig the mine, Northern Dynasty, isn't backing off. Its CEO says the EPA study is biased and that it is going ahead with plans to open the mine. The EPA could use its authority under the Clean Water Act to block the project. But the best way to stop the mine is to keep up the political pressure. At Brilliant Earth, we've signed the Bristol Bay Protection Pledge promising to never buy gold from the Pebble Mine. If you'd like to register your own opposition to the mine, please sign this petition.