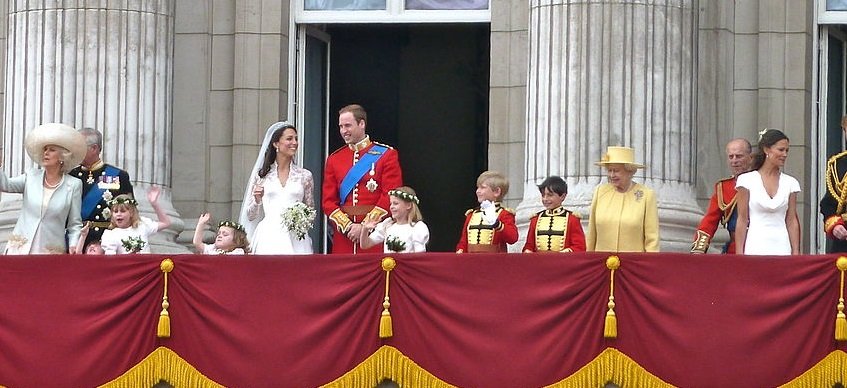 With all the recent buzz over Pippa Middleton's rumored engagement to boyfriend Nico Jackson, we've had English weddings on the brain.
While we wait to learn whether the rumors are true, we thought we'd take a look at some of the oh-so-English wedding traditions Pippa is likely to follow on her big day, whether the happy occasion takes place in 2014 or further in the future. Although these customs are sometimes replaced by more American norms, these are some of the traditions unique to English nuptials:


Daytime vows:
While American weddings are often evening affairs, English weddings are most traditionally held in the morning or at noon on a Saturday, followed by a seated lunch called a "wedding breakfast."
Pint-sized bridesmaids:
Instead of having eight besties stand beside her as American brides often do, English brides traditionally have a few young girls as attendants, along with a maid of honor.
Attendants in white:
Although American maids of honor and bridesmaids would never appear in white dresses next to the bride, it's not uncommon for English maids of honor to wear white. An old superstition dictates that bridesmaids and groomsmen dress similarly to the bride and groom to confuse evil spirits who might wish the happy couple harm.
Grooms in suits:
Traditionally English grooms wore "morning dress," which is the most formal type of daytime attire, though now they frequently wear regular suits. The tuxedo so common for American grooms is rarely seen at English weddings.
A sixpence in her shoe:
In England the old-fashioned idea that a bride should wear "something old, something new, something borrowed, something blue" comes with the addendum, "and a sixpence in her shoe."  Placing an old English coin in one of the bride's shoes is thought to promise future wealth.
No dancing until after dinner:
Instead of dancing between dinner courses, or even before dinner is served, the English reserve dancing for after the meal. The bride and groom's first dance takes place after the cake cutting.
Fruity wedding cakes:
English wedding cakes are traditionally multi-tiered fruit cakes, although sometimes the tiers of the wedding cake are made of different types of cake to satisfy the tastes of different wedding guests. If you're interested in tasting this English delicacy, try the traditional
wedding fruit cake recipe
from London baker Fiona Cairns, who created the cake for
Prince William and Princess Catherine
's big day. It's tradition for English couples to save the top tier of their wedding cake and eat it at the christening of their first child.
Final Thoughts

What do you think of these English wedding traditions?  Would you incorporate any of them into your own wedding day to honor English heritage, or just for fun?  Let us know your thoughts on Facebook or Twitter, or in the comments section!

Photo credit: By Magnus D (Flickr: The royal family on the balcony) [CC-BY-2.0], via Wikimedia Commons