Maybe it is your birthday, an anniversary, or a winter holiday. Perhaps you've been promoted, had a child, or reached a significant milestone. Or maybe it's just a regular Tuesday. No matter the reason, a diamond necklace is one of the most romantic gifts a woman can receive. They simply say, "I love you, and I want you to have this." Why do they make such a great gift? Diamond necklaces are timeless and elegant, and they're always worn close to the heart. They go with any outfit, can be worn every day, and they never go out of style!

Do you know what you want out of a diamond necklace? There are many choices to take into consideration, so take a look at the different style options that are out there!

Classic Diamond Necklaces

Classic diamond necklaces are simple, chic, and elegant. Wearing a classic diamond necklace is a great way to add a little sparkle to an everyday look. They can easily transition from a black tie affair to a Sunday morning stroll. One of the most sought after classic diamond necklaces is a diamond solitaire pendant. If you choose to create your own diamond solitaire pendant, you have the option of choosing between different diamond settings to create varying looks. A single or double bail pendant on a cable chain is the quintessential classic look, and features a precious metal bail that gracefully suspends the diamond from the chain.  Floating solitaire pendant settings are increasingly sought after for the illusion they create that the diamond is floating on the chain.  Once you've chosen your setting, you can decide what shape and size you want your diamond to be.  Round brilliant diamonds are by far the most popular option, though princess cut diamonds are increasing in popularity for a contemporary twist on the round diamond solitaire necklace. For a more distinctive look, consider a marquise, oval, or emerald shape is elegant as well!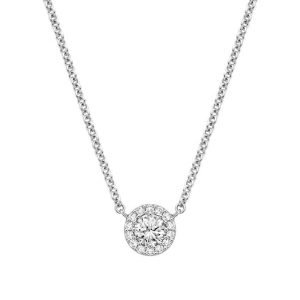 If you would like to stick with a classic look but amp up the sparkle, consider a Diamond Halo Necklace. These stunning necklaces feature three a center diamond surrounded by pavé-set diamond accents. This style looks particularly amazing with v-neck shirts and dresses!

Modern Diamond Necklaces

If you adore the clean lines of modern jewelry, consider a contemporary diamond necklace. The bezel setting is sought after for its sleek design and features a diamond encircled at its girdle by a strand of precious metal. This is a very streamlined, minimalistic look, perfect for the modern woman! Another contemporary diamond necklace is a twist pendant, where a round brilliant diamond is surrounded by a delightfully sculptural twist.  The smooth, curving lines of these designs are pleasing to the eye.

Infinity diamond necklaces are another modern, romantic option. Like Irish Celtic knot rings, the infinity symbol has no beginning and no end—it simply curves and flows forever. This suffuses the infinity design with romantic symbolism. It is a sign of unconditional love that knows no limits, created with one of the strongest materials in the world that will last for ages—diamonds.

Nature Inspired Diamond Necklaces

For women who love the outdoors, there are a variety of ways to incorporate diamonds into a nature-inspired necklace. These necklaces feature beautiful aspects of nature such as leaves, flowers, branches, birds, the night sky, and waves.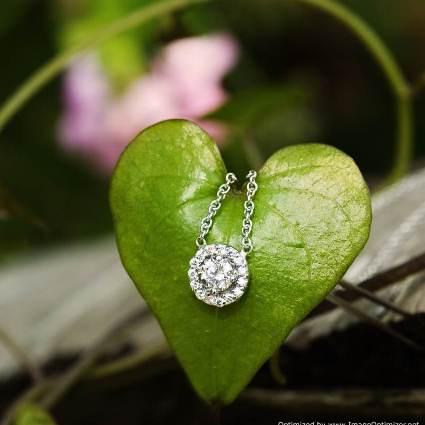 Whereas more glamorous diamond necklaces put the diamonds front and center, these diamond necklaces are more casual pieces. The design tends to be the main focus, with the diamonds playing a brilliant supporting role. Just a touch of sparkle in the right place can do amazing things!

Antique Style Diamond Necklaces

Antique style diamond necklaces (not to be confused with authentic antique necklaces) are an amazing choice if you are looking for something new that has the heart and soul of something old. Halo rings are a popular antique style that are incredibly glamorous; halos, however, aren't just for rings! Many diamond necklaces feature a sparkling round center diamond surrounded by a glowing halo of accent diamonds, resulting in a beautiful point of light and brilliance.

Pearl and diamond necklaces are another example of antique style necklaces. Pearls never go out of style, and they call to mind certain people and qualities. For example, the iconic style of the 50s and 60s as seen through Audrey Hepburn, Jackie Kennedy, and Grace Kelly.  Each of these three women famously wore pearls at one point. These gems are also connected to the roaring twenties, when flappers would show off long strands of pearls that would sway to and fro as they danced. These associations have made pearls a popular antique style, and they are even more glamorous when combined with diamonds for a winning combination of sparkle and lustrous shine.

Custom

If you are looking for a unique necklace—something that might only exist in your imagination—consider custom designing your own diamond necklace! You can make a few changes to an existing style or you can create something completely new and original. From modified halo necklaces to diamond and pearl flip pendants, our custom jewelry design team can create it for you!

Final Thoughts

What is your favorite diamond necklace style? Do you love classic, modern, nature, or antique-inspired? Let us know on Facebook, Twitter, or in the comments.