The man of your dreams has just proposed, and now it's time to pick out the wedding ring of your dreams. It is important to keep in mind how your engagement ring will combine with your wedding band, both in fit and aesthetic. After all, the two will be paired together forever, just like you and your soon-to-be groom.
Matching a wedding band to a diamond engagement ring can be an unforeseen challenge. To keep things simple, many couples elect to buy the two as a set so they can be sure they will go together.
A diamond wedding set can be a pairing of matching engagement and wedding rings, or it can be two differently styled but complementary pieces. When contemplating a diamond wedding set, here are the design aspects you should consider:
Matched Diamond Wedding Sets
Is anything more classic and timeless than a matched diamond wedding set? The appeal is in its symmetry and seamlessness; the engagement ring and wedding band share the same details, including precious metal, diamond accents and placement on the band, as well as overall width and height. For a truly unified visual impact, a wedding band that perfectly matches your engagement ring is an ideal choice.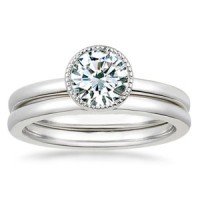 Complementary Diamond Wedding Sets
On the other hand, a complementary diamond wedding set employs subtle contrast to create a unique, alluring effect. The trick is to feature coordinating details that are ideally balanced and allow the components of the two rings to play off of one another in harmony. A gorgeous example of this look is a matched set of nature-inspired rings featuring delicate strands of diamonds twisted together to create two exquisite bands.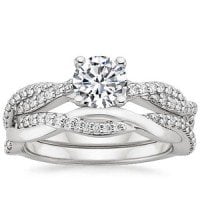 Keep in mind, however, that we recommend keeping the following details consistent between the engagement ring and wedding band:
Precious metal type: Whether platinum, 18K gold, or palladium, you should choose the same precious metal for both of your rings because each metal behaves differently over time. More durable metals may cause less durable metals to scratch and wear more quickly when placed next to one another on the same finger. Selecting the same precious metal for both rings will ensure that they "wear" uniformly and can be maintained in the same way over time.
Height, shape & finish: In order to maintain a cohesive look, keep the overall aesthetic of the two rings consistent. The engagement ring and wedding band should be the same height on the finger, the same finish (matte or high polish) and the same shape (flat or half-round) for a seamless look and feel.
Diamond placement: It is important to consider the size, shape and setting of the diamonds in the wedding band relative to those in the engagement ring, as well as where on the wedding band the diamonds end. The diamonds on both rings should either align or go all the way around, as in a diamond eternity band.
Contoured Diamond Wedding Sets
For an engagement ring with unique curves in the band or a large center diamond, a contoured wedding band is the perfect complement. Also knows as a "shadow band," it is curved to mirror the shape of the engagement ring so that the two are perfectly aligned when placed together on your finger. The subtle contouring allows the engagement and wedding rings to handsomely align and sit flush, despite their unique details.
Contoured wedding bands have become increasingly popular in concert with the growing popularity of halo and vintage engagement rings, which often require a wedding band that is custom fit to the engagement ring. Buying the engagement ring and wedding band as a set ensures a consistent look.
Inspiration: Diamond Wedding Sets from Classic to Avant-garde
Need ideas? Peruse the following diamond wedding sets to discover your own style.
A timeless classic: a diamond engagement ring paired with a plain band made from the same precious metal.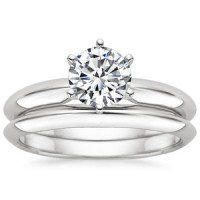 Two rings with no shared elements that nevertheless seem like they were meant to be worn together: a glittering diamond halo engagement ring paired with a petite shared prong wedding band.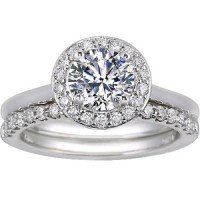 Custom design your own diamond wedding set for a look that is at the same time traditional and uniquely you.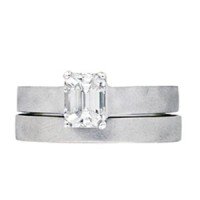 Final Thoughts 
Whether your style is classic or contemporary, if you plan to wear your wedding rings on the same finger, it is best to maintain a similar aesthetic. Brilliant Earth offers a multitude of dazzling diamond wedding sets in both matching and complementary styles.