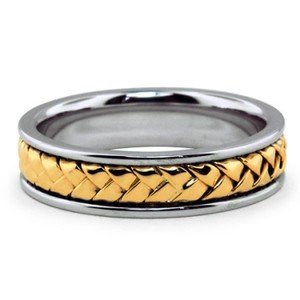 Men's engagement rings—there is a vortex of confusion and bafflement surrounding these revolutionary symbols. What are they? How does a man come to receive a mangagement ring? What do they look like? How do I find one? And most importantly—is this right for us?

Mangagement rings—rings that men wear for the duration of an engagement period—are not for everyone. Don't feel as though you have to propose to your boyfriend if you want him to wear a mangagement ring! There is an emerging trend where women, after having been proposed to, present an engagement ring to their fiancé in return. The man then wears his mangagement ring until the wedding, when it is either replaced or joined by the wedding ring.

Think of mangagement rings as an engagement gift, or a "starter ring." These rings give a man the opportunity to get used to wearing a wedding ring. Imagine, if you will, that you had never worn (or even tried on!) a ring in your entire life. Then all of a sudden you have this strange weight on your finger! It can be a very unusual, irksome feeling for many men. Mangagement rings give men the opportunity to get used to wearing a ring before actually being married.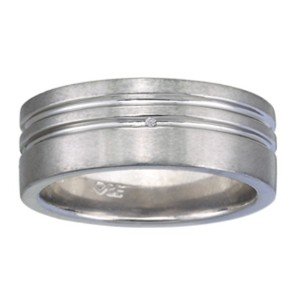 Some of our favorite custom ring designs have been mangagement rings! If you want to give one to your man, then we want to help you create the perfect design. We sat down with Jewelry Specialist Mary Newcomb who offered valuable advice on creating the perfect men's engagement ring.

Mary, will you tell us about an experience you've had with custom designing a mangagement ring?
"Of course! One of my favorite stories began with a man who created a beautiful custom engagement ring for his girlfriend. When he gave her the engagement ring she was completely blown away by it. She was so excited about the custom process that she wanted to create a ring for him in return. He knew nothing about it, so receiving a ring was a complete surprise! It was a wonderful gesture on his fiancés part. She wanted him to have something that she put her heart into, something that would last forever.

The engagement ring that he originally created for her was very floral and decorated. She wanted to incorporate these details into his band without making it seem feminine. So we took a simple men's band—a flat matte comfort fit ring—and engraved a similar design on it. It was in perfect harmony with her ring. To finish it off, we added a small flush set diamond in the middle.  The diamond was a discrete nod to a traditional engagement ring style. Diamonds aren't for everyone, and you don't have to incorporate one in order to create a handsome engagement ring. Use your instincts and your knowledge of his style.

Another choice for mangagement rings is to have a small flush-set diamond on the inside of the band. This is really nice because it is there, but you don't see it. It is only for the couple to know about. It is also great because incorporating a single diamond accent can be added at a relatively minimal expense.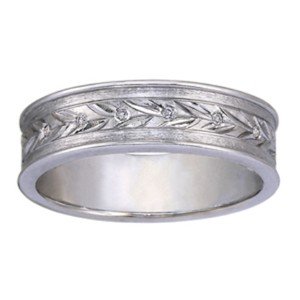 Another amazing mangagement story began with a spilled secret. A customer found out through a friend that her boyfriend was ring shopping for her. In the spirit of competition, she decided to custom design a mangagement ring and beat him to the punch. She already knew that he would say yes, and they ended up with a wonderful story to tell!
What are the most successful design choices for men's engagement rings?

To create a successful mangagement ring, you might:

-Incorporate a discreet, flush-set diamond on the inside or outside of the band. It is a good idea to have the diamond slightly offset from the middle, or incorporated into an engraved design.

-Consider a mixed metal ring, which is a very popular wedding ring choice for men.

-Include engravings, particularly along the edge or as a fingerprint design. Many people don't realize that they have such flexibility with engravings!

-Incorporate alternative gemstones such as vibrant ethical origin sapphires.

-Consider palladium as an alternative metal.


Why is palladium a good choice?

Palladium is the same price as white gold and has many of the positive qualities of platinum. Palladium rings, however, are much lighter than platinum! This is great for men who aren't used to wearing rings at all. Oftentimes a man's hand may feel uncomfortably heavy when they first put on a ring. Some men might then graduate to a platinum wedding ring once they have gotten used to the feeling of wearing jewelry on their hands.

Final Thoughts

What do you think about mangagement rings? Would you want your fiancé to wear one? What would it look like? Let us know on Facebook, Twitter, or in the comments!