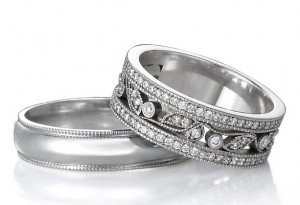 This morning, the "Today" show on NBC dedicated a minute of its broadcast to introducing Brilliant Earth wedding rings to a national audience. The popular morning show has chosen Brilliant Earth to participate in its annual weddings series, in which viewers help plan a wedding for one lucky couple. Over the next five days, the public will be voting on wedding rings for Melissa McMillin and Jeremy Gebhardt, former high school sweethearts who were chosen by viewers for the series. It's now up to you to help send the message that gorgeous jewelry can be produced without causing harm to people or the environment—and to ensure that Melissa and Jeremy wear Brilliant Earth wedding rings on their wedding day!
In the series, the hosts of the "Today" show are guiding viewers as they vote, either online or through text messaging, on the details of an entire wedding. The first job for viewers was to choose a couple from among four couples selected by the show. On this morning's broadcast, it was announced that Melissa and Jeremy had received the highest number of votes. Their relationship appears to have struck an emotional chord with viewers; Jeremy is serving with the U.S. Air Force in Afghanistan, and the couple has not been together for several months. Melissa appeared in person on this morning's broadcast, while Jeremy appeared via satellite from Bagram, Afghanistan. Their wedding will take place next month in Rockefeller Plaza and be shown live on the "Today" show.
The public must now decide on the essential ingredients—including the reception venue, wedding dress, tuxedo, bridesmaids' attire, cake, honeymoon, and yes, the wedding rings—that will go into Melissa and Jeremy's wedding. On this morning's show, host Matt Lauer kicked off that process by presenting wedding rings from four leading jewelers, including Brilliant Earth. All the jewelers have been carefully-selected by the show's wedding expert, Avril Graham, the executive fashion and beauty editor for Harper's Bazaar. Although all four jewelers are offering high-quality jewelry, Brilliant Earth is the only "green" jeweler among them. In fact, this is the first time in the 11-year history of the "Today" show's wedding series that the show has selected a jeweler that places our level of emphasis on ethical and eco-friendly sourcing.
Brilliant Earth's rings were the first ones presented on the show. Along with Graham, Lauer took a look at the two wedding rings Brilliant Earth is offering to the couple: our gorgeous Flora Ring and the handsome 5mm Milgrain Wedding Ring. "And our first one that I went with was from a company called Brilliant Earth, and they are a very green, eco-conscious company," Graham began. "And they do, in their line, make sure that everything is ethically mined. It's recycled platinum. And they ensure that every stage of the jewelry- making is all conflict-free and eco-conscious and absolutely green," she explained. Graham also noted that Brilliant Earth donates a percentage of its profits "to communities in Africa that have been affected by bad mining practices."
Both Lauer and Graham loved what they saw. "The guys' band is beautiful and the bride's band is a little more elaborate," he noted. "[I]t's a scrolled vine story, lots of diamonds, absolutely beautiful," Graham replied, referring to our Flora Ring.
We are extremely honored to have been selected for the "Today" show's wedding series and are thrilled that in this brief exchange, many viewers of the show were able to get to know Brilliant Earth. We believe that our selection by the show is both a recognition of the quality and beauty of our jewelry as well of a marker of increasing demand for socially and environmentally responsible jewelry. However, we also believe this is a tremendous opportunity for the public make a bold statement to the jewelry industry. The theme for this year's wedding series is "modern love." By voting for Brilliant Earth, people can send a clear message to the industry that, as of 2010, the most beautiful wedding rings are those with ethical and eco-friendly origins.
To vote for Brilliant Earth, in the next five days please visit facebook.com/TODAYshow, go to Todayshow.com, or text in your vote to 622639 (text 1 for Brilliant Earth). The jeweler with the most votes will be announced next Wednesday.