Brilliant Earth is excited to be accepted as a member of the Association for Responsible Mining Stakeholder Alliance. ARM is an organization that is critical to improving the lives of artisanal miners of gold and diamonds. The majority of artisanal and small-scale mining destroys eco-systems worldwide and creates largely unsafe and poorly paid working conditions for the miners who supply the global jewelry industry with gold and diamonds. These miners and their families make up an estimated growing population of over 90 million people who rely on mining gold and diamonds to survive.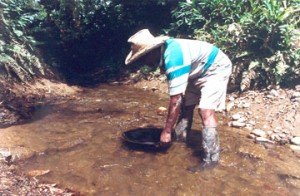 ARM plays a key role in the global fair trade jewelry movement with its creation of Standard Zero for Fair Trade Artisanal Gold and Associated Silver and Platinum, an emerging standard used to verify fair trade gold and other metals from artisanal and small-scale mining.
The Standard Zero process will certify that precious metals from artisanal and small-scale miners meet social, environmental and human rights standards, and provide added economic benefit to local communities. Due to the recent success of Standard Zero, Brilliant Earth is now able to offer fair trade gold! We are celebrating this ground breaking grassroots achievement with our limited release of the Fair Trade Gold Choco Pendant, made of the world's first independently verified fair trade gold from Oro Verde of Choco, Colombia.
We are beginning to see improvement in the well-being of the millions of those reliant on the mining industry as ARM pushes the mining industry to comply with humane management, responsible environmental standards and just financial practices. Despite the challenges, ARM believes that artisanal mining can be profitable, productive, and safe. We believe it can also be a contributor to sustainable livelihoods, a viable source of honest work, environmentally responsible, and free of child labor. Brilliant Earth looks forward to being a part of the future successes of the Association for Responsible Mining. We will keep you informed as important developments occur.