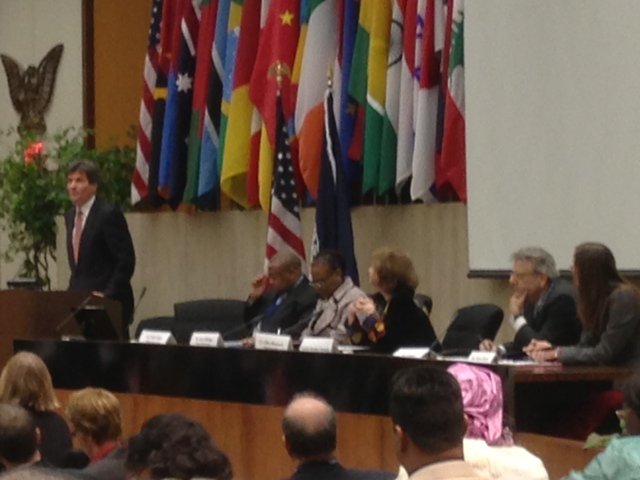 We were on hand this morning at the U.S. State Department in Washington, D.C. for one of the year's most important gatherings in the global effort to raise ethical standards in diamond mining – the annual plenary session of the Kimberley Process, the international diamond certification scheme.
Or, at least, the gathering had all the trappings of being important. But was it really?
The atmosphere was reminiscent of a United Nations General Assembly meeting. Delegates from at least 74 sovereign governments seated themselves in the Loy Henderson Auditorium, a large, horseshoe-shaped conference hall inside the State Department. Interpreters behind windows in the back of the room provided simultaneous translation in English, French, and Arabic.  Gentle, polite applause occasionally filled the room as the speakers took their turn at the lectern.
This year's plenary meeting is being held in Washington, D.C. because the United States holds the Kimberley Process's leadership baton in 2012. (National governments take turns leading the Kimberley Process and selecting an individual to act as Chair.) As a leading provider of ethical diamond jewelry and as a voice for diamond consumers, we were allowed to attend this morning's opening session as a media member. Closed door meetings will continue through the week.
The proceedings were fascinating to witness. But the question that needed answering was whether the Kimberley Process remains relevant to the kind of change that is needed in the diamond industry and that we, at Brilliant Earth, are trying to accomplish. Were we really witnessing an important gathering or just a gathering of important people?
The issue of relevancy was acknowledged by the first speaker, José Fernandez, the Assistant Secretary of State for Economic and Business Affairs. "Organizations such as ours must continually prove their worth if they are to continue to deserve our effort," he told the delegates, explaining the U.S.'s position that the Kimberley Process "needed to reform in order to remain relevant."
Whether the Kimberley Process remains relevant hinges a lot on one issue – whether it can expand beyond its limited scope. By far the biggest weakness in the Kimberley Process is that it defines "conflict diamond" in a very narrow way. The only diamonds that count as "conflict diamonds" under the certification scheme are diamonds that finance rebel movements in civil wars.
Such a narrow definition has led to an absurd result. Because it focuses on the limited issue of rebel movements financed by diamonds, the Kimberley Process presently certifies more than 99% of diamonds as "conflict free."  However, diamond mining remains beset by violence in contexts not covered by the definition, and worker exploitation and environmental degradation remain serious problems.
Kimberley Process certification is therefore virtually meaningless and possibly even harmful. By certifying almost every diamond as conflict free, the Kimberley Process misleads consumers and deflates momentum for change.
The good news is that the top priority of the United States this year has been to win backing for a broader, expanded definition of "conflict diamond." Ambassador Gillian Milovanovic, the State Department diplomat chosen by the United States to serve as Kimberley Process Chair in 2012, has been working quietly behind the scenes to persuade Kimberley Process member countries to support a new definition.
The definition she has proposed is "rough diamonds used to finance, or otherwise are directly related to, armed conflict or other situations of violence." This definition would not cover labor and environmental abuses, but at least it would cover most diamonds tied to serious violence. We support Ambassador Milovanovic's expanded definition and hope she is successful at winning approval for it at meetings this week. But will she?
During her speech today, Milovanovic signaled that she is going to keep pushing hard for a new conflict diamond definition. "We must be willing to go to the heart of the difficult issues and ask whether the KP [Kimberley Process] certificate still provides the assurances that consumers want," she said.
But she also indicated that she may not have the member country votes that she needs. She dedicated most of her speech to discussing other Kimberley Process accomplishments during her tenure, before getting to the issue of a definition change. When she did mention the definition issue, she left room for delay. "We must all agree that the core definition of 'conflict diamond' therefore needs to be updated, whether here in Washington or next year in South Africa . . . ," she stated, referring to South Africa's designation as the next Kimberley Process Chair in 2013.
We urge Milovanovic and the U.S. delegation not to give up. We seriously wonder whether a definition change can be accomplished in future years without the U.S. or perhaps the European Union in a leadership position. This week may be the Kimberley Process's last chance in many years, or ever, to rescue itself from irrelevancy.
Regardless of what happens, our attendance this morning gave us renewed appreciation for the importance of the work that we perform day-to-day: educating consumers, serving as a model for other diamond jewelry retailers, and raising money for our non-profit fund.
Getting the world to agree on a higher "conflict diamond" standard would be a significant achievement. But nothing can substitute for the hard, steady work of building a consumer movement for change.