Like an astrological zodiac sign, some people believe birthstones can say a lot about a person. But you don't have to be an astrology buff to appreciate birthstones. Their vibrant color and beauty make them an alluring addition to any piece of jewelry.
Birthstone History
For as long as people have used gemstones for personal adornment, they have believed that jewels have magical powers, and that certain gemstones can heighten positive characteristics in those who wear them. People began to sport a different gem each month as a sort of talisman. Over time, certain gems became attached to specific zodiac signs and months and, thus, birthstones were born.
Birthstone Jewelry Gifts
Birthstone jewelry is a meaningful gift idea for the beloved women in your life. In addition to being a natural choice for birthday gifts, birthstones can be a treasured first keepsake for a daughter, a thoughtful Mother's Day gift for your wife or mother, or even a way to add a unique personal touch to your future fiancée's engagement or wedding ring.
While many women have a special fondness for their own birthstone or the birthstone of their children, many others may have fallen in love with the beautiful hue of another month's birthstone. If she's always wearing blue to enhance her bright blue eyes, consider sapphire jewelry. If she frequently opts for classic diamond jewelry, then consider pieces that incorporate this favorite gemstone. In the end, what matters most is the sentiment of the gift and that she loves the way it looks on her!
Birthstone Earrings & Pendants
A pair of birthstone earrings is a classic gift for a woman of any age, and one that will be appreciated for years to come.
Birthstone Jewelry for Mothers
Jewelry featuring the birthstone of a child (or children) is a great way to honor your wife, but can also be a touching gift for your mother or grandmother.
Custom jewelry pieces look stunning with a variety of gemstones. Consider custom designing a ring or pendant with multiple birthstones to represent your children or loved ones.
Stackable Rings & Bands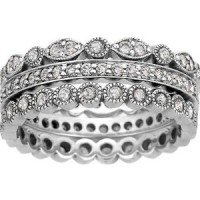 Stacking rings or bands on one finger provides a fun, stylish, and ever-evolving way to express personal style. Part of the appeal is being able to adjust which rings a woman wears in what order, according to her mood or a shift in what she finds aesthetically pleasing. Each ring added to the "stack" adds to the possibilities and amplifies the striking effect of the look.
Using birthstones in stacked rings is an inventive and sentimental way to commemorate the special events in your life together. Each ring may contain the birthstone of a child or maybe your own birthstone along with hers. With stacked rings, she can keep the cherished moments of your past, present, and future with her at all times.
Antique Birthstone Rings
Colorful gemstone jewelry has been sought after and cherished since Ancient Rome. When in search of an eye-catching, one-of-a-kind ring, look to the romantic eras of the past. Certain birthstones were revered in particular periods of history, and at Brilliant Earth, we carry these timeless styles in our Antique Ring Collection.
Garnet, the January birthstone, had its heyday in the Victoria era when darker hued jewels were especially prized. Garnet was believed to cure blood disorders and assuage anger.
The diamond is the birthstone for the month of April, and was extremely popular in the Edwardian era because its brilliance was a perfect match for the delicate, ethereal fashions of the time. Edwardian jewelry was crafted to be delicately feminine, and the combination of diamonds and platinum, often with filigree detailing, perfectly embodies this aesthetic. Edwardian diamond rings are classic, romantic, and sophisticated – all the reasons why they are still coveted today.
Jewelers of the Art Nouveau era sought to convey the soft, mystical and romantic in their designs. The lovely pale shades of amethyst and aquamarine, the birthstones of February and March, were favored for their pastel hues.
Custom Birthstone Engagement Rings
Including a birthstone in a custom-designed ring is a hot trend visible among Hollywood starlets. The addition of a birthstone can be either a subtle addition or a bold flash of color – either way it adds a personalized touch to the ring she will cherish for a lifetime.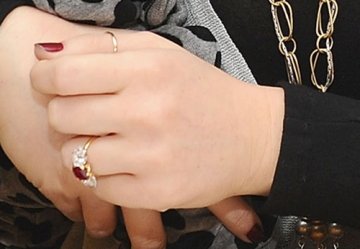 Justin Timberlake presented wife Jessica Biel with several engagement rings to choose from, but the one she kept is a diamond halo ring with delicate touches of her birthstone: aquamarine. Jessica Simpson's engagement ring features a central ruby, her birthstone, flanked by two diamonds.
Final Thoughts on Birthstone Jewelry
Be creative in using the various meanings and colors of birthstones to represent important people and special moments. Remember: do not feel married to a particular birthstone. If the woman in your life is not keen on hers, consider adding small accents of her favorite color instead.