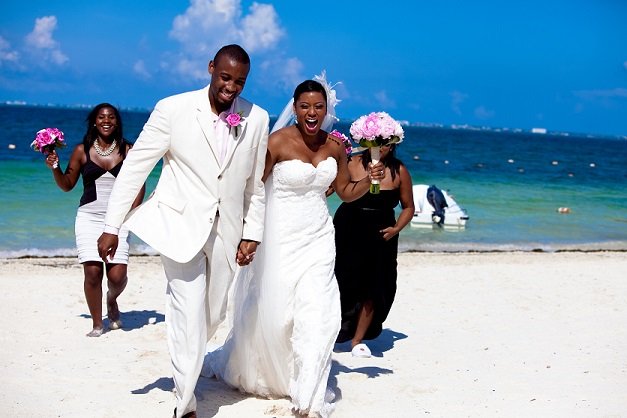 Getting married on the beach, with the sound of the surf rolling in in the background and the faint scent of saltwater in the air, is a widely held fantasy among the romantically inclined. So if you're going to make it your reality you are one lucky couple!  Whether you're hosting both the ceremony and reception on the sand, or getting married at a seaside venue, consider some of these tips and ideas for beach weddings:
1. Scout out the atmosphere. Of course you'll check the weather report and the tide charts, but you should also visit your chosen beach a couple of times the week before your wedding, at the exact time when you'll be saying your vows. Spend a little time figuring out where the sun hits, where the wind is coming from, and how loud the surf is, so you can plan accordingly.
2. Create a threshold. Since most beaches are pretty vast in dimension, create a feeling of intimacy and arrival by arranging an "entrance," whether with big flower arrangements, candles or tiki torches, or a path that guides guests across the sand to the wedding site. Line the path with shells, pebbles, rose petals or beach glass.
3. Provide guests with outdoor essentials. If guests will need sunscreen, bug spray, or any other outdoor essentials, then place it at key spots for the ceremony or reception. If it will be very sunny, consider buying inexpensive parasols for guests (especially the older ones who might be more bothered by the sun).  Depending on your aesthetic, place the gear in bamboo baskets, metal pails, bright plastic beach pails or canvas boat bags.
4. Add some unexpected furniture. Beach weddings needn't require limiting yourself to folding chairs and outdoor decor. Rental companies can create striking outdoor environments for you–think church pews in the sand, crystal chandeliers hanging from trees, or a lounge area made of Victorian-style chairs and sofas.
5. Try a clear top tent. If you're having a tented-reception, look into renting a clear-top tent, which will let you have more of a pure outdoor feel and see the stars after sunset.
6. Think beyond shells. Seashells make beautiful decor of course, but if you want something a little more rustic consider accents made of driftwood, sea glass or rope.
7. Go local. Nature's beauty is a big feature of a beach wedding, so honor your surroundings by using local, seasonal flowers and food as much as possible. Most beach communities aren't too far from farms growing delicious local produce, and fresh, locally caught seafood is a can't-go-wrong choice.
8. Go almost barefoot. If you like the idea of saying your vows with the sand beneath your soles but don't want to go totally casual, wear one of the many pairs of barefoot sandals to be found on Pinterest and Etsy these days. They embellish the top view of your feet with jewelry, lace or ribbons, but leave your soles bare.
9. Choose pearl jewelry.  Beautiful jewelry from the sea makes the perfect accessory for you or your bridesmaids. Our Tahitian Pearl Stud Earrings and Sea of Cortez Pearl and Diamond Pendant are two stunning options made with pearls harvested from eco-friendly pearl farms.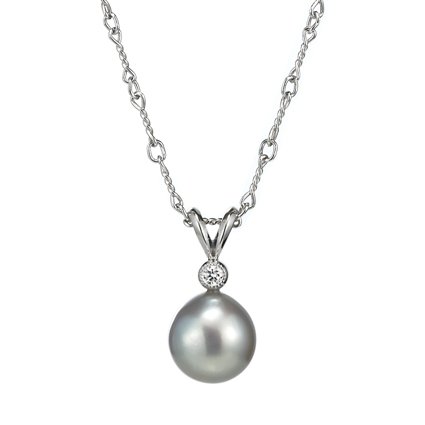 10. Create a nautical monogram. Hang nautical flags featuring both of your initials, or even your entire names, above your ceremony or reception site.

11. Choose a conditions-appropriate cake. If your cake cutting will take place outdoors in heat or humidity, work with your baker to make sure your cake will keep looking delicious until it gets gobbled up. Fondant frosting withstands the elements better than buttercream, though if you prefer the taste of buttercream ask to have a layer of buttercream beneath a top layer of fondant.
12. Create a guest book you'll actually use. A cool idea we saw over at Emmaline Bride: Instead of a standard guest book (which you're likely to stash in a closet), have your guests sign an Adirondack chair or two with a Sharpie. Seal the chairs with a clear, waterproof sealant later, place them on your porch or patio, and be surrounded by your wedding guests' well wishes every time you sit in them.
13. Encourage play. If you will have children at your reception, or if you just want to set a fun and laid-back vibe, place big beach balls and frisbees adjacent to the sand, so people can play with them during cocktail hour or during band or DJ breaks.
14. Honor the environment. Instead of giving out favors that your guests may never use, consider making a donation to a local charity that cleans up the beach, saves sea turtles, or otherwise protects the coastal environment that's served as the backdrop for your special day. You can include a note in the program letting guests know that a donation has been made in their honor.
15. End the night under the stars. After the cake has been served and the early birds have begun to head out, the late night crowd will no doubt want to end the evening on the beach. Depending on your venue you may be able to arrange a beach bonfire with gourmet s'mores, or even late-night dancing on the sand and under the stars. Have blankets available so people can cozy up against the chill.
Final Thoughts

Do you dream of a beach wedding, or did you have one?  Share your own beach wedding tips with us on Facebook or Twitter or in the comments section!

For more great wedding style ideas, follow Brilliant Earth on Pinterest!


Photo credit: Keith Cephus Photography.