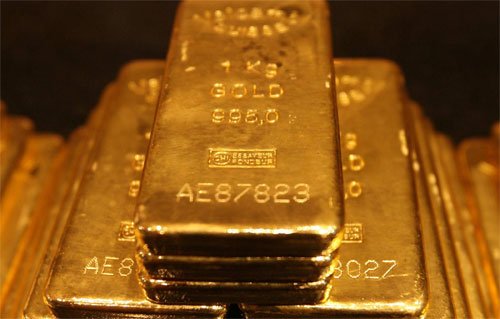 In a rural, mountainous region of the Philippines, there is a village called Didipio. In the heart of the village, there once stood a mountain. Residents of Didipio grew rice on the mountain and tended to their orchards. But now the rice fields are gone. So are the orchards and even the mountain itself. In their place is a huge, gaping open pit called the Didipio mine.
Oceana Gold, a gold mining company from Australia, opened the mine this year. It is estimated that the mine may produce $130 million in gold each year. Much of that gold will probably be used to make jewelry. But at what cost?
According to a Filipino newspaper, many residents of Didipio now live in wooden houses outside the mining complex, barred from living on the land they once owned. Some residents were allegedly cheated out of their land. One man, returning to land he thought was his, found it covered in concrete. A security guard wrestled the man to ground. After a scuffle, the man was charged with attempted murder.
The cost to the environment has been heavy too. Thousands of trees were cut down to make way for the mine. Deer, wild boar, and other wildlife have disappeared, and water supplies have become polluted. The threat of a catastrophic spill looms as well. To contain toxic waste produced by mine, Oceana Gold has constructed a dam and filled it with a sludge laden with arsenic, sulphur, cyanide, and other contaminants. (The construction of such a dam is actually common practice at industrial gold mines.) If the dam ever burst or spilled, it could cause an environmental catastrophe.
The story of Didipio is tragic. Unfortunately, it isn't all that unique. Time and time again, communities around the world have been harmed or destroyed by gold mines. It is for this reason that many communities are fighting back. Lately, it has seemed that for every Didipio there are stories of successful resistance.
In Romania, for instance, the government recently came close to approving an enormous open pit gold mine in the Carpathian mountains. But in November, after thousands of protesters took to the streets of Bucharest, the government rejected the mine. In Costa Rica, similarly, voters and the country's Supreme Court have rejected plans to establish a controversial open pit gold mine. (The company is now audaciously suing for $1 billion in lost profits.) And in Alaska, indigenous communities have so far successfully resisted plans to create an open pit gold and copper mine at the headwaters of Bristol Bay, the world's largest sockeye salmon fishery.
All of these situations could still change. It is hard to leave millions or billions of dollars worth of gold in the ground. The people of Didipio resisted the opening of their gold mine for many years too—and lost. But it also true that determined efforts can sometimes stop or forestall gold mines from opening.
But what about the people of Didipio? Some now have jobs at the gold mine. Perhaps pollution from the mine can be reduced. Still, their lives and community have been forever altered. Didipio's experience illustrates that the human and environmental costs of gold mining can be steep. And the best time to account for those costs is when mining projects are still being planned.