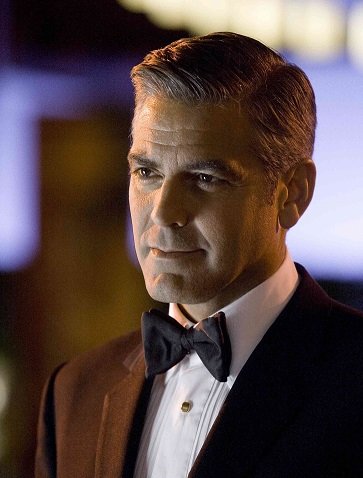 When we heard this week that George Clooney had proposed to human rights lawyer Amal Alamuddin we were so happy to read that the stunning engagement ring he chose for her contains an ethically sourced diamond.
There's no word so far on where he purchased the emerald cut diamond ring, but we're dreaming that when it comes time to select wedding bands this glamorous couple will again make the ethical choice . . . by choosing Brilliant Earth rings! We've sent this letter to George and are also posting it on our social media accounts.  If you agree that you'd love to see George and Amal wear BE's ethically sourced, eco-friendly wedding bands, please share this post on Facebook or Twitter!
Dear George and Amal,
Congratulations on your engagement!  We are so happy that you found each other, and hope that you are savoring this exciting time in your lives.
George, we were thrilled to read that you chose an ethically sourced diamond for Amal's gorgeous engagement ring. As the world's largest ethical jeweler we feel strongly that a symbol of love and commitment should not be tainted by human rights abuses, and we aren't surprised that you agree. We've long admired your commitment to addressing human rights issues in Africa and elsewhere, a commitment that we share.  Brilliant Earth donates 5% of profits to helping communities in Africa that have been negatively impacted by the jewelry trade. 
Because your dedication as a couple to defending human rights is so aligned with our values, we are humbly hoping you'll consider this: We'd love to gift you the Brilliant Earth wedding bands of your choice.  All of our jewelry is made with recycled precious metals and ethically sourced diamonds. As you may know, the international diamond certification scheme, the Kimberley Process, narrowly defines conflict-free diamonds as those that have not been used to fund a rebel insurgency against an established government. We go beyond that standard to offer "beyond conflict free" diamonds that are entirely untainted by violence, child labor, slave labor, and other human rights abuses.
With this gift, we would also love to offer our congratulations by donating $10,000 to Not On Our Watch or another nonprofit of your choice. Together we can draw attention to the human rights issues surrounding fine jewelry, in the process advancing a cause that we all feel so passionately about.
Wishing you a long and happy life together,
The Brilliant Earth Team