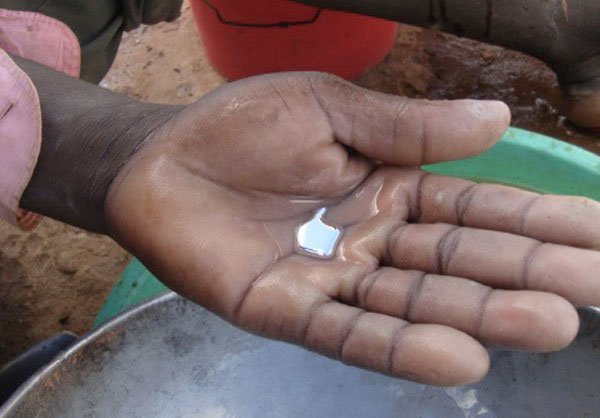 The process of gold mining is rarely as simple as digging up some gold and melting it into gold bullion bars. Gold usually needs first to be extracted from rock and sediments ("called ore") and refined into an acceptably pure form.
How is this usually done? In industrial gold mining, companies use a technique called cyanide heap leaching. But in artisanal gold mining – the kind done by individuals, mostly in developing countries, using simple tools and methods – the process basically works like this:
Step #1: The ore containing the gold is mined, usually by digging underground or panning in streams.
Step #2: The ore is crushed into fine particles. (This step can be skipped in certain cases, such as when the ore is obtained from sandy riverbeds.)
Step #3: Mercury is added to the ore.  The mercury binds with the gold, forming a gold-mercury amalgam.
Step #4: The amalgam is collected and heat is applied. The mercury evaporates and the gold remains behind.
This method, called mercury amalgamation, is relatively easy and works well, and that's why millions of artisanal gold miners use it. The only problem: mercury is a toxic substance that can cause serious health problems, including damage to the brain, kidney, and lungs. Children and developing fetuses are particularly vulnerable.
The people most at risk of mercury poisoning are gold miners themselves. Many of them touch the substance, or breathe it in, on a daily basis. But the use of mercury in gold mining affects everyone on the planet. Mercury spreads easily through the atmosphere, contaminating the oceans and increasing mercury levels in fish – which are then eaten by people worldwide. Moreover, the amount of mercury released by gold mining isn't trivial. Gold mining is actually the leading source of mercury pollution, ahead of even coal-fired power plants.
Surely, it would be better if artisanal gold miners could use more eco-friendly mining methods—methods which use less mercury or none of it at all. But do any feasible alternatives exist? And if so, what are some of them?
Ways to Reduce Mercury Use
The good news is that there are a variety of ways to reduce the use of mercury in artisanal gold mining. If the planet has any chance of stopping the ravages of mercury pollution, the following techniques—described in this report by the United Nations—may prove essential:
Better Milling and Crushing – In the step #2 of the above process, the ore is crushed into particles before mercury is added. But when the particles are too big, or when they are of varying sizes, the mercury is less effective and efficient. Better milling techniques can crush the ore into finer, more even particles, reducing the amount of mercury needed to extract the gold.
Concentrating the Ore First – Gold usually makes up only a small portion of the crushed ore. Instead of adding mercury directly to this ore, various methods—many of them relying on gravity—can be used to increase the gold concentration first. As a result, less mercury is needed in the next stage of the extraction process, or sometimes none at all.
For instance, in a technique known as sluicing, miners add water to the crushed ore and pour it into a sluice (a small water channel) layered with carpets. Heavier particles, including gold, get trapped in the carpets while the lighter particles get washed away with the water. Left behind is ore with a higher concentration of gold, requiring less mercury to extract. Other technologies in this category include centrifuges, vortexes, spiral concentrators, shaking tables, flotation systems, and magnets. (For more explanation, see the UN report.)
Improving the Mercury Quality – Mercury is less effective if it becomes contaminated or oxidized.  A simple technique using salt water, copper wires, and a battery can "activate" the mercury and make it a more powerful gold extraction agent.
Capturing the Mercury – Some artisanal gold miners do every step of the mining process themselves. They mine for gold, crush the ore, add the mercury, and burn the mercury off. But it also common for miners to bring their gold ore to a local "gold shop" where mercury is added and the gold is extracted. Unfortunately, these gold shops often emit mercury directly into the open air. Using fume hoods and other technologies, however, gold shops can capture 75 to 95 percent of the mercury. The U.S. Environmental Protection Agency has developed a technology along these lines which it has tested in Brazil and Peru.
Ways to Eliminate Mercury Use
All of these methods, if widely implemented, could eliminate most of the mercury pollution caused by artisanal gold mining. But all of them still require the use of mercury. Are there any ways that mercury use can be avoided altogether? There are, but many of them have limitations or drawbacks. Here are the main approaches and techniques:
Gravity Methods – Panning, as well as techniques like sluicing (described above), are sometimes sufficient to obtain pure gold. These techniques rely on the fact that a particle of gold is about 7 times heavier most sediments of the same size. The only drawback of these techniques is that they aren't effective in every situation. They work best when the gold ore is concentrated or when the ore particles are very fine.
Direct Smelting – If the ore contains a high enough concentration of gold, heat can be applied directly to ore. The gold is separated as it is melted. This method, however, uses large amounts of energy and can take a long time. It works best with small amounts of concentrated ore.
Cyanide Heap Leaching – Another approach would be for artisanal gold miners to make greater use of the gold extraction techniques used in industrial gold mining. The most common of these is cyanide heap leaching, a process which relies on cyanide instead of mercury. Cyanide heap leaching is relatively cheap and efficient, and it arguably causes less environmental damage than mercury amalgamation, if done correctly. (Cyanide is a deadly chemical but it breaks down in sunlight.) But although this technique doesn't poison the entire planet, it can still cause environmental catastrophes. It isn't a perfect solution.
Do We Even Need These Methods?
All of these technologies and methods, with the possible exception of cyanide heap leaching, would represent a significant environmental improvement, if widely adopted. But there's still one more approach that hasn't been mentioned—and that's for the jewelry industry to use more recycled gold. Using more of the gold supplies already in existence is the best way to save the planet from gold mining because it avoids the need for any new mining at all.
So why bother trying to change the practices used by artisanal gold miners in developing countries? Wouldn't be it simpler—and more effective—to simply reduce gold mining?
It would. And yet, implementing more of these techniques is still very important. Even if recycled gold becomes more prevalent, some gold mining probably will always continue. If it's going to happen, it's better that gold mining be eco-friendly. Furthermore, many of these techniques not only reduce mercury pollution, but increase the percentage of gold recovered. More efficient techniques could mean higher earnings for the 15 million artisanal gold miners worldwide, many of whom live in extreme poverty.
The challenge, at this point, is to figure out how to encourage some or all of these eco-friendly mining techniques. The obstacles are partly technological, but they're also logistical, educational, cultural, and financial. A new fair trade gold certification system, which encourages eco-friendly mining methods, is a good start, as is a new international treaty to stop mercury pollution.  But governments, civil society groups, the gold mining industry, jewelers, and gold miners themselves all will need to do more.