We tend to obsess over choosing an engagement ring, but might forget that selecting a wedding band can be every bit as much fun. If you're looking for a wedding ring, or think you might be soon, take a look at these three diamond band styles. Then let us know what you think!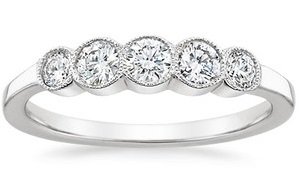 The Cherie Diamond Band
: A timeless design given a touch of vintage style, Cherie features five round brilliant cut diamonds in bezel settings that have been embellished with the delicate beading effect called milgrain. Bezel settings are most often seen in contemporary styles, while milgrain detailing is characteristic of vintage rings, so the combination lends an aura of vintage romance with a modern sensibility.



The Wisteria Diamond Ring
: This ring combines the graceful beauty of nature with the glamour of pavé set diamonds. The band features fluid curves and four marquise-shaped "bud" frames, all containing twinkling diamonds.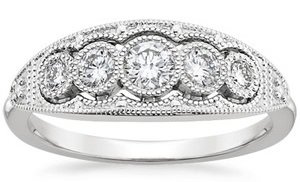 The Isis Ring
: Exuding true vintage style, the Isis features five diamonds in bezel settings floating within a frame of precious metal. Delicate milgrain embellishment along the bezels and the frames gives this ring a lavishly detailed antique effect. The Isis could easily be worn as an engagement ring or a wedding ring.
If you love these designs but aren't in the market for a wedding ring right now, keep in mind that any of these would make great anniversary bands, promise rings or "just because" holiday gifts. For help selecting the perfect wedding band for you, or to find the perfect men's wedding band, just contact one of our jewelry experts.

Final Thoughts

Which of these rings is your favorite?  Let us know on Facebook, Twitter or in the comments section.