Free 30 Day Returns & 60 Day Resizes
At Brilliant Earth, we offer complimentary 30 day returns, so that you can make sure your purchase is just right. If for any reason you are not satisfied with your purchase, simply return it within 30 days for an exchange or full refund. For eligible orders, our return, exchange, and resize policy timelines begin when your purchase is available for shipment or pickup. We take pride that our jewelry is produced with exceptional standards.
Brilliant Earth is proud to offer free return shipping on all ring, loose diamond, loose gemstone, and finished jewelry orders. We will provide the free FedEx return shipping label, so that your return process is seamless and easy.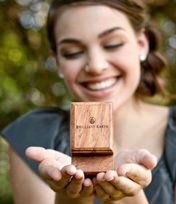 Within 60 days of when your purchase is available for shipment or pickup for our US, Canadian, UK, and Australian customers, we also offer one complimentary resizing for our standard ring styles with free shipping both ways. Please note our eternity rings cannot be resized due to their design. Custom, modified, and engraved rings are subject to resize fees. Outside of the 60 day complimentary resize period, rings can be resized for a fee when within the jeweler's recommended sizing range. If you purchased an Extend Protection Plan with your ring, you are covered for free resizes outside of this 60 day period. If you need to file a claim for a resize, please contact the Extend Customer Care Team through the Extend Claims Portal or via phone at 877.248.7707877.248.7707. If you resize your ring at the time of your purchase, any subsequent resizes will be subject to fees. For orders shipped outside the US, Canada, the UK, and Australia we do not offer free ring resizing or free returns due to potential taxes being levied. For more information, please don't hesitate to call to speak to a jewelry consultant at 44.20.3137.1763.
Please note that returned items must be in unworn condition and accompanied by all original documentation. While engraved rings are eligible for return and exchange, they are subject to a £45 fee for removing the engraving. The following orders are nonreturnable: fine jewelry items that have been personalized (such as nameplates); rings that have been modified or resized; items that have previously been exchanged; layaway orders after 30 days from purchase; and custom designed jewelry. Alterations to orders currently in process void the complimentary resize, return and exchange policies. If you have a special request for a later delivery date, our 30 day return/exchange period begins on the date that your order was first available to ship. Similarly, if you plan on picking up your ring from one of our showrooms, our 30 day return/exchange period begins on the date that your order is available for pick up.
To maintain the high quality of our pieces and keep our prices competitive, Brilliant Earth does not allow multiple pieces to be purchased for comparison. Comparison purchasing is purchasing multiple products with the intent of keeping one and returning the remainder. If an order is suspected as a comparison purchase, the items may not be eligible for our return policy.
How to Return an Order
1. Obtain the Return Shipping Authorization Code: Contact us at 44.20.3137.1763 to obtain a return shipping authorization code and request your free FedEx return shipping label. Write your return shipping authorization code on the outside of the package you are returning. (Please note that the free FedEx return shipping label only applies to ring, loose diamond, and loose gemstone order from the US, Canada, UK, and Australia.)
2. Packing your order: For all returns and exchanges, include all original packaging and accompanying materials, including the packing slip and all diamond certificates (a £255 replacement fee per certificate will be charged otherwise). Your Brilliant Earth Jewelry Cleaner is complimentary; please keep this as a token of our appreciation. For resizes, do not include original certificates and accompanying materials. For security reasons, do not write jewelry, diamonds or other related words anywhere on the package.
3. Shipment and Insurance: In order for the insurance to be valid with the use of your FedEx prepaid label, you must "double box" your shipment and follow these instructions. Enclose your item inside its original ring/jewelry box. For your convenience, we recommend using the original packaging from your order. Place the ring/jewelry box inside the medium box. Place the medium box inside the larger box. If you do not have the original packaging, please include the ring/jewelry box inside a small FedEx Priority box and seal it. Place the small FedEx Priority box inside a medium FedEx Priority box. Affix the label to the outside of the larger box and drop it off at your nearest FedEx location. Brilliant Earth and FedEx are not responsible for packages dropped off in FedEx Drop Boxes or Non-FedEx staffed locations. Obtain a FedEx receipt to confirm that the item has been shipped - this receipt will act as proof of insurance.
4. If you decide to use a different shipping method you can ship it back by any carrier. For your protection, please ship your item fully insured, signature required, and request a return receipt for confirmation that your shipment has reached Brilliant Earth. Brilliant Earth is not responsible for items lost or damaged while shipping.
Refund Process
After we receive the returned order, our Quality Assurance department will inspect and verify the condition of the item. Returns take approximately five business days to process upon receipt of the item. Refunds will be issued via the method of payment used in the original purchase, or by check if the original payment method was bank wire, cash or certain other payments requiring special processing. International bank wire purchases will be refunded in USD according to the exchange rate at time of purchase. Brilliant Earth is not responsible for differences in foreign currency refund amounts due to exchange rate fluctuations between the time of purchase and refund. Brilliant Earth is not responsible for any foreign exchange or other fees that are charged by the customer's financial institution. For all credit card refunds, please allow one monthly billing cycle in order for your credit to appear.
Packages without a return shipping authorization number or packages that were refused delivery will not be accepted for refund and are subject to a minimum restocking charge of £55. Return shipping authorizations are active for seven days from the date of issue and packages must be shipped during the active time period of your return shipping authorization. If your return shipping authorization has expired, please contact us at 44.20.3137.1763 to request another return shipping authorization. All requests for refunds must be in writing via email. Any returns showing signs of wear or those that have been engraved, personalized, altered, resized, or damaged in any way will not be accepted for return. Improperly packaged or uninsured items will be refused receipt.
If you have any questions about our return procedure, please contact us at 44.20.3137.1763.
Gift Cards
Gift cards are non-transferable, cannot be redeemed for cash, and cannot be returned for a cash refund. Any unused portion of the gift card will remain available for future purchases under the same gift card reference code. Brilliant Earth is not responsible for lost or stolen gift cards.