White gold is a sought after precious metal for engagement rings, both due to its beauty and because it is a less expensive alternative to platinum. This precious metal is beloved for its gleaming white finish that makes diamonds truly dazzle. Have you ever wondered what white gold is made of? It's called gold, but why does it look silvery white?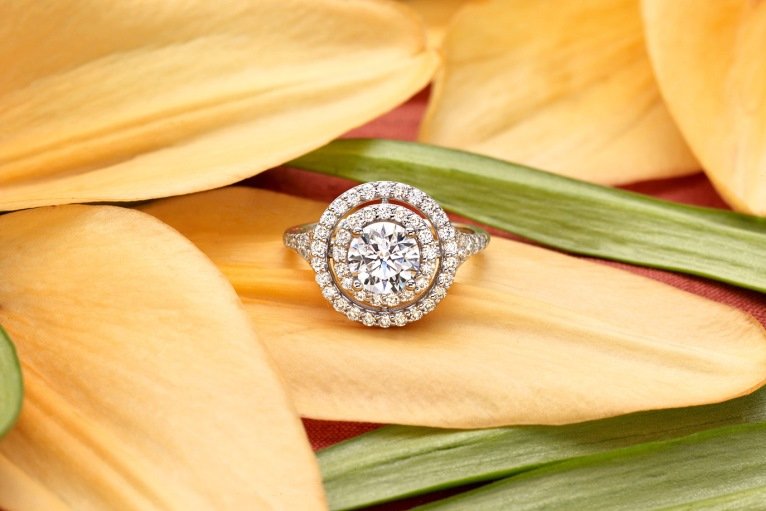 The warm, lustrous yellow hue that most people think of as "gold" is either pure 24 karat gold or an alloy that retains the yellow color of pure gold. (An alloy is a mixture of two or more elements, in this case metals.) Pure 24 karat gold is too soft to be used in jewelry, so creating alloys makes the gold strong enough to form a ring able to be worn forever. The gold takes on different hues depending on what metals it is alloyed with—yellow gold, white gold, and rose gold are the most popular and well-known combinations. White gold can often be confused for sterling silver or platinum at first glance, but it deserves to be recognized for what it is!
Stunning White Gold Engagement Rings
White gold is our most popular precious metal for engagement ring settings because it beautifully complements the icy white sparkle of a center diamond. When a row of diamond accents are set in white gold it gives a ring the look of pure, brilliant light. White gold is slightly less expensive than platinum, and is also very strong and resistant to scratching. White gold looks like platinum because it has been coated in rhodium, a metal which is a member of the platinum family. This coating gives the ring its desirable pure white sheen. Everyday wear will eventually diminish the rhodium, but all you need to do is have it re-coated at a jeweler to restore it to its original condition (although it varies, this usually needs to be done every ten years). Discover our most sought after white gold engagement ring settings:

Halo Style White Gold Engagement Rings
Halo engagement rings feature a circle of diamonds that embrace a center gemstone. Many halo settings also feature diamond side stones that adorn the band or are arranged into intricate designs alongside the halo. While yellow gold and rose gold prongs are more easily visible in these bright diamond rings (which might be perfect if you love these warmer gold tones) many people prefer white gold for halo settings because it blends in with the diamonds. The "white on white" look of diamonds and white gold can make it appear that the halo and center gem are one big, glittering diamond. If you love white gold and you adore halo styles, we recommend our classic Halo Diamond Ring with Side Stones, our Double Halo Diamond Ring, or our stunning Sienna Diamond Ring, which features French pavé  diamond accents.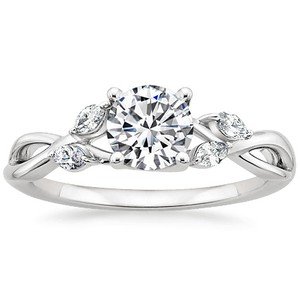 Nature-Inspired White Gold Engagement Rings
Women who are passionate about the outdoors often look for an engagement ring design that draws inspiration from nature's beauty. Such rings always look stunning in classic white gold. The Willow Ring and the Chamise Ring are two sought after examples of rings with subtly sculptural lines that evoke leaves and branches.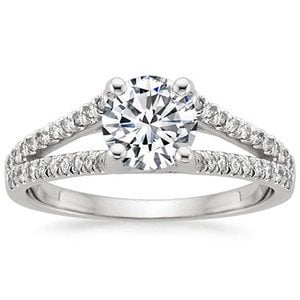 Glamorous White Gold Engagement Rings
Engagement rings that feature lots of glittering diamond accents work wonderfully with white gold. The pure white rhodium finish of white gold makes it a fantastic supporting character for glamorous, sparkling designs, because it allows diamonds (particularly pavé-set diamond accents) to take the lead. White gold only ever enhances the beauty of a diamond! We recommend the glamorous Three Stone Diamond Trellis Ring, the split-shank Astoria Diamond Ring, or the beautifully structured Infinity Diamond Ring. White gold is the perfect match for any of these diamond-centric, luxurious settings!

Modern White Gold Engagement Rings
Modern jewelry tends to follow the aesthetic of modern design, with clean lines and minimal embellishment. The rings in our modern collection epitomize chic contemporary style with their sleek designs and understated beauty. The precious metal is often highly visible in a modern setting, and white gold contributes a clean, white palette consistent with a modern look. Princess cut white gold engagement rings are a contemporary choice. If you are looking for the perfect modern white gold engagement ring, we recommend the bezel-set Luna Ring, the gently curving Cascade Ring, or the bold Marina Ring.
White Gold and Colored Gemstones
Diamonds certainly aren't your only option for a stunning white gold engagement ring. This gorgeous precious metal looks lovely against a variety of colored gemstones, and creates a subtle background that doesn't steal the spotlight from your vibrant center gem. If you are looking for a colorful engagement ring, you have several choices. You can either choose a white gold pre-set sapphire ring, or you can choose one of our emeralds or unique colored sapphires and set it in your favorite white gold style. You can even custom design your perfect white gold ring.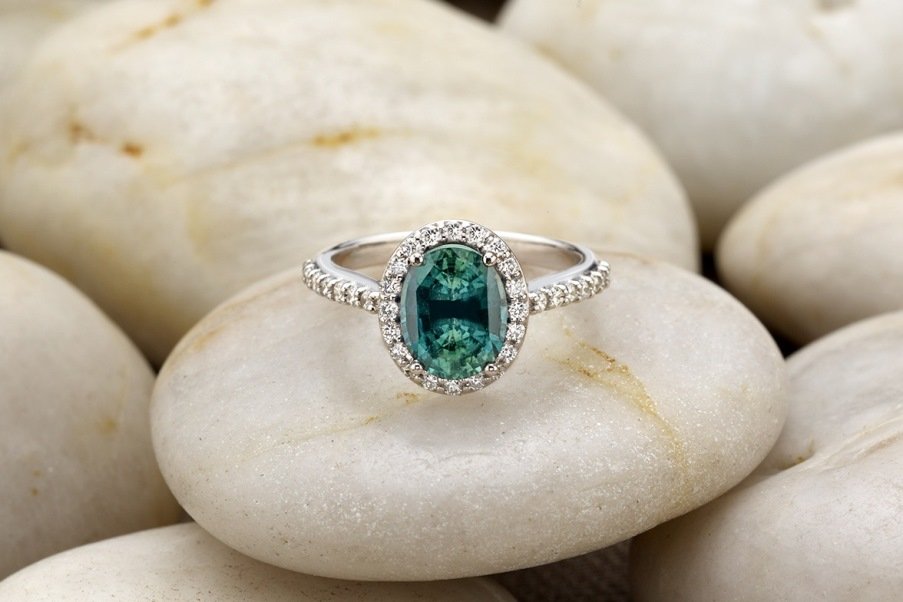 The History of White Gold Engagement Rings
Throughout the Victorian era of the 1800s most engagement rings were made of yellow gold, but with the dawn of the 20th century new metalwork techniques made it possible to work with platinum on a small scale.  As a result, the Edwardian era saw platinum (and similar-looking white gold) become the fashionable choice for engagement rings during the first two decades of the 20th century. Edwardian-era brides loved the "white on white" look of diamonds set in platinum or white gold. White gold remained a popular choice for engagement rings during the Art Deco and Retro eras, and has remained so to this day!
Final Thoughts
What is your favorite type of precious metal? Do you love white gold as much as much as we do? Let us know on Facebook, Twitter, or in the comments!