Music is an integral part of your wedding. It can be difficult to determine what type of music is appropriate for the different stages of your wedding, but this handy guide will help you figure it out!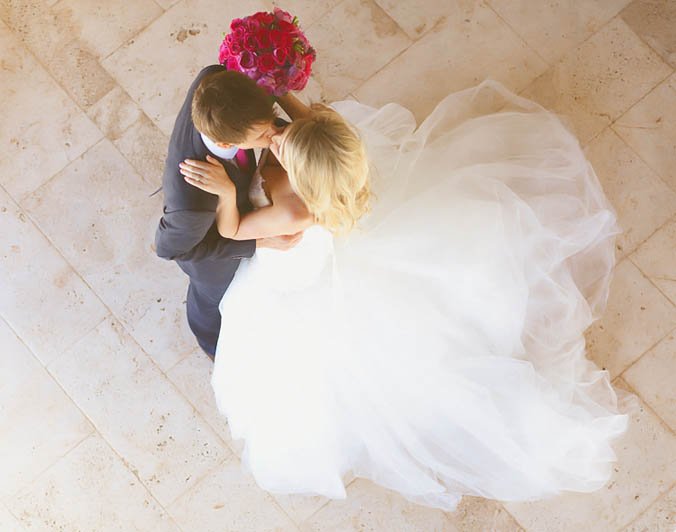 We have provided playlists of wedding songs for each stage so that you can hear everything for yourself. Take a look (and a listen!)

Ceremony Tunes
Songs to Get Ready to

As your hair is getting coiffed and curled and your makeup is being applied (remember waterproof mascara ladies!), your dress might be looming large out of the corner of your eye. This is the moment when your impending nuptials become a startlingly reality. Combat the nerves by listening to some positive, upbeat tunes that make you smile. Singing along with your bridesmaids will remind you that this is going to be the most fun you've ever had.
These songs also work for: Dance Party!



A Short Prelude

It's a great idea to have soft, calming prelude music playing in the background as your guests arrive and mingle. If something has gone awry with the wedding plans (the bouquet's gone missing, the groom's hyperventilating, etc.), prelude music provides a sense of entertainment for your guests as they wait.
It's not quite party time yet, so you don't want to play anything too fast or else your guests might get restless during the ceremony. Soft piano, violin, harp, or cello music is a classic choice, but you will want to make sure that your prelude music doesn't sound to "processional" or else everyone might rush to their seats too soon!
These songs also work for: cocktail hour



Processional & Recessional

The processional music can be similar to the prelude music, but it should be more formal and recognizable. Many brides choose a different song for when they walk down the aisle so that everyone knows when to stand.
Songs such as Canon in D by Pachelbel and Rigaudon by Andre Campra are appropriate for both the bridal party and the bride, but make sure that you don't play Richard Wagner's Bridal Chorus for anyone other than you! That is the one song that—if you choose to use it—is strictly for the bride. If you choose this traditional march you might get the shivers—because this time it's for you!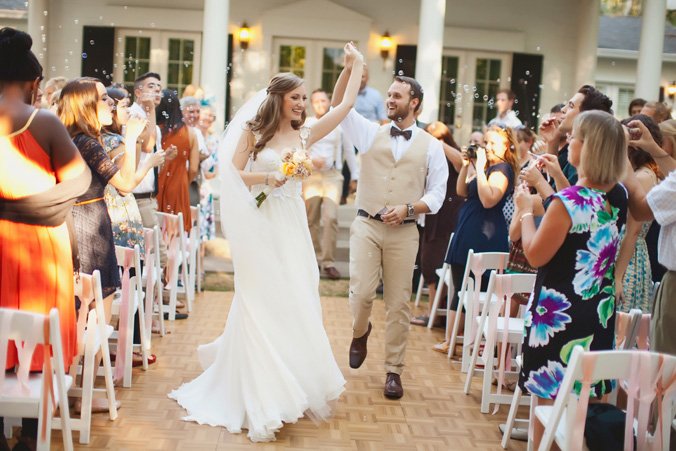 Listen to a variety of options so that you can get a feel for what you want. Hopefully you will land on a song that you absolutely must walk down the aisle to. Pick an uplifting song for the recessional (when you walk back up the aisle as a married couple) in order to celebrate your newfound union.



Get the Party Started!
Introducing Mr. & Mrs…

Here's where the fun really starts. The ceremony is over; the time to be solemn and serious is gone. Now it's time to celebrate. At a traditional wedding the guests usually enjoy cocktail hour while the bride and groom are off taking pictures. When that is over with, many couples choose to have an official introduction to the reception. The bride and groom will be announced and strut in hand in hand to an adoring crowd.
This is a great time to use a song that is contemporary, popular, and will get your guest on their feet and cheering. Some couples choose a song that is humorous or relates to a special memory for the bride and groom. Some humorous selections have included: the NFL theme song, "Another One Bites the Dust" by Queen, "The Imperial March" from Star Wars, and The Newly Weds game show theme song.



First Dance

This is the time when you get to relax into your partner's arms and simply be together. You don't have to say anything, and you don't even have to know how to dance. You can block out the rest of the world and just be in the moment. During these three or four minutes you don't have to worry about anything.  If you already have a song that is "your song," the first dance is a great time to play it.



Father/Daughter & Mother/Son Dances

As emotional as your wedding day will be for you, it will be even more so for your parents. You are their child, and they are officially giving you up to someone else. Fathers are no longer the number one man in their daughter's lives, and mothers are entrusting their son's hearts to another woman. This is a time to honor your parents by taking center stage with them, and in a way, saying goodbye.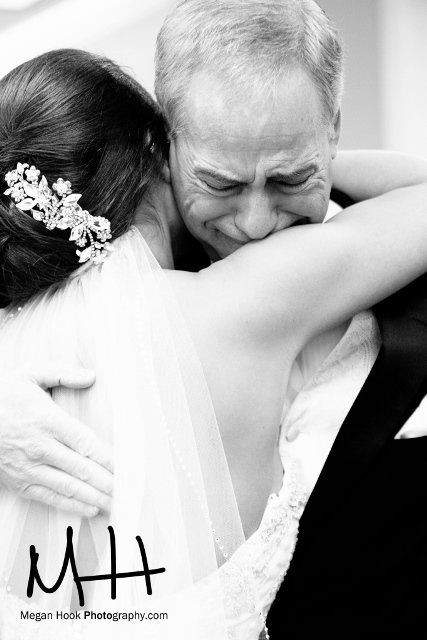 Dance Party!

Now it's officially time to boogey down. You might have guests ranging in age from five to eighty-five, so you want to make sure that the music is fun and appropriate for everyone. There's nothing worse than offending grandma! It would be wise to have a conversation with your DJ before the wedding and request a list of songs he or she intends to play so that there won't be any uncomfortable surprises.



Last Dance

At this point half of your guests are probably asleep in their cake and the other half is ready to party all night long. You want to find a song that simultaneously winds down the evening and gets everyone back on the dance floor to give you a great send off. It's also fun if the song is about saying goodbye (in a happy way)!



Final Thoughts

Music is an incredibly personal aspect of your wedding, so consider this a way to get you started. Everyone has their personal tastes and every wedding is different, so take the opportunity to personalize your wedding songs soundtrack!