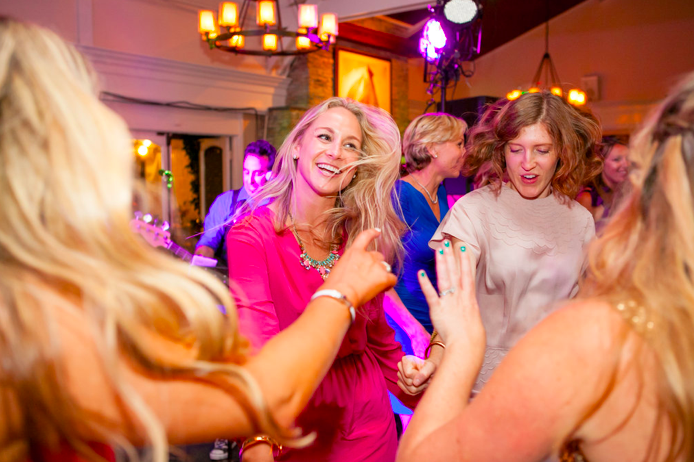 Do you love weddings because you get to party late into the night? Do you look forward to discovering what the bride and groom have in store for their guests? Modern wedding receptions exist for a reason: they are a way that a newly married couple can celebrate their union with all of their friends and family.

The extravagance and duration of a wedding will depend on the couple. While some are perfectly happy with a small, low-key dinner after a private ceremony, others are looking for ways to make hundreds of guests remember their big night for the rest of their lives. Many brides fear that their guests will be leaning on their elbows, yawning and constantly checking their phones. While this night is all about the happiness of the bride and groom, you also want your guests to be having an amazing time.

If you're planning a medium to large reception that will last throughout the evening, you will probably want to provide some form of entertainment to keep the party going. If you're not sure where to start looking, consider any of the following fun ideas!

DJ

Hiring a DJ is one of the more common forms of entertainment at a wedding. If you're short on cash, go ahead and ask your family and friends to DJ your wedding on a computer. Setting up a playlist beforehand and bringing in decent speakers will allow you to pull this off. If you are having a large wedding and you're very serious about having a full, exciting night of dancing, it's highly recommended that you hire a professional DJ. An expert DJ will act as emcee (making all of the announcements) and take responsibility for getting your guests pumped up and on the dance floor.

Here are some important questions to ask a potential DJ before hiring them to play at your wedding!

Band

Hiring a band is a fun alternative to the standard DJ. If you love seeing musicians perform live, this is a great option. However, while there is a range of bands to choose from, many are limited in the type of music they play. If you love a particular type of music you can look for a cover band (rock and roll and 80's are popular choices) or you can choose a different type of music, such as jazz, mariachi, or classical!

For the best of both worlds, you can hire a band for the ceremony and cocktail hour and bring in a DJ to get everyone dancing after dinner! Make sure you've heard the band before you hire them, and look for previous reviews!

Caricaturist

Often drawn by street artists and political cartoonists, caricatures are a fun activity that most of us remember fondly. Send your guests home with their exaggerated likeness and they'll always remember how much fun they had at your wedding! This is a great way to keep kids entertained as well.

Photo Booth

Photo booths are just one of the ways that technology has made weddings even more fun! We live in a digital, visual society that loves to share images and experiences, so photo booths are the perfect way to get your guests in a good mood!

You have several options for photo booths. You can rent a traditional booth that you've probably seen in movie theaters and state fairs, the type that allows a few people at a time to sit for a string of pictures. Another option is to choose a photo booth company that brings a portable photography studio with them and are responsible for taking beautiful, high quality photos. Just provide your own props for some goofy fun! If you're trying to stay on budget, you can create your own photo booth. Simply create your own backdrop and hire a friend to snap the photos!

Live-Action Painter

If you want to enthrall your guests, consider hiring a live-action painter to create a stunning visual representation of your wedding! These artists create a beautiful painting, often in panorama, of the entire event. Let your guests watch the masterpiece appear over the course of the night. In addition to entertainment, you will end up with a work of art that is entirely irreplaceable to you and your partner.


Food Trucks/Food Bars

For many, food is the heart and soul of entertainment. We all love to eat! You can hire a food truck like In'N'Out to drop by your event for a late night snack, or you can set up a personal food or drink bar of some tasty treats. Dessert bars are another popular option. Fill apothecary jars full of different candies and allow your guests to fill their bags with their favorite treats.

For adults, consider setting up a wine or spirit tasting bar. Offer a selection of your favorite beverage (such as fine whisky or unique tequilas) for your guests to try out—they might just discover a new passion!

Things to Keep in Mind

Entertainment (especially of the noisy variety) can come with a few pitfalls! Check with your venue or town to learn of any noise ordinances that might put a damper on the party. Venues will usually let you know when the reception has to end, but you are responsible for knowing the laws if you are getting married at a private residence. Remember that you'll have to end things earlier if you're celebrating outside.

You might also want to limit the number of hours that you are providing entertainment for. Extending a party from 10:30 to 11:30 can cost thousands of dollars! Make sure you get a quote from a vendor about extra hours and budget accordingly.

Final Thoughts

What are your favorite wedding entertainment ideas? Do you love games, dancing, or photo ops? Let us know on Facebook, Twitter, or in the comments!