Vintage themed weddings are both warm and elegant, so it's little wonder why they are becoming so desirable. A vintage wedding allows you to escape from the modern world and spend a night in another era. (If you can manage it, an era before cell phones!) The word 'vintage' is often associated with high quality items due to its connection to fine wine.
So when you are having a vintage themed wedding, you are taking the most beautiful, unique items from certain eras and breathing new life into them. With this mentality, how can you go wrong? From your dress to the location to the décor, we have discovered some of the best vintage wedding ideas so that you can instill a vintage look and feel into every corner of your big day.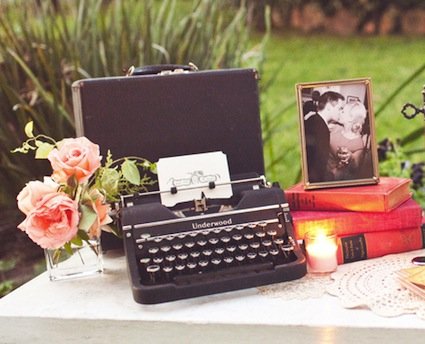 Vintage Wedding Display from One True Love Vintage Rentals
Vintage Dress Ideas
The wedding dress is a big topic of conversation at many weddings, and you have a couple of great choices when it comes to finding a vintage wedding dress. You can go with an authentic, one-of-a-kind vintage dress from a boutique vintage store, or you can choose a new vintage style wedding dress. It is difficult to describe a stereotypical vintage dress because dress styles changed from one decade to the next—a vintage dress can be anything from flapper to southern belle! Go with the era that features the look you are trying to achieve, or consider especially sought after vintage design elements like lace, eyelets, and satin sashes. Selecting a new dress made in a vintage style is perfect for a bride who wants a modern wedding with a vintage twist.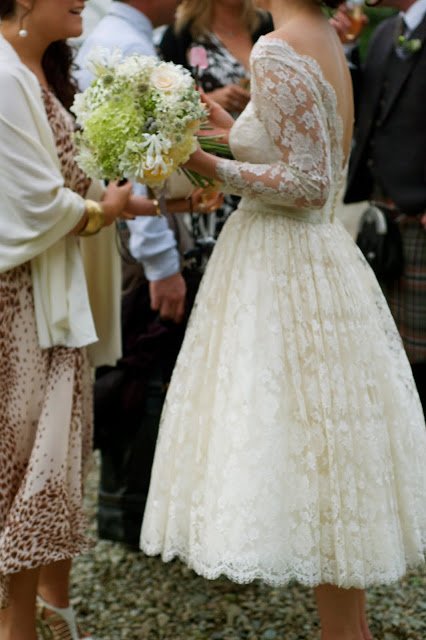 Christine's homemade vintage wedding dress from Lovely Lunga Weddings
If you have a family heirloom that has been passed down from generation to generation, consider incorporating that piece into your ensemble! A vintage comb, veil, or sash is an amazing way to honor those that have come before you while you walk down the aisle toward your future. If the heirloom has faded, frayed, or yellowed, and it doesn't match your dress as well as you'd like, try working it into your bouquet or granting it another place of honor during the ceremony. Many of these vintage wedding ideas show respect and appreciation for your family, particularly the older generations.
If you want your bridesmaid dresses to match, it is best to go with new vintage style dresses.  If you are okay with mismatching dresses— very shabby chic—take a look at some vintage boutiques or thrift shops for those golden finds! It is a great idea to collaborate with your bridesmaids to find dresses that are the same color or incorporate other coordinating design elements, such as length or neckline. For example, you can launch a search for light blue floral dresses from the fifties. They won't be the same, but it can create a quirky, endearing look!

If you are looking for vintage wedding ideas that take you back to the customs of past eras, consider sewing your own bridesmaid dresses! Clothing used to be more expensive and less readily available, so sewing your own clothing used to be very common. The craft has fallen out of favor, but you can bring back that true homemade feeling by putting needle to thread for your big day.
Vintage Wedding Decor
Shabby chic décor strives to create an aged, antique look, so it fits in well with the vintage theme. This style often incorporates distressed, mismatched items that are from different eras. Shabby chic has a very feminine appearance and often accentuates décor and furniture that has large curves, such as Victorian mirrors and Louis XVI chairs. Keep in mind, however, that while shabby chic is generally associated with lighter colors (it utilizes quite a bit of white), vintage generally implies off-white, warmer colors. The opportunities for vintage décor are endless, but some common choices are: mismatched china, off-white doilies, old bottles and mason jars, rusty keys, burlap pennants, antique cameras, rickety baskets, empty picture frames, distressed mirrors, old chandeliers, and chipped birdcages.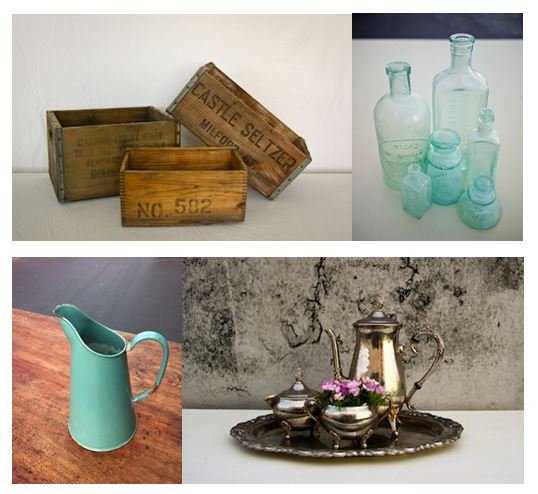 Vintage Wedding Decorations from One True Love Vintage Rentals
Vintage Wedding Location Ideas
Having an outdoor vintage wedding means you can mix your vintage decorations in with nature, such as hanging metal lanterns from tree branches, setting up chess tables or horseshoes in the grass, or saying your vows under a garden gazebo. A lush outdoor setting beautifully complements the pale pastels and rustic feel of many vintage décor elements.
If you live in a rainy place (or outdoor weddings aren't your cup of tea), look for a rustic setting like a barn or a historic venue such as an estate house or hotel. A venue that is already decorated in a vintage style will save you quite a bit of time! While new architecture can be lovely, the details of older architecture often make the perfect backdrop for your ceremony or photo shoot.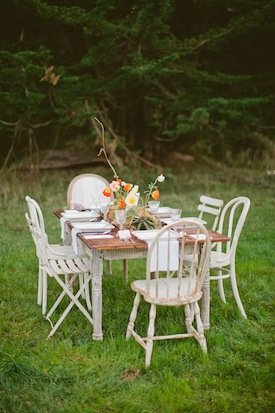 Outdoor Vintage Table Setting from One True Love Vintage Rentals
Vintage Food Ideas
Mason jars were created by John Landis Mason in 1858. Using Mason jars to preserve food remained extremely popular until around the 1950s when populations began moving toward the big cities, where grocery stores were never far away. This is why these beautiful jars inspire such a sense of nostalgia in us. They were created using clear glass so that you can see what is stored inside, but that transparency also works to a decorator's advantage. Consider making individual cocktails or non-alcoholic drinks and storing them in the mason jars. Keep them cool in a large stainless steel tub full of ice and put pieces of fruit in the jars to indicate what it's made of.
Another great idea is to find a specialized candy store and stock up on piles of sweets that will delight your parents and grandparents. Some great vintage candies are: Abba Zabba, BB Bats, Charleston Chews, Chuckles, Dubble Bubble, Kits Taffy, U-No Bars, Mallo Cups, Strawberry Laces, and Atomic Fireballs. Pile these candies into more Mason or apothecary jars and create a wonderful vintage candy station. You won't find most of these candies at the grocery store counter, so biting into a vintage sweet will warm the hearts of older guests and spark curiosity in the younger ones.
Vintage Jewelry Ideas
Inspiration often comes from unexpected places, and a vintage engagement or wedding ring can be a great place to start! Your engagement, wedding, and marriage all begin with a question and a ring, so designing your big day around that ring is a very romantic idea. Whether you want a touch of vintage or a complete blast from the past, it's easier than ever to make your vision a reality! Check out our one-of-a-kind vintage engagement rings and our selection of new antique style engagement rings for inspiration.
Vintage Wedding Activity Ideas
It is a fun idea to set up vintage 'spaces' around your venue. These are places where your guests can gather to relax or partake in an activity. At the entrance to your wedding you can set up a vintage typewriter on a rustic table (lace tablecloth recommended!) where guests can type quick notes to the happy couple. You can create a warm, cozy sitting space with some rented vintage loveseats and chairs, and have a rustic tea cart nearby offering coffee, champagne, or your Mason jar drinks. For the more rambunctious, an old croquet set is bound to entertain. Photo booths are becoming a wedding staple, and it is easy to create one using your existing vintage, shabby chic decorations. Try stacking old bound books with chandeliers in the background, or find a vintage bicycle for your guests to hop on.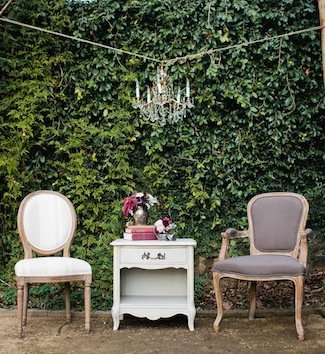 Vintage Seating Area from One True Love Vintage Rentals
Final Thoughts
Before you send your guests on their way so that you can start your married life, show them that you care by putting carpet slippers on their feet and handing them a serving of homemade jelly (preserved in a Mason jar of course).  These vintage wedding ideas are sure to add character, beauty, and love to your big day.
Vintage, at the very heart of the word, means enduring beauty and quality. Keep this in mind as you plan your vintage style wedding, and it may just turn out to be a beautiful wish for the future