Are you in love with everything vintage? From dresses to bathing suits to jewelry, vintage details are showing up everywhere. For those engaged couples who are looking to bring a vintage look to their weddings, the best place to start is with the ring. Vintage style diamond engagement rings are new engagement rings that are inspired by jewelry from romantic eras of the past.  Brilliant Earth's extensive collection of vintage style diamond engagement rings are handcrafted from recycled precious metals and set with beyond conflict free diamonds and colored gemstones.
Vintage style engagement rings draw inspiration from the features that make our one-of-a-kind antique rings so unique and beautiful. When you are searching for your future engagement ring, keep these details in mind:
Scroll Patterns
During the Edwardian era, engraved scroll patterns, delicate filigree, laurel wreaths, and garlands became very sought after style elements. These feminine details are light and airy, and they can greatly enhance the beauty of the center stone.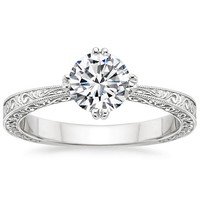 Milgrain Pattern
Milgrain was a cherished detail commonly used in vintage engagement rings. Each bead is hand-crafted and designed with care. In the Starla ring below, the milgrain frames create a shimmering background for the showstopper—the round center diamond.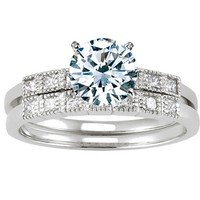 Matching Wedding Bands
While most one-of-a-kind vintage rings were originally created to stand alone, many of our vintage style rings come with perfectly matched wedding bands to complete the look. This option allows you to have a vintage style that is set in perfect harmony.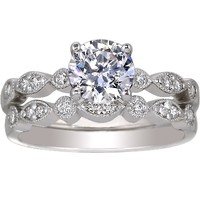 Custom Design
If you have a vision in your mind of what your vintage style engagement ring should look like, consider designing your own! Brilliant Earth's custom design experts have helped to design thousands of vintage style diamond custom rings. The finished products are one-of-a-kind, and choosing this option allows you to create the perfect representation of your unique love and commitment.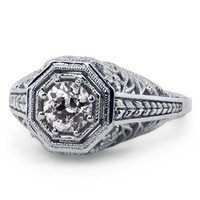 Antique Rings
If you are set on buying a one-of-a-kind antique engagement ring, you should know that couples choose these rings for a variety of reasons: the romantic symbolism, their environmental benefits, the lower cost, and, of course, their exclusivity. An antique engagement ring is made extraordinary not only by its individuality, but also by its rich history. If antique rings could talk, they would share with you the journeys they have taken. Some have seen quiet lives while others went on adventures to foreign places, but what they all have in common is that they reflect the love of their previous owners.  Now it is your turn to wear that ring and make it a part of your own story.