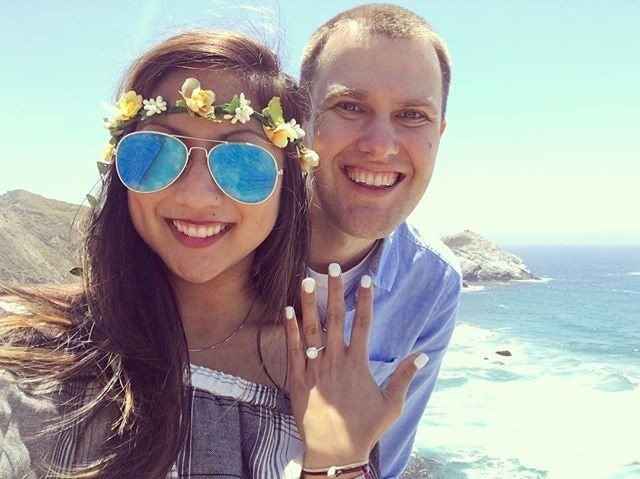 From birthdays to weddings, major life events are no strangers to our Instagram and Facebook newsfeeds.
While there are no rules on how to make these announcements, many of us find ourselves compelled to share news within our social networks. Especially an engagement! After taking your sweet time to let the moment soak in and bask in your love, the next step is sharing your happy news. Make sure to let all of your loved ones know the old fashioned way first. Then, once you and your future spouse have discussed when you want to let your digital circle in on your news, the last thing left to do is decide how.
Together
Caption: Convey your joint excitement for the beginning of this new chapter.
Photo: You and your fiancé celebrating in an embrace, while subtly displaying your left ring finger's new accessory.

Ring Selfie
Caption: This option offers you the flexibility to be short and sweet with your words, since all of Facebook will certainly know what the ring on your left hand symbolizes.
Photo: Your left hand stretched out in front of a scenic background.

The Moment
Caption: The proposal story.
Photo: If you were lucky enough to have your proposal caught on camera, photos of the moment make for great complements to your proposal story. These photos are especially great for conveying your joy and emotion, and your friends can feel as though they shared in the experience with you.

Let the Picture Do the Talking
Caption: No caption needed!
Photo: Leave the work to your right brain! Come up with a creative way to announce your engagement through photos.

Share with us!
Do you have any great ideas for an engagement announcement? Let us know on our Facebook, Instagram, Pinterest or Twitter!