Diamonds may be a girl's best friend, but these gorgeous gemstones aren't just for the ladies. Ever increasing in popularity, men's diamond rings are available in a variety of designs to suit many different personalities and aesthetics. Men's diamond rings may be subtle or bold, but all exude confidence, sophistication, and style. Add more sparkle and brilliance as you exchange vows and say "I do!" by selecting a men's diamond ring.
Diamonds for Men
The prevalence of diamond rings for men is growing, and it's not hard to understand why. Diamonds are exquisite and deeply symbolic. Why shouldn't men share in the luxury and romance of wearing diamond rings? Honor your marriage and your commitment with a sensational diamond band that is as special as your love.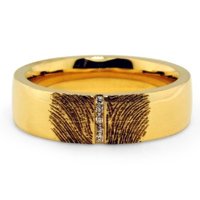 All of the men's diamond rings at Brilliant Earth are uniquely, brilliantly crafted. Diamond accents, whether they are the focus of a ring or a more understated element, make for dignified, handsome men's wedding bands.
Men's Diamond Ring Styles
At Brilliant Earth, we offer a nice collection of men's diamond rings in a range of styles from classic to modern. Here are four popular rings for you to consider.
If you are drawn to a classic and confident style, consider the Denali Ring, which features four channel set diamonds centered in a high polish precious metal band with rounded edges.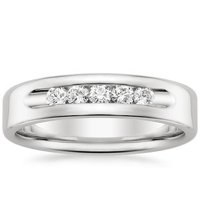 If you have a more modern aesthetic and are looking for a subtle way to incorporate diamonds into your ring, consider the Horizon Ring, which is designed with a brushed matte precious metal finish, strong edges, and an unexpected vertical row of small diamond accents. (This ring is also available with rich blue sapphire accents.)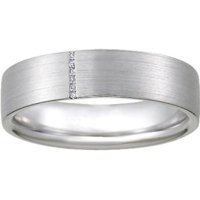 The Borealis Ring combines elements from classic and contemporary styles for an unforgettable men's diamond ring. A brushed precious metal band is double ridged, edged with polish, and displays flush-set diamond accents equally spaced around the circumference of the band, signifying the continuity of your connection.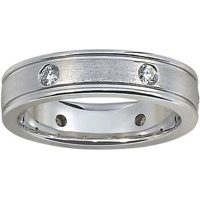 The Intrepid Ring combines a contemporary aesthetic with symbolism and class. The precious metal band features a brushed center panel and high polish edges and is accented by a single bright diamond, honoring your one and only, your chosen partner.
All of our men's diamond rings are crafted with style as well as comfort in mind. Each of the rings above has softened inside edges for ultimate comfort.
Custom Designed Men's Diamond Rings
Brilliant Earth is always thrilled to work with you to custom design a wedding ring for a piece that is uniquely yours. For an original men's diamond ring, consider elements like a hammered finish, square or emerald cut diamonds, or a broad masculine band, accented with delicate diamonds for an ideal display of juxtaposition and artistry. Perhaps these elements represent you and your spouse, and how your lives will combine, or perhaps they signify different characteristics within yourself. You envision, and we'll create.
Other Considerations for Men's Diamond Rings
Here are a few other things to keep in mind when looking for men's diamond rings. Choosing matching diamond bands can be a gorgeous way to celebrate a same-sex union. As well, a men's diamond band can be a nice compliment to a bride's wedding band—perhaps both bands feature channel set diamonds set in platinum.
Finally, unsure that you want to take a step toward sparkle? Consider this: other than a watch, a wedding band may be the only piece of fine jewelry you wear. Why not heighten the impact with a little luxury? Diamonds add depth, character, and a forever element to any wedding band.