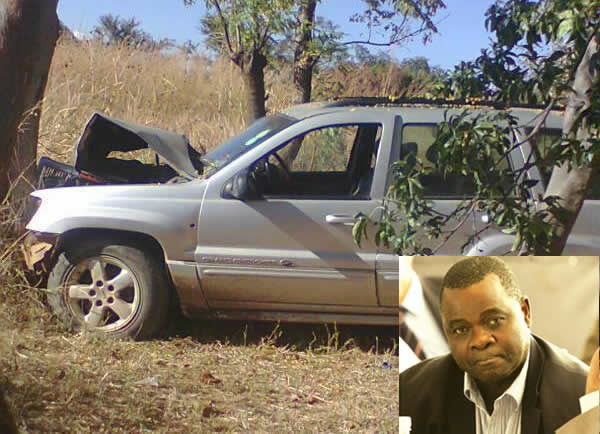 Two weeks ago, a 58-year-old politician in Zimbabwe named Edward Chindori-Chininga allegedly drove his Jeep Cherokee through an intersection and rammed it into a tree. He died instantly, according to Zimbabwean police. Some observers, however, think the story isn't so simple. In Zimbabwe, politicians who cross President Robert Mugabe, the country's ruler for the last three decades, have a way of dying in car accidents during election cycles — and a presidential election is scheduled for July 31st. The alternate theory: Chindori-Chininga was murdered because he tried to expose corruption in Zimbabwe's diamond sector.
But if Chindori-Chininga's mysterious death really was a murder, it would represent only a sliver of the violence wracking Zimbabwe – violence that is being fueled by diamonds. In fact, thanks to the misuse of Zimbabwe's diamond riches, this election month could well be a very violent one.
Zimbabwe's troubled relationship with diamonds dates to at least 2008, following the last presidential election. Mugabe kept power in that election only by brutalizing the opposition movement and ceding control of some government ministries – but not the armed forces – to opposition leader Morgan Tsvangirai. Afterward, in pursuit of riches and to help shore up Mugabe's power, the Zimbabwean army seized a massive diamond deposit in eastern Zimbabwe, massacring more than 200 local residents and enslaving others. Mining operations have now been turned over to private mining companies. However, the violence continues. Local villagers encountering security guards are still being beaten, attacked by dogs, and occasionally shot and killed.
In addition, Mugabe and his allies are stealing the country's diamond wealth. Last year, it was estimated that they had stolen about $2 billion in diamonds since 2008. The Parliamentary committee chaired by Chindori-Chininga also recently released a report showing the disappearance of hundreds of millions of dollars in diamond revenues. Some of this stolen diamond money helps Mugabe and his friends build personal fortunes, but other funds are being used to finance Mugabe's security state. The non-profit group Global Witness reported that Zimbabwe's secret police received as much as $100 million from a Chinese investor in exchange for access to Zimbabwe's diamond riches.
This off-book financing of Mugabe's security state is where the potential for diamond-fueled violence becomes truly alarming. Human Rights Watch estimates that in the 2008 presidential elections, Mugabe's security forces were responsible for violence leading to as many as 200 deaths, the beating and torture of about 5,000 people, and the displacement of about 36,000 Zimbabweans. Now, bolstered by diamond revenues, these same security forces are flush with new weapons, equipment, and recruits. It is believed that Mugabe will unleash them in the next few weeks as the country's election day draws near.
Chindori-Chininga's suspicious death is just one of many signs that Mugabe may seek to protect his rule with an iron fist – or, maybe we should say, with fistfuls of diamonds. Human Rights Watch last month released a report showing widespread human rights abuses and intimidation tactics by government security forces.
We regret that the Kimberley Process, the international diamond certification body, ceded what little power it had to change Zimbabwe's diamond business when it lifted a ban on Zimbabwean diamonds in 2011. But in the absence of any international action plan, it is more important than ever for consumers to understand that Zimbabwe's diamonds are tainted.  We do not know what can be done immediately to prevent bloodshed in this month's elections. But we do believe that in the long-term, if enough consumers make ethical diamonds a priority, it will become harder for dictators like Robert Mugabe to entrench themselves in power using diamonds.