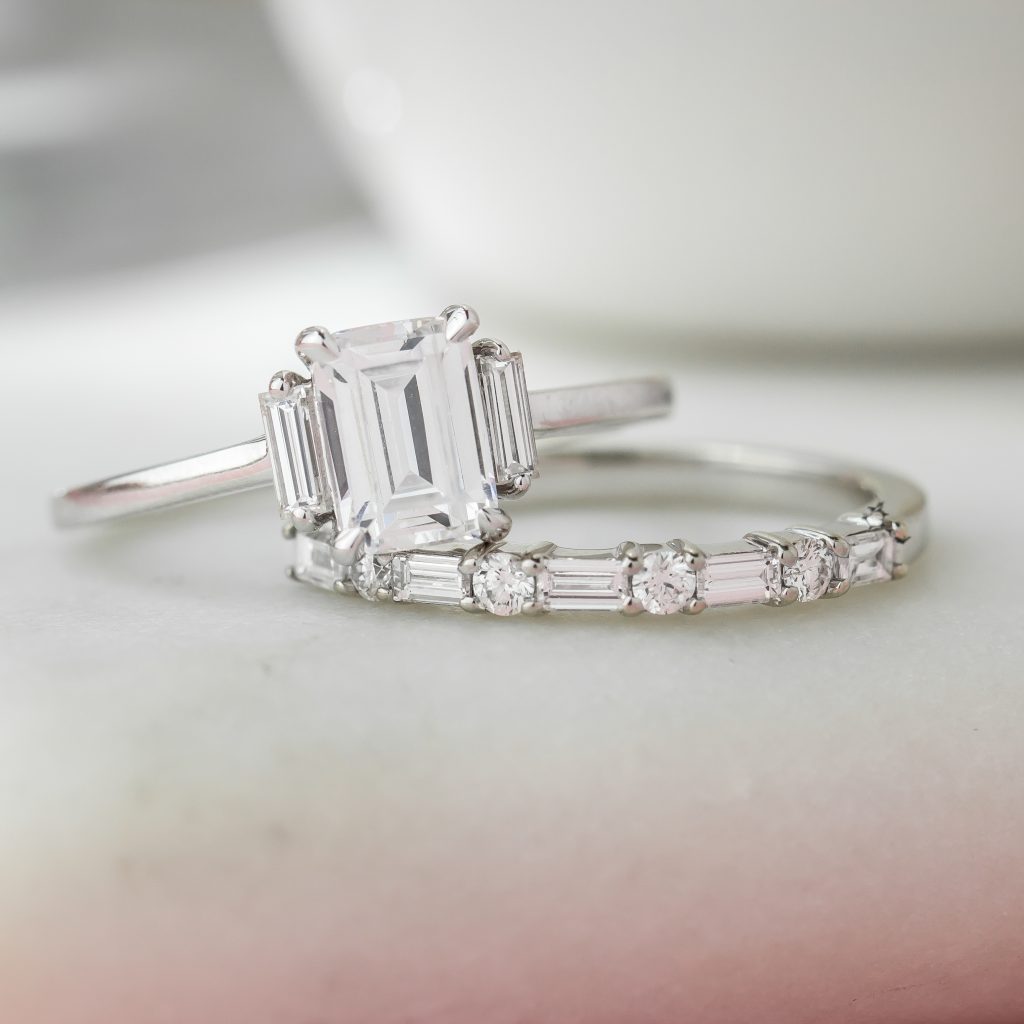 Harkening back to the Art Deco era, baguette diamonds make for a sleek and sophisticated look when set in wedding bands or engagement rings. As their name alludes to, baguette diamonds are named for their long and slender shape.
The use of clean lines and futuristic geometric forms were signature characteristics in Art Deco rings, reflecting the bold spirit of the roaring 20s. The streamlined geometric shape of baguette cut diamonds fits effortlessly into this motif. Today's re-imaged baguette diamond ring designs have a vintage appeal that's perfect for the modern bride.
What is a baguette cut diamond?
A baguette cut diamond is a step cut diamond. They are long and rectangular in shape and offer exceptional clarity.
Baguette Cut Diamond vs. Emerald Cut Diamond
Baguette and emerald cut diamonds are known as step cut diamonds. This cut offers a different type of beauty from a classic round cut diamond, offering exceptional clarity and a distinctive look when set in fine jewelry. Step cut diamonds are either found in square or rectangular shapes, and their facets are rectilinear (made up of straight lines). This cut's long, narrow facets produce a prismatic reflection as opposed to brilliance, evoking a house of mirrors or a staircase look—hence their name!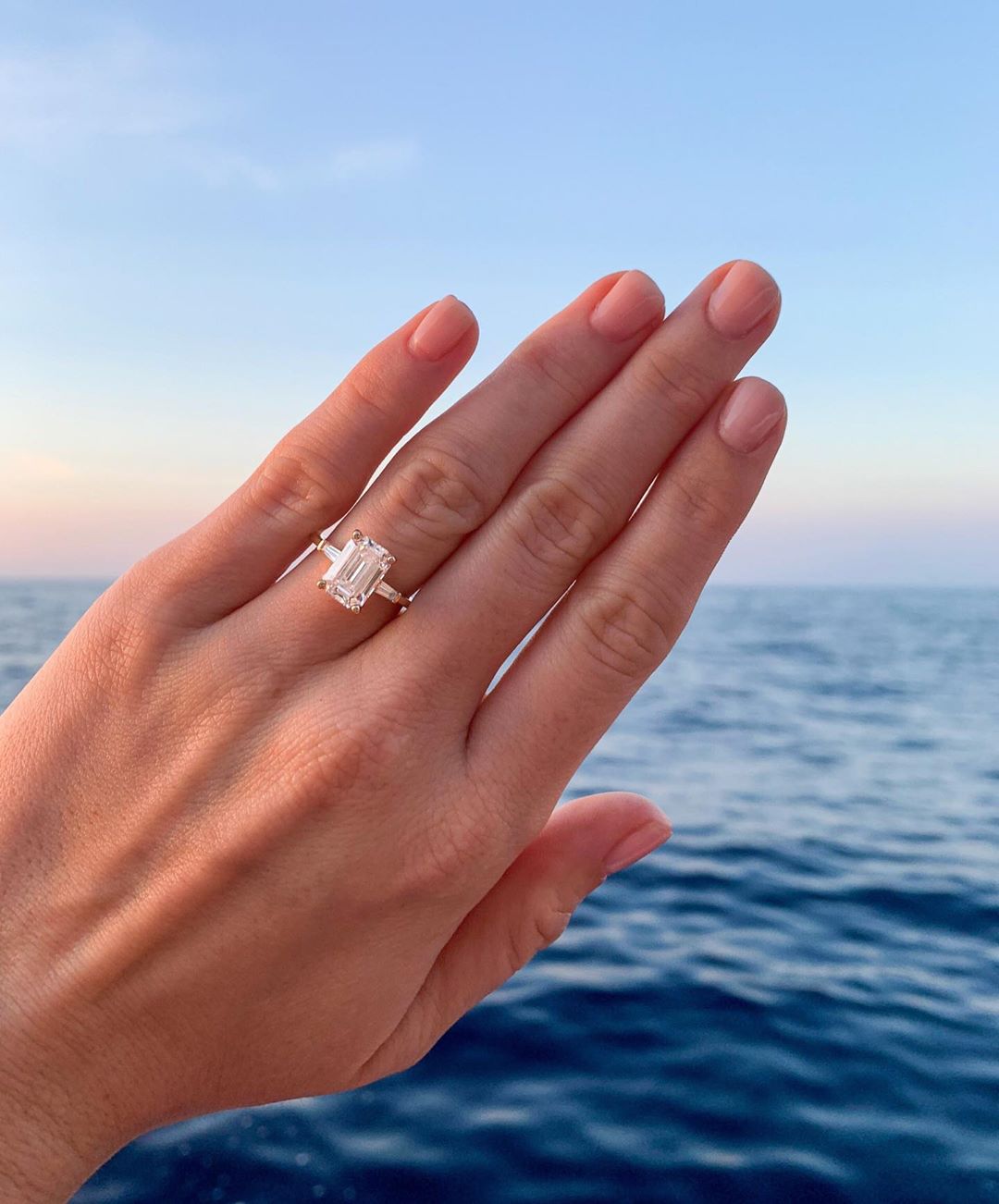 Emerald cut diamonds typically have 50-58 facets while baguette diamonds have 14. Emerald cut diamonds are often featured as the main stone in engagement rings and other fine jewelry. Baguette cut diamonds are commonly used as side stones to accentuate the beauty of a different shaped center gem.
Straight Baguette vs. Tapered Baguette
Straight baguette diamonds are perfectly rectangular with opposing sides being perpendicular to each other. Tapered baguette diamonds are narrower on one of their two ends, creating a trapezoidal shape. Either type of baguette diamond looks exceptional when framing a center diamond, but we especially love the look of tapered baguettes in three stone rings!
Tapered Baguette Diamond Ring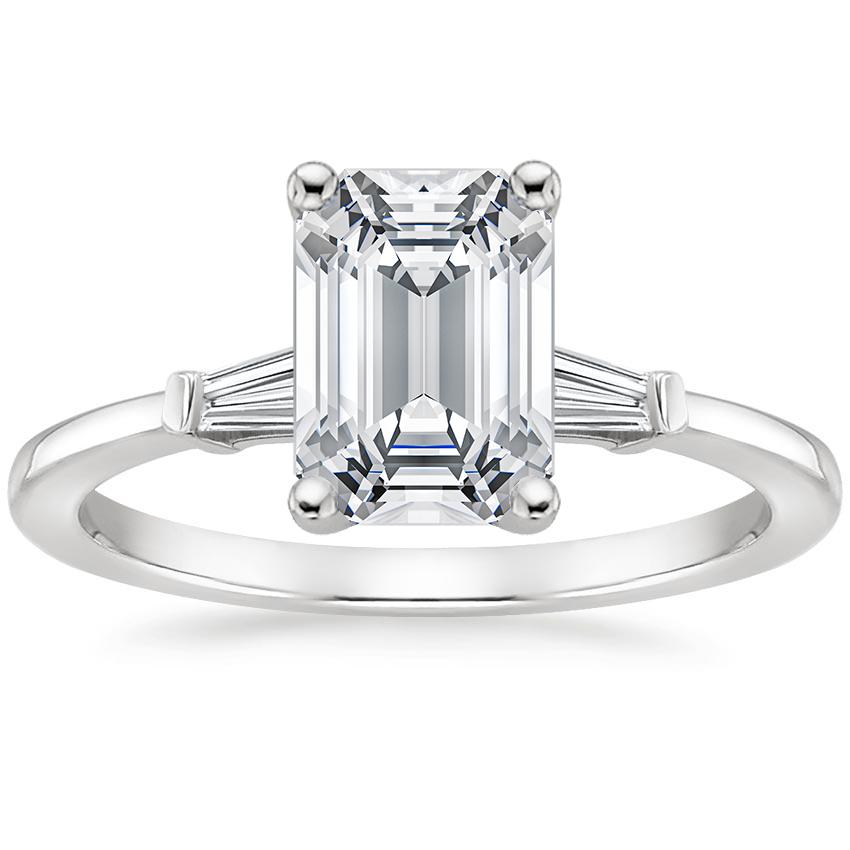 Captivating tapered baguette diamonds are bar channel-set in this elegant ring, brilliantly framing the center gem.
Piper Diamond Ring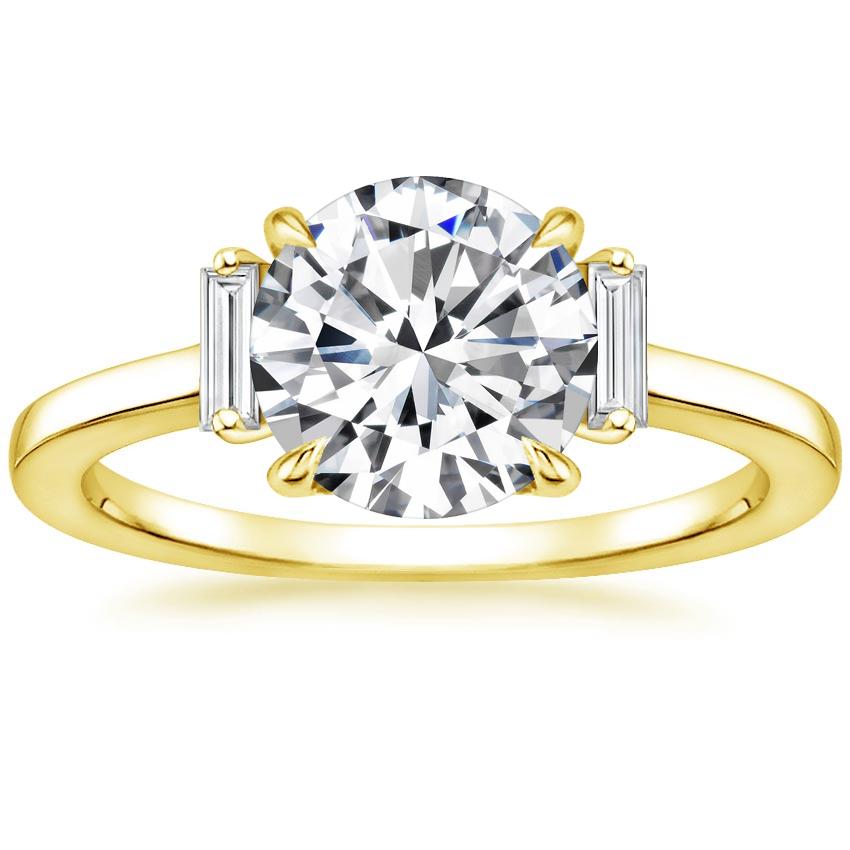 Simple and clean, the twin baguette accents flanking the center gemstone of the Piper Diamond Ring elegantly highlight the center gem in this charming modern engagement ring.
Harlow Diamond Ring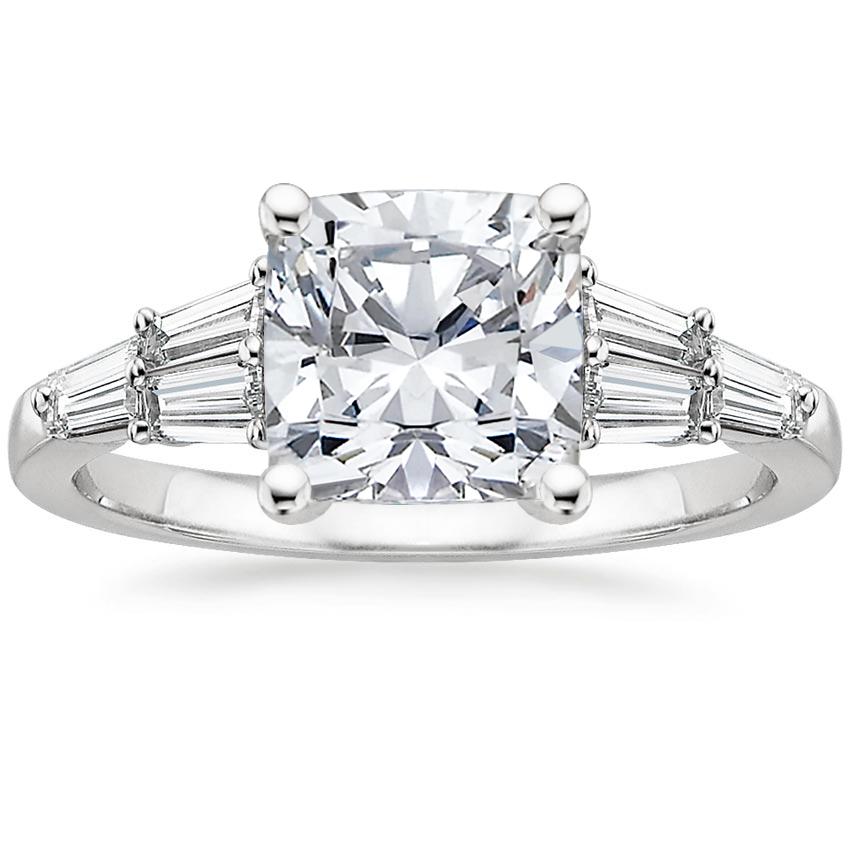 Alluring baguette cut diamonds sit on either side of the center stone in a split shank band style for this chic and glamorous piece.
Quinn Diamond Ring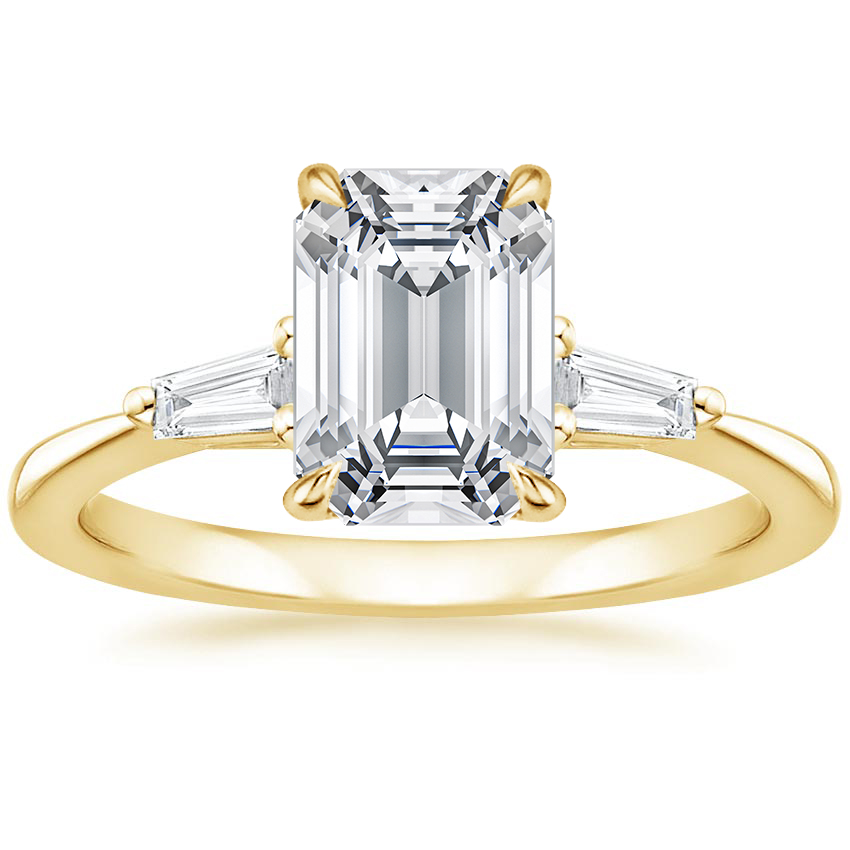 Captivating tapered baguette diamonds are prong set in this ring, with elegant claw prongs framing the center gem. With a delicate band, this ring evokes classic beauty.
Octavia Diamond Ring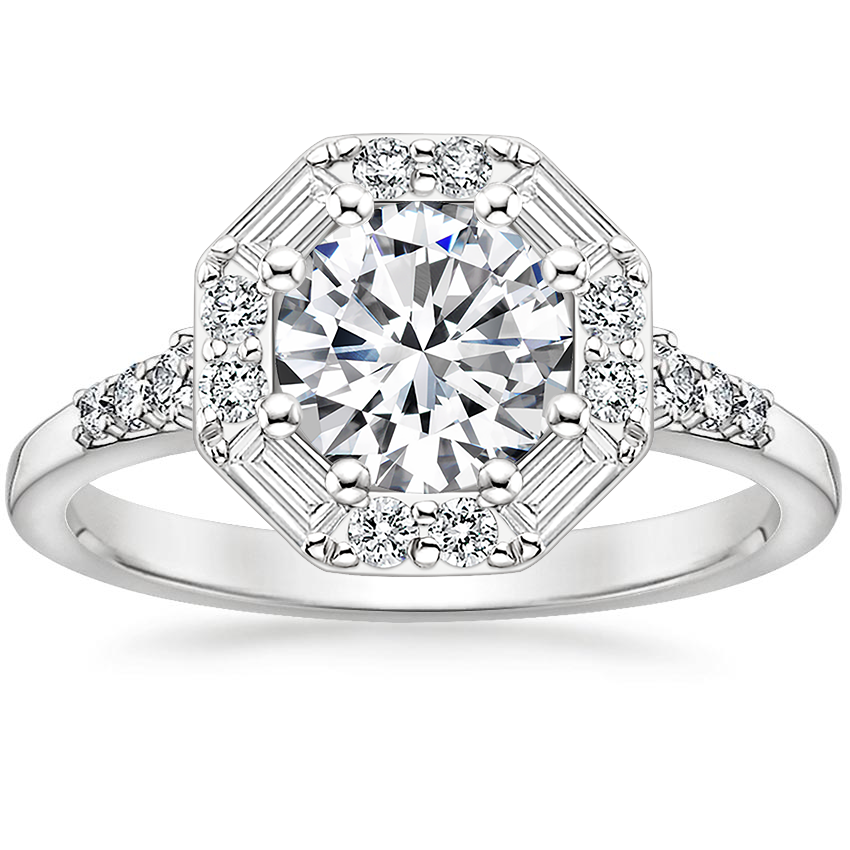 Baguette diamond accents radiate out from the center diamond in a burst that brings extra drama, sparkle, and attention to the ring.
Baguette Diamond Wedding Band Designs
Leona Diamond Ring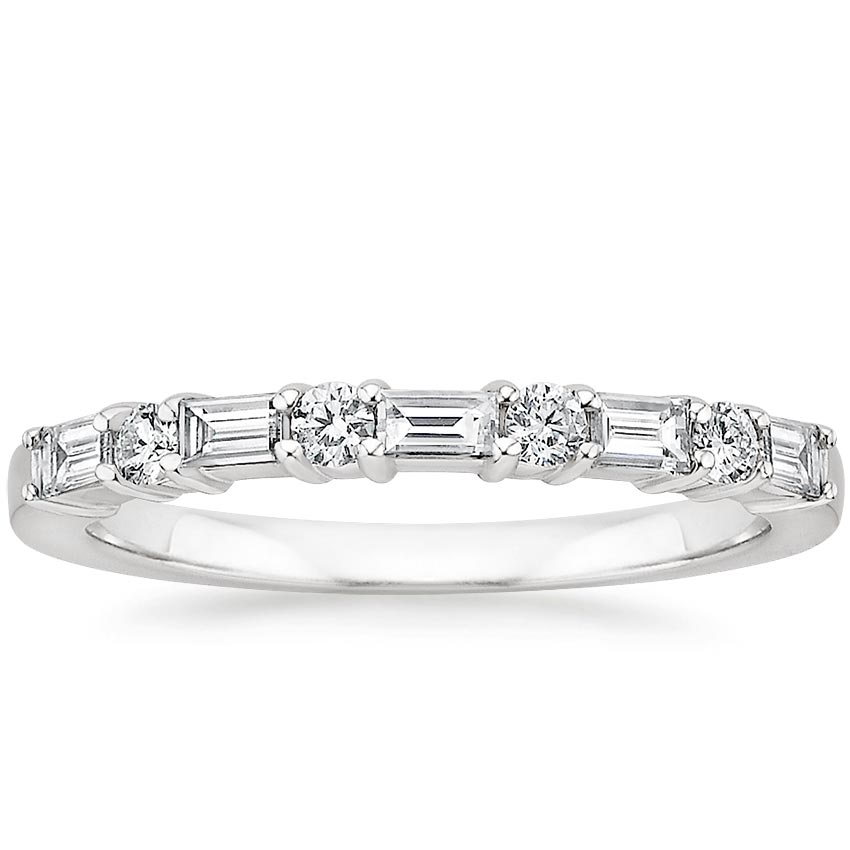 This vintage-inspired ring features shimmering diamond baguettes alternating with round diamonds for an eye-catching look. The delicate, high polish band adds distinctive appeal.
Channel Set Baguette Diamond Ring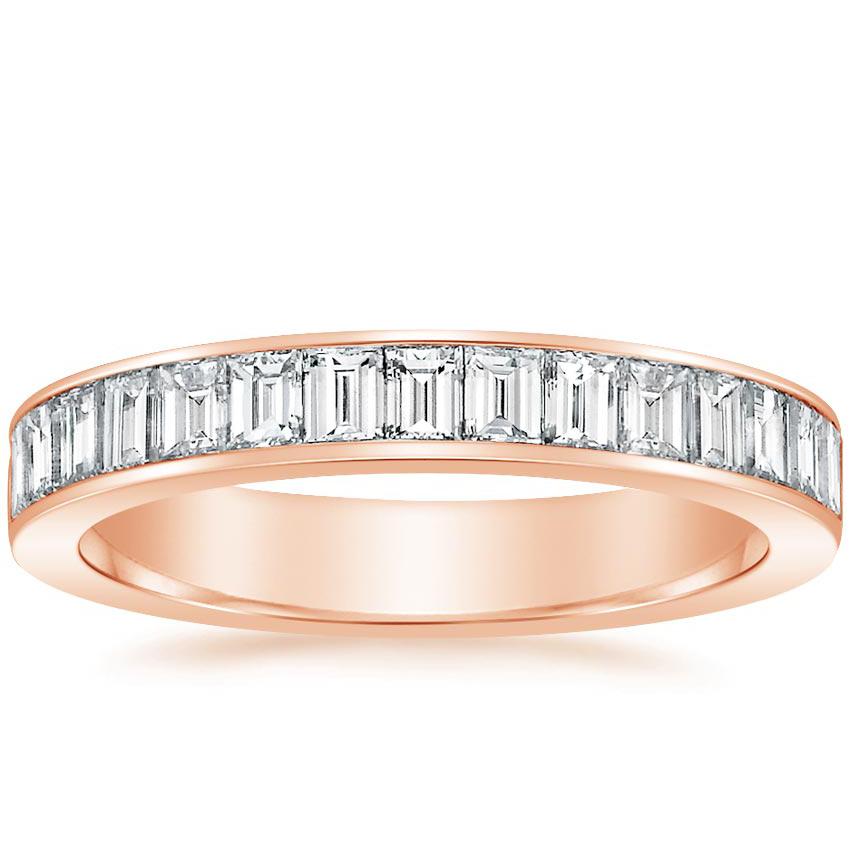 This stunning band features a row of baguette cut diamonds secured in a channel extending halfway down the shank for eye-catching sparkle.
Lane Diamond Ring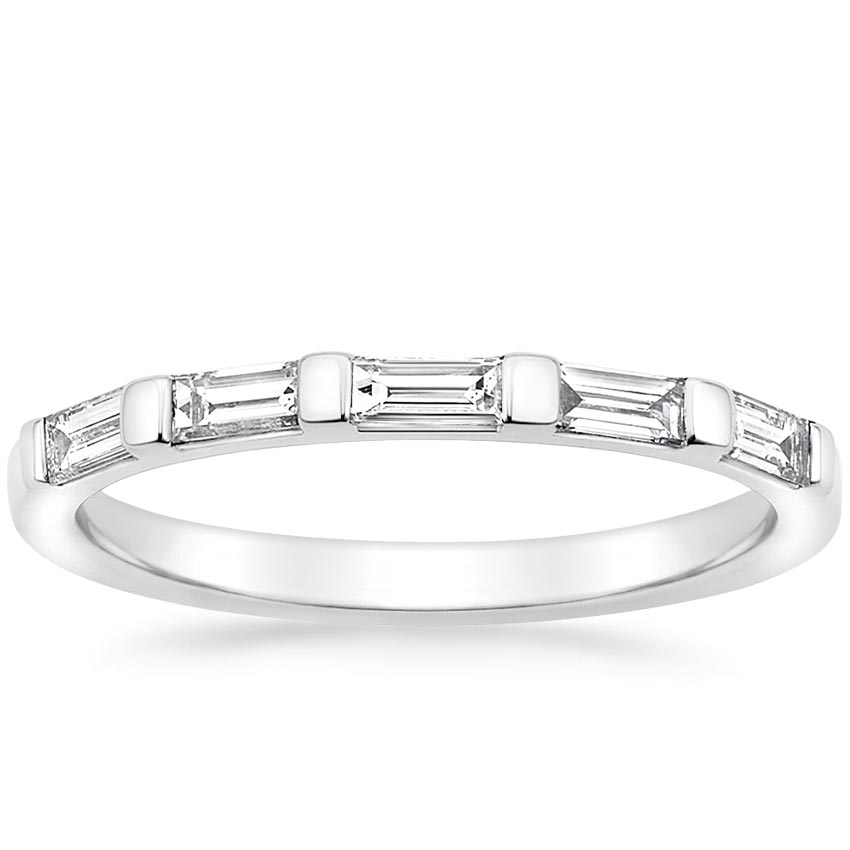 Irresistible baguette cut diamonds are bar-set across the top third of the band in this sleek and modern wedding ring.
Vintage Diamond Baguette Ring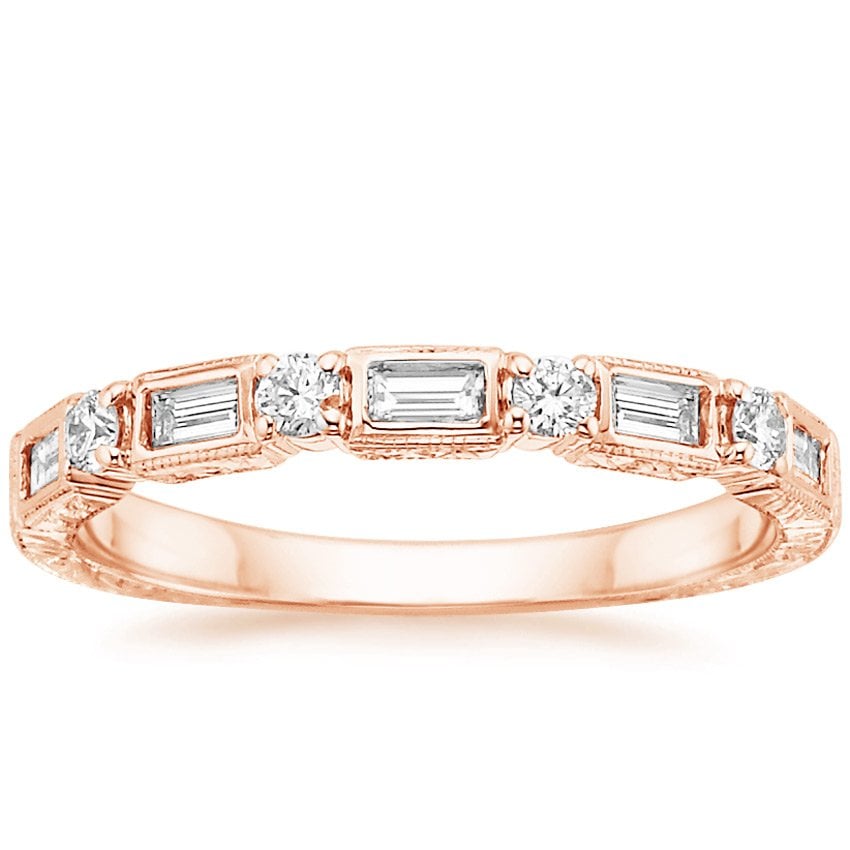 Sparkling diamond baguettes alternate with round diamonds in this vintage inspired band. A hand-engraved fanciful floral pattern on both the top and sides adds additional appeal.
Harper Diamond Ring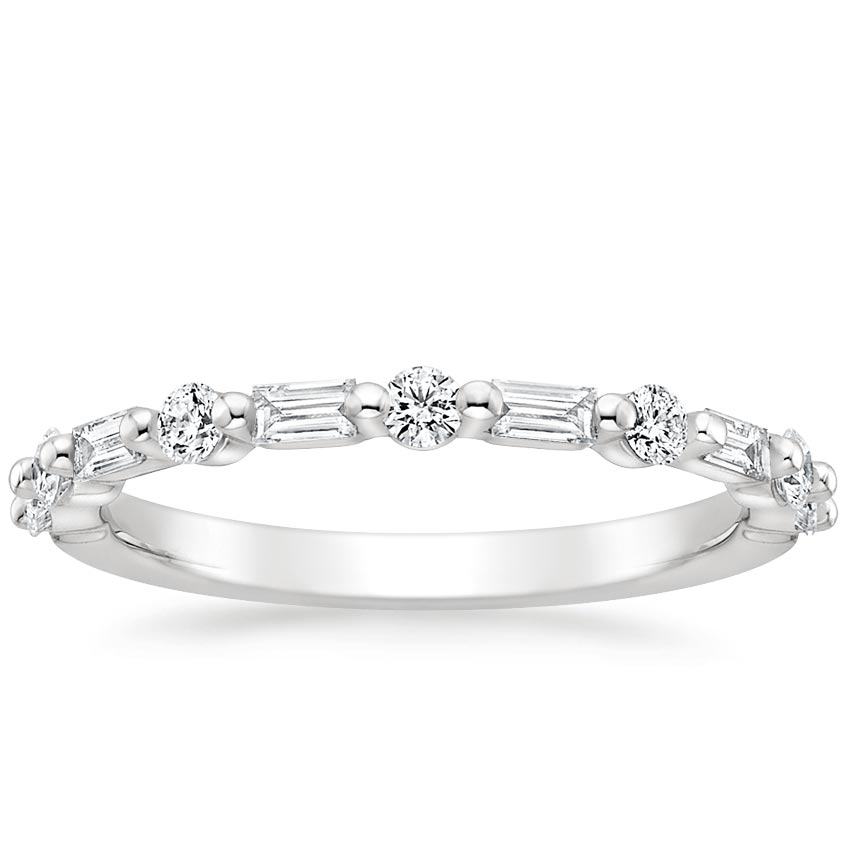 This stylish ring features shimmering diamond baguettes alternating with round diamonds for an eye-catching look.
Sines Diamond Ring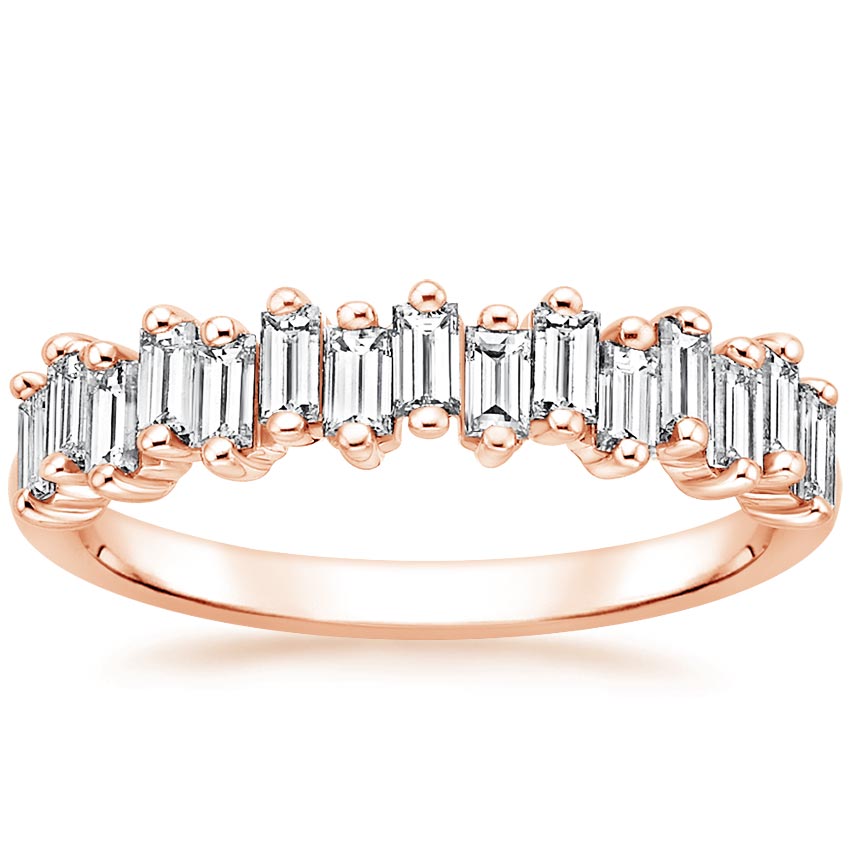 An alternating wave of baguette diamonds dazzle along one third of the band for a modern and lustrous look.
Gemma Diamond Ring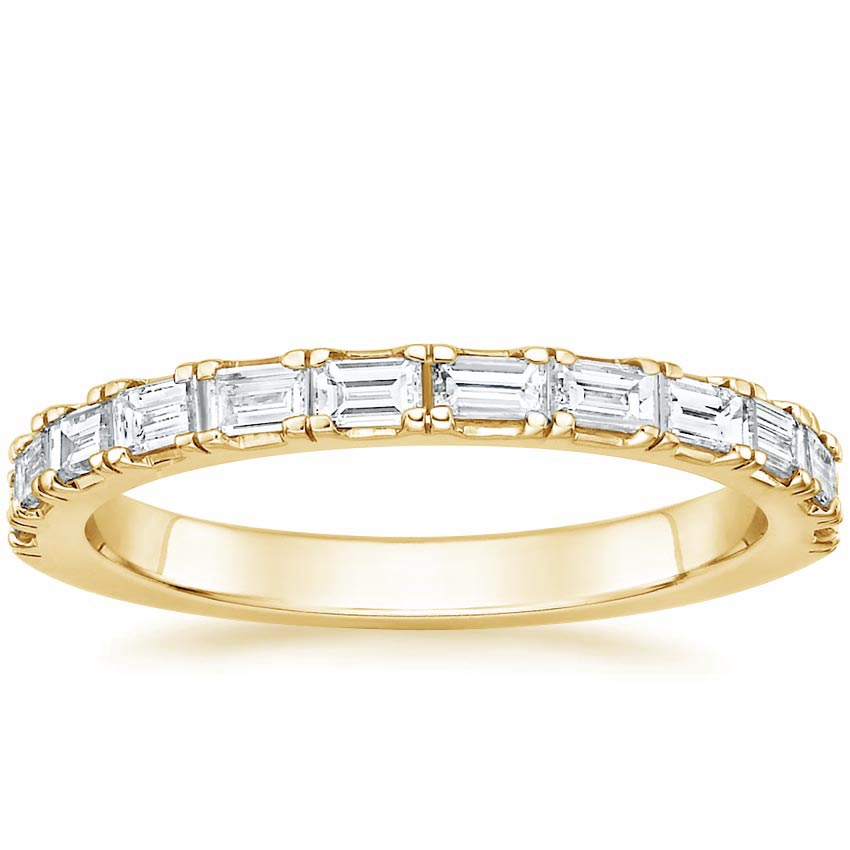 Baguette diamonds in a scalloped pavé setting glimmer along the top half of this ring while the delicate, high polished band completes the look of timeless elegance.
Winslet Diamond Ring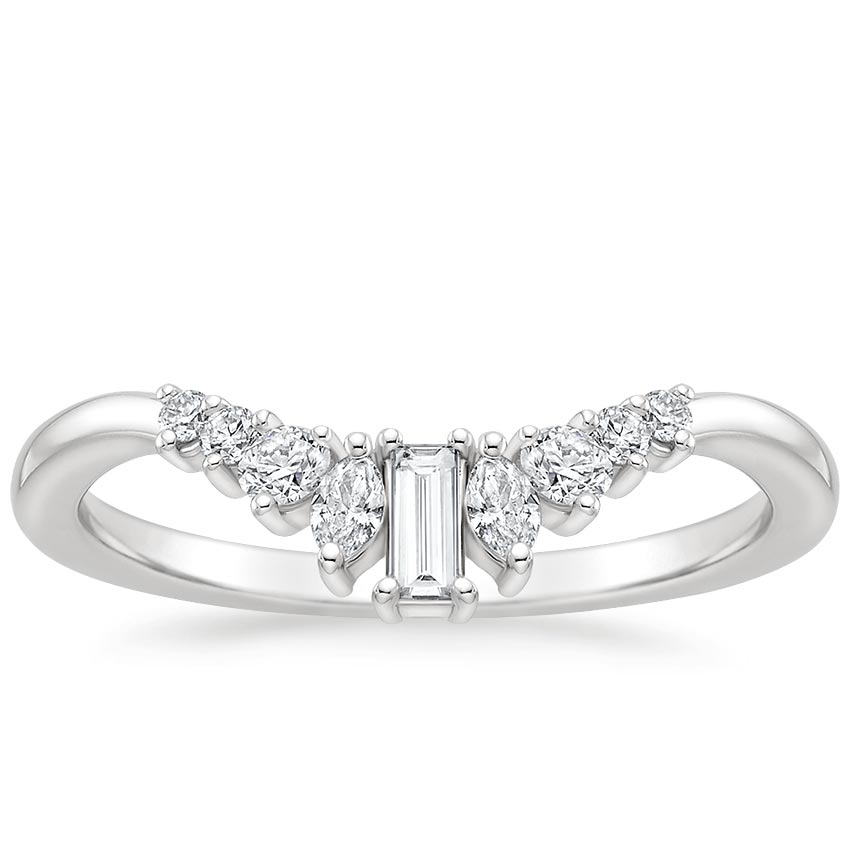 Sparkling round and marquise-shaped diamonds frame an eye-catching baguette diamond in this sleek crescent shaped ring which is perfectly styled to complement an engagement ring, stack with other rings, or wear by itself.
Final Thoughts
Do you like the look of baguette diamonds? Which style is your favorite? Let us know on our Instagram, Facebook, or Twitter, or in the comments below!