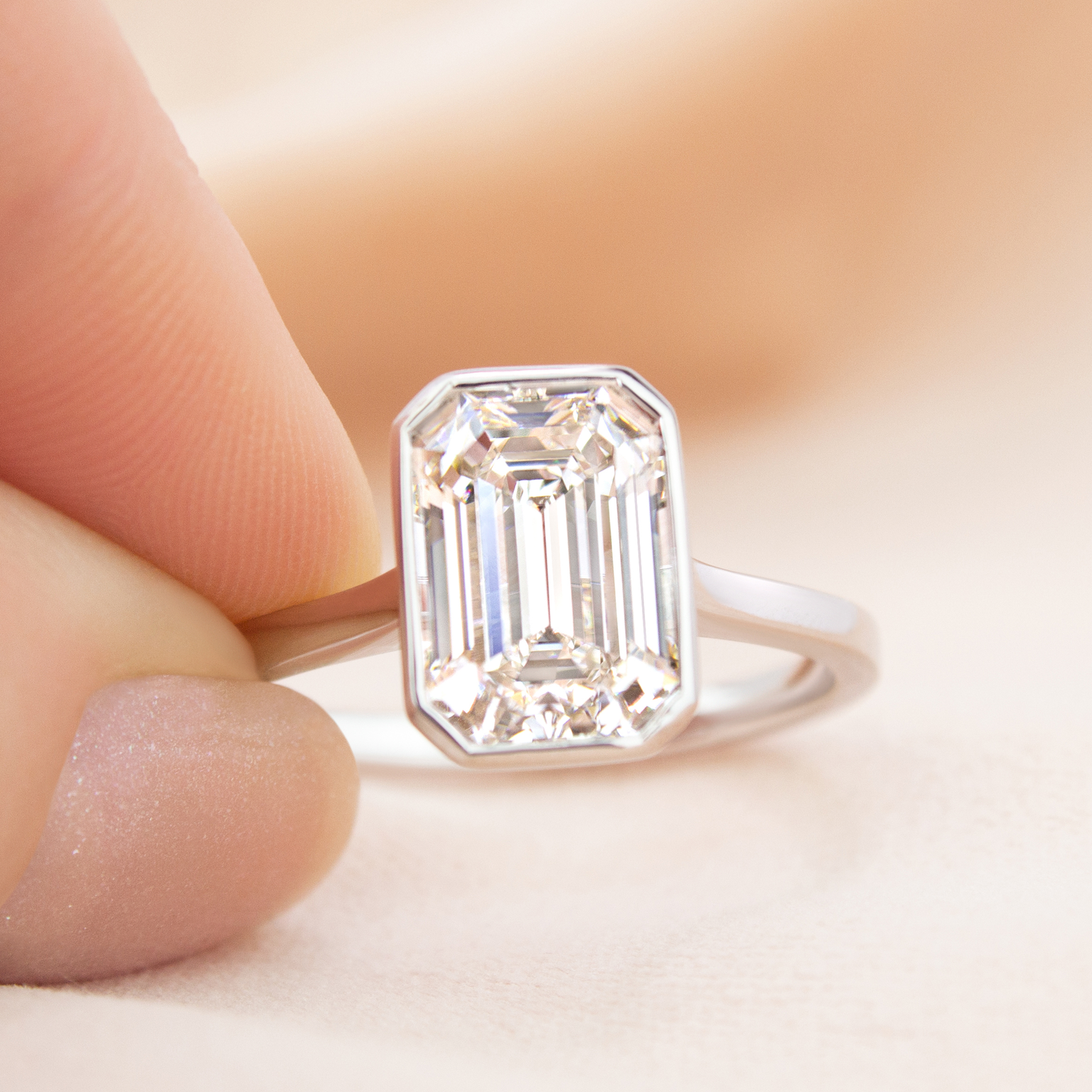 Bezel set rings are beloved for their sleek design and modern curves. This distinctive diamond setting is stunning when featured at the center of an engagement ring, but also looks utterly unique when used in accent stones and wedding bands.
What Is A Bezel Setting?
A bezel setting surrounds the gem's girdle (its widest point) with a thin band of precious metal to create a perfectly smooth edge and keep the gem secure.
Bezel Setting Vs. Prong Setting
Rather than surrounding the gemstone in precious metal, prong settings hold the diamond in place with either bead, peg, or claw prongs. The prong is notched at the gem's girdle to secure it in place. Since prong set styles use less precious metal to hold the gemstone in place, more light filters through the diamond. This causes prong set diamonds to appear more brilliant than bezel set diamonds. Solitaire prong settings tend to be less expensive than solitaire bezel settings since less metal is used.
Prong settings leave the diamond more exposed, so if you live an active lifestyle your diamond might be at a higher risk of getting damaged.
Bezel settings leave the diamond completely wrapped in metal, keeping it very secure. Although less light reaches the diamond in a bezel setting, a band of lustrous precious metal may make your gemstone appear larger.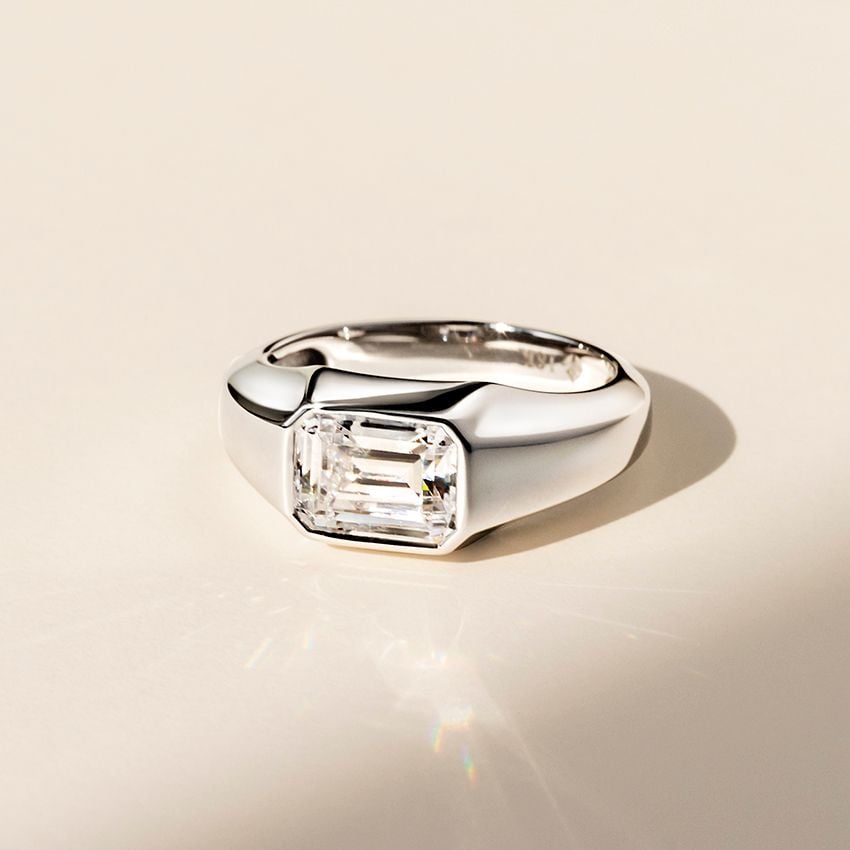 Advantages of Bezel Settings
If you live a highly active lifestyle, or work in an environment where your ring is likely to get bumped often, bezel settings are a great choice! A stone held in a bezel setting is less likely to get loose and fall out, making this setting an excellent choice for active people.
Bezel setting can also be great at hiding a gemstone's visible defects, such as chips or inclusions. If you are opting for a softer gemstone, such as an opal or emerald, a bezel setting will protect them from scratches and chips better than a prong setting would.
These settings also offer versatility in style. They're especially great if you love modern engagement rings, but you want a ring with a bit of vintage flair. Choosing a bezel setting with light-reflecting milgrain detailing can add a touch of old world charm. If you want something a bit more glamorous, you could choose a bezel setting with diamond accents. Semi-bezel rings—featuring a bezel that does not surround the entire circumference of the gemstone— are also secure and create gorgeous, flowing styles.
Bezel Set Engagement Rings
Luna Engagement Ring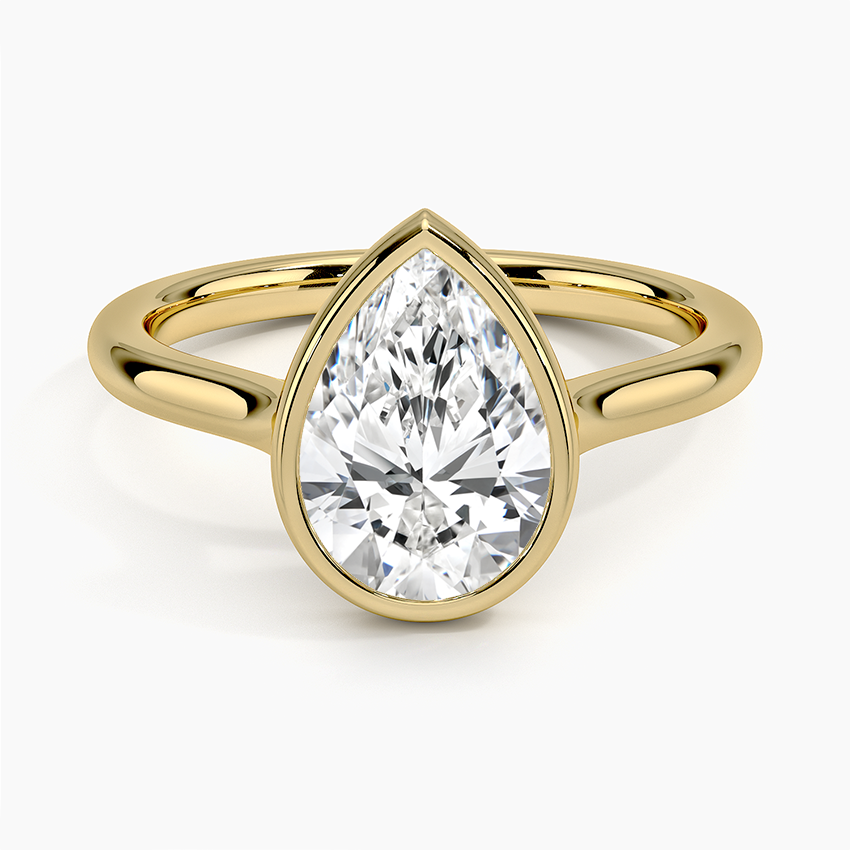 This beautiful, modern ring features a bezel-set center gem with a sleek band for a contemporary look. The elevated bezel allows for maximum light play and accommodates a variety of wedding band styles to tuck underneath.
Blair Bezel Engagement Ring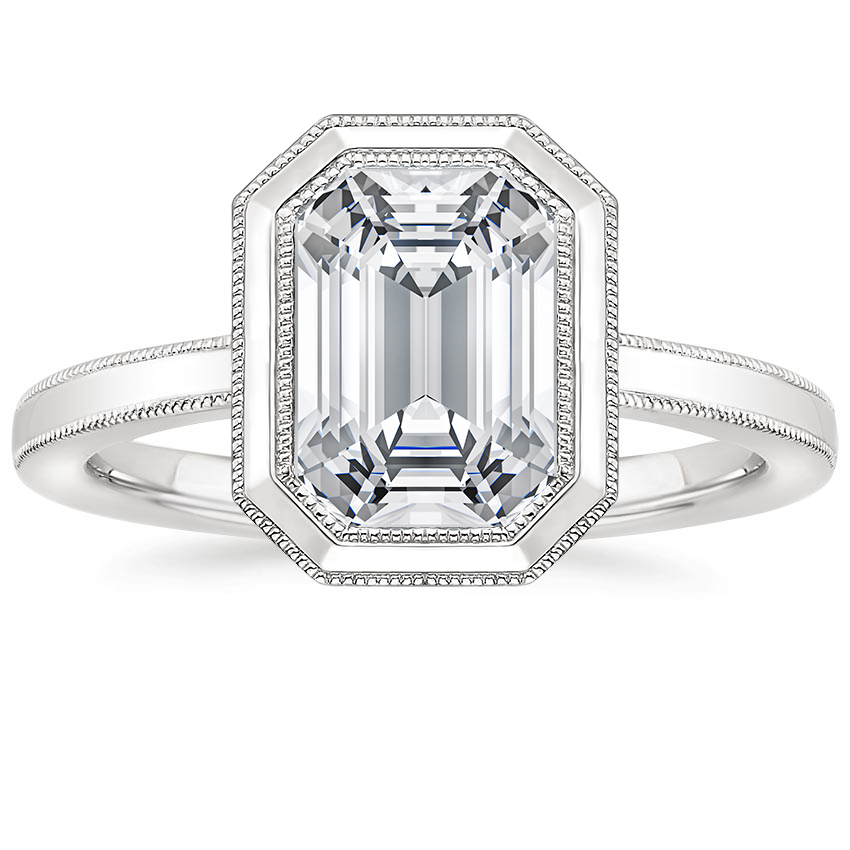 This bezel set engagement ring features classic milgrain detailing along the inner and outer edges of the setting and along either side of the band, creating the perfect blend of traditional elements with a modern edge.
Noemi Engagement Ring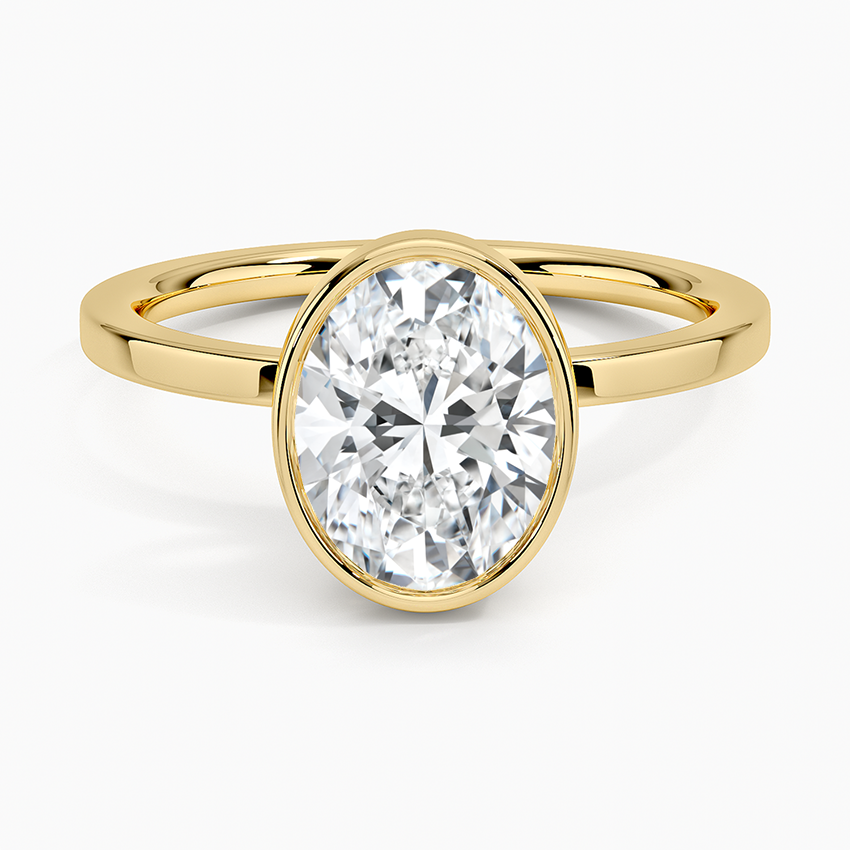 A raised, delicate bezel creates a unique and sophisticated look in this ring that is made to sit flush with many wedding band styles.
Vesper Engagement Ring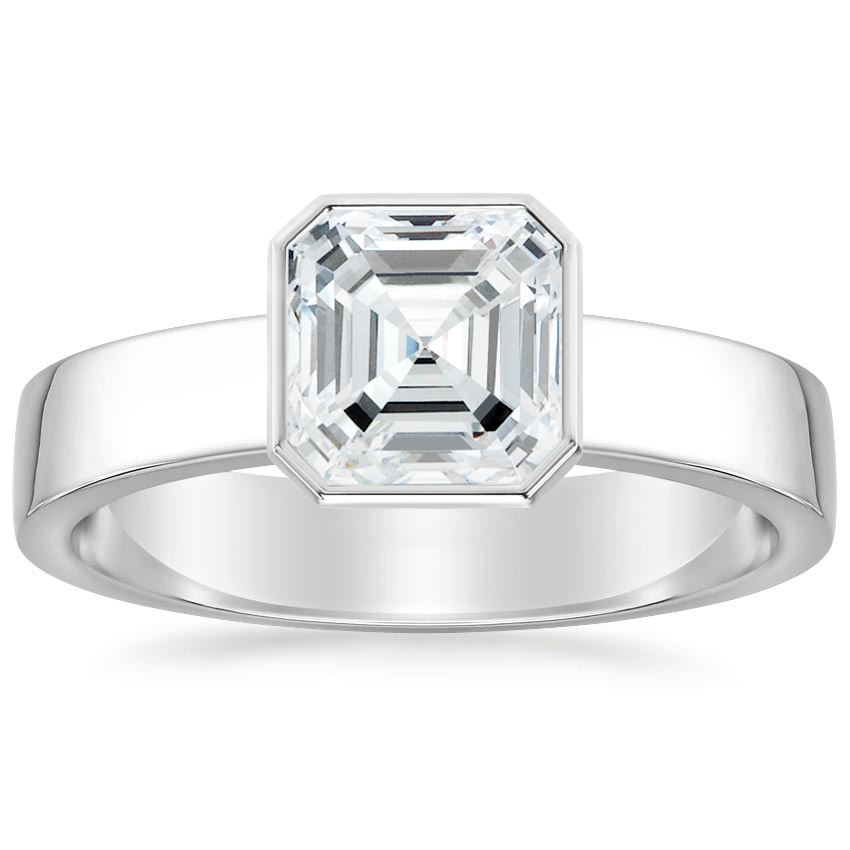 This captivating solitaire features a bezel-set center gem cradled by a beveled, bright-cut border. The lustrous precious metal band has a rounded inside edge for increased comfort.
Cielo Engagement Ring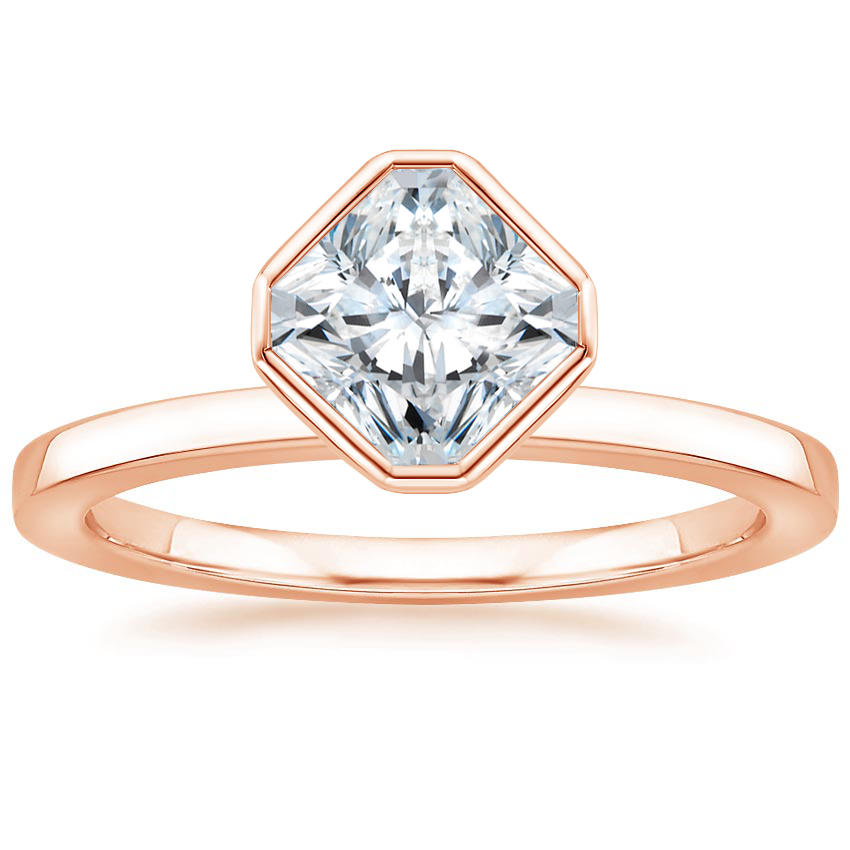 This elegant solitaire features an open bezel setting that floats above the band like a glorious moon in the sky. Unique and captivating, the design also features a low-domed band for increased comfort.
Margot Engagement Ring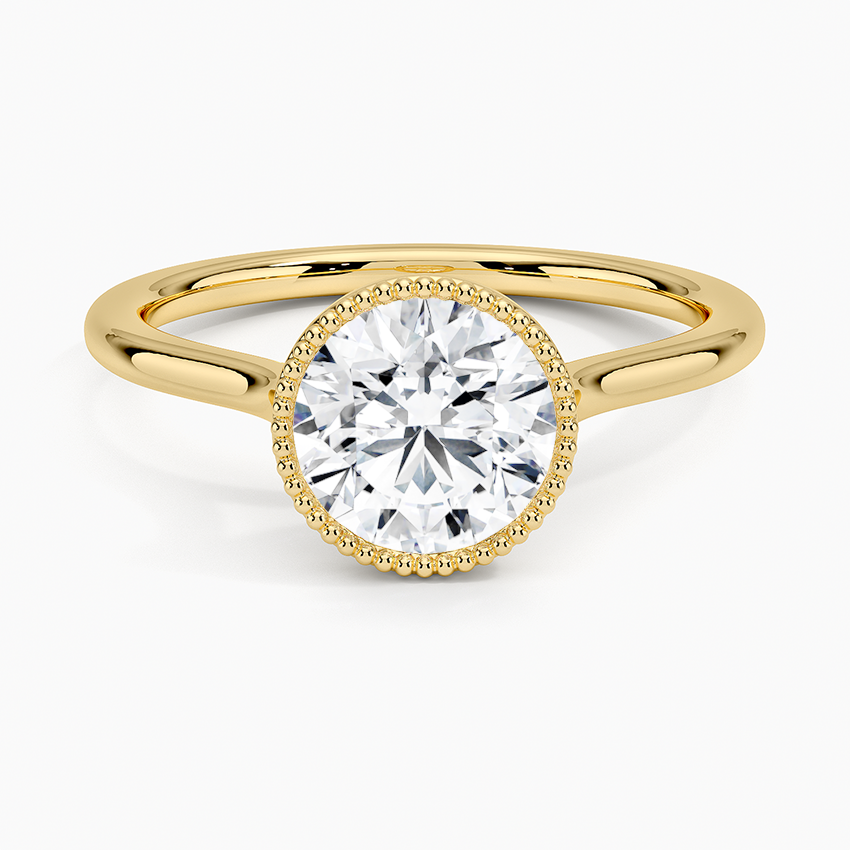 This beautiful, contemporary ring features a bezel-set center gem with milgrain accents for a unique look. The elevated bezel allows for maximum light play and accommodates a variety of wedding band styles to tuck underneath.
Alvadora Diamond Engagement Ring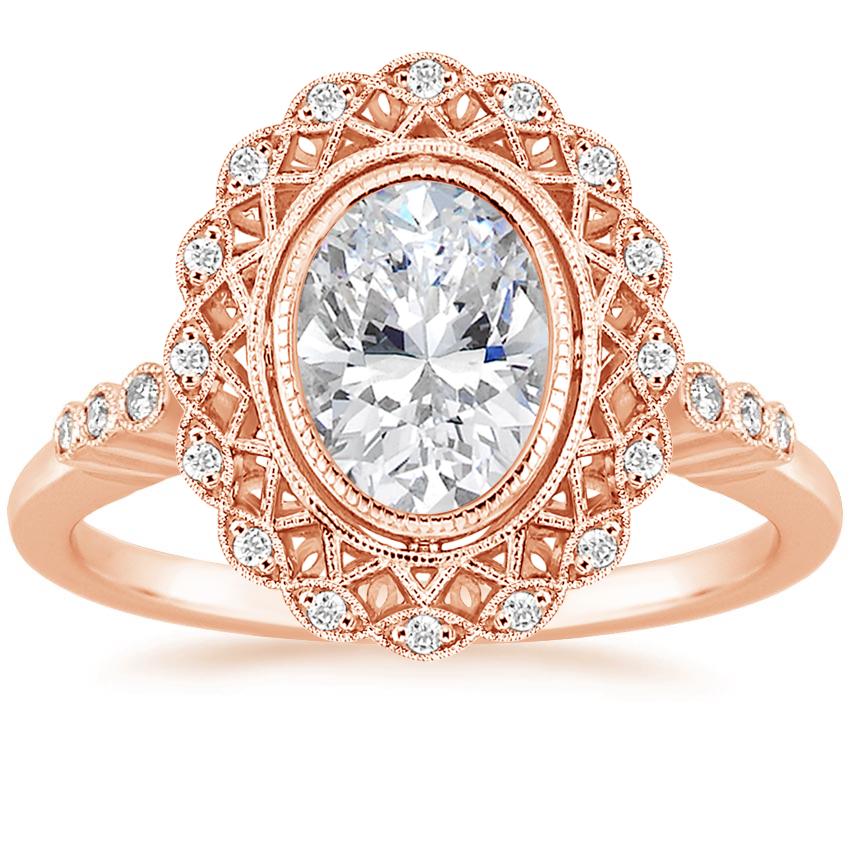 This truly exceptional vintage-inspired ring features a bezel-set center gem surrounded by lavishly detailed latticework and a halo of shimmering diamonds.
Haiden Engagement Ring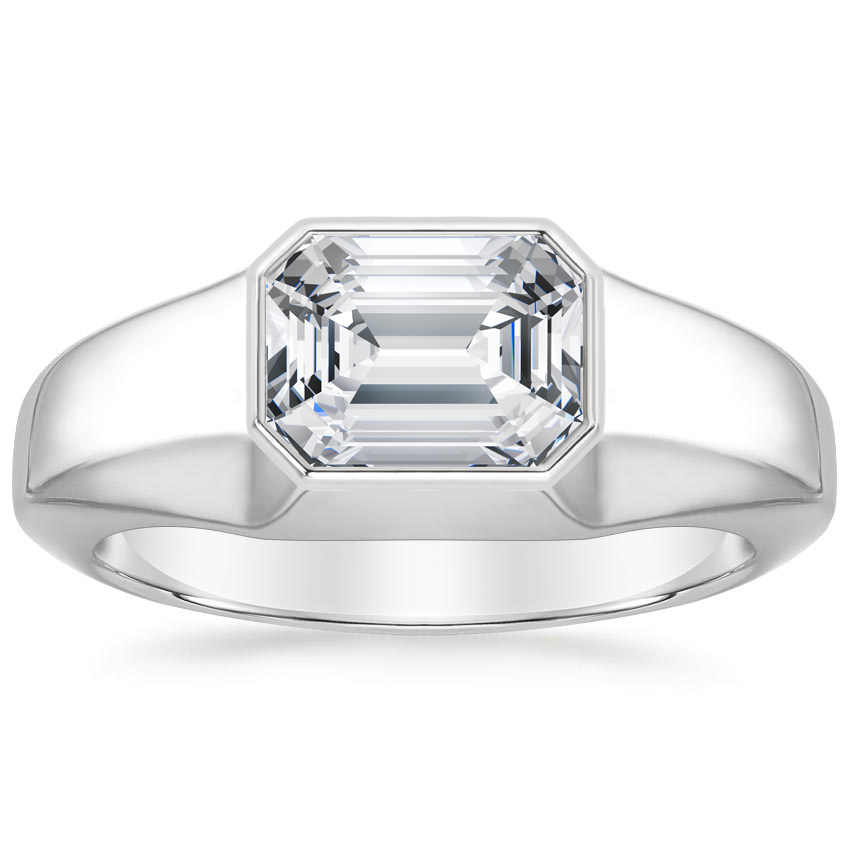 A delicate bezel adds unique charm to this sleek, handsome ring.
Cosette Diamond Engagement Ring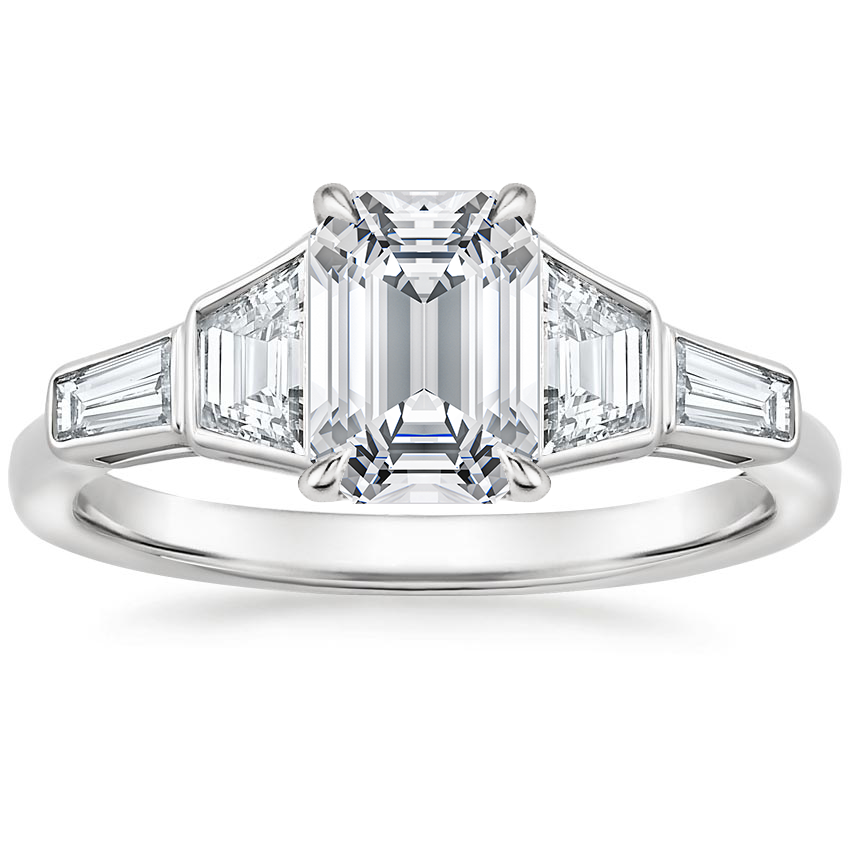 Trapezoid and tapered baguette diamonds are bezel set in this modern ring with a vintage feel. Claw prongs cradle the center gemstone while a fully open gallery allows light to reach it, maximizing its brilliance.
Adele Diamond Engagement Ring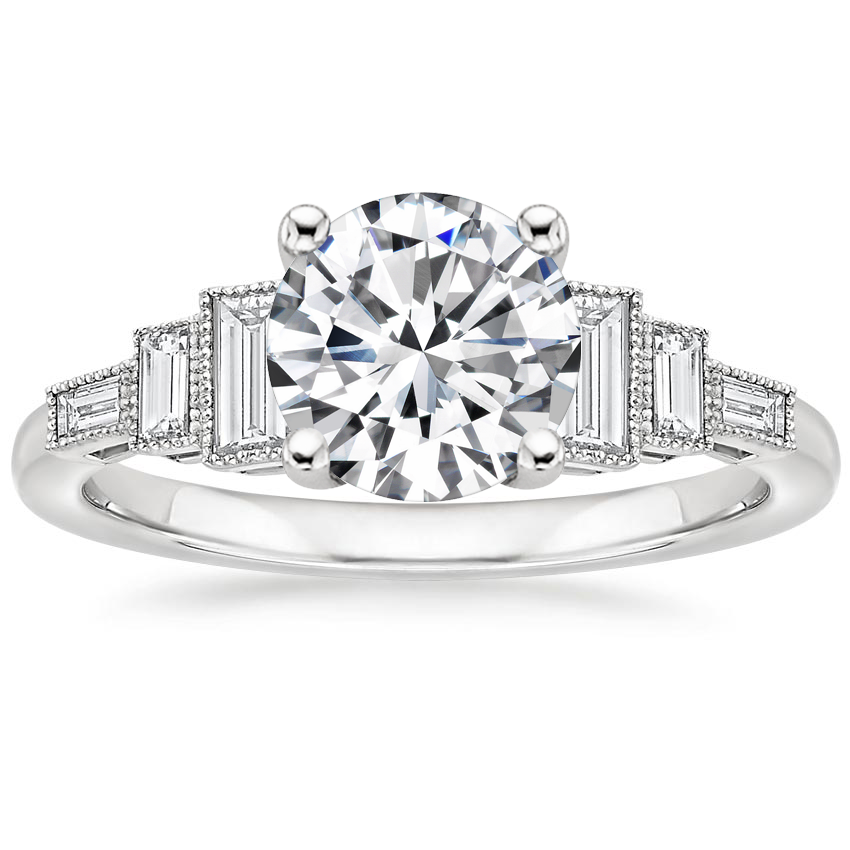 Stunning baguette diamonds in a delicate milgrain bezel setting add vintage flair to a modern design.
Morgan Engagement Ring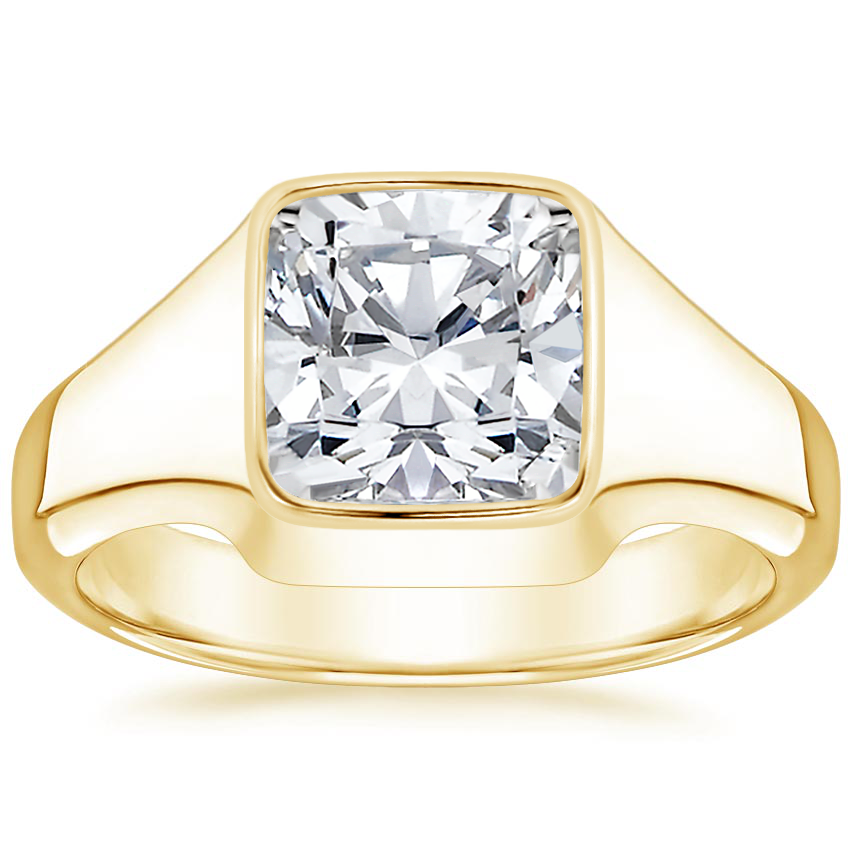 A glistening center stone is delicately bezel-set in this modern, eye-catching ring.
Bezel Set Wedding and Anniversary Rings
Jade Trau Camarín Diamond Eternity Ring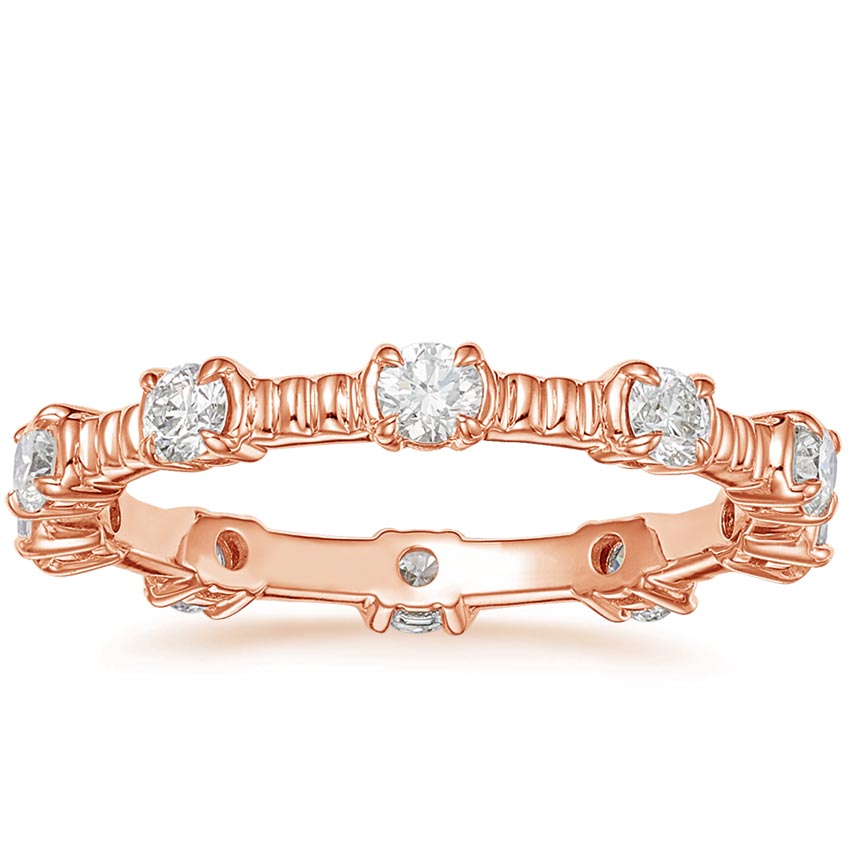 Dazzling prong-set diamonds with a semi bezel rest between lustrous, fluted forms in this modern eternity ring with a romantic yet architectural twist. Pair with satin finish or non-accented bands to create a personalized and chic stack.
Jade Trau Cavetta Diamond Eternity Ring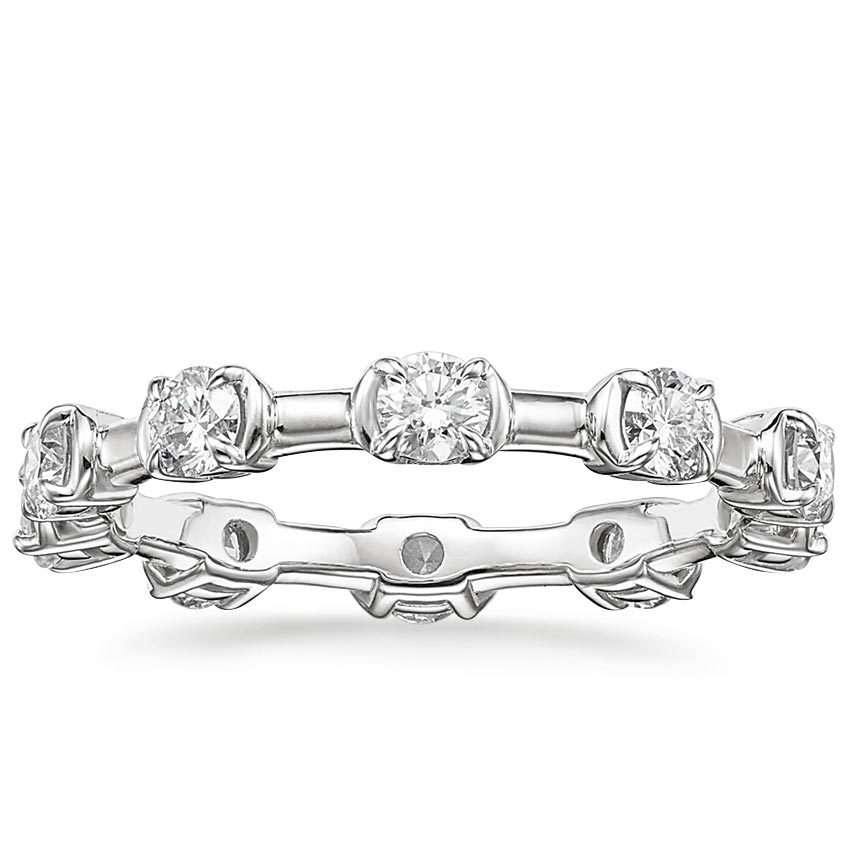 Sparkling diamonds prong-set with semi bezels adorn lustrous, high polish metal in this classic eternity ring with a sleek, modern feel. Pair with satin finish or non-accented bands to create a personalized and chic stack.
Luxe Tiara Eternity Diamond Ring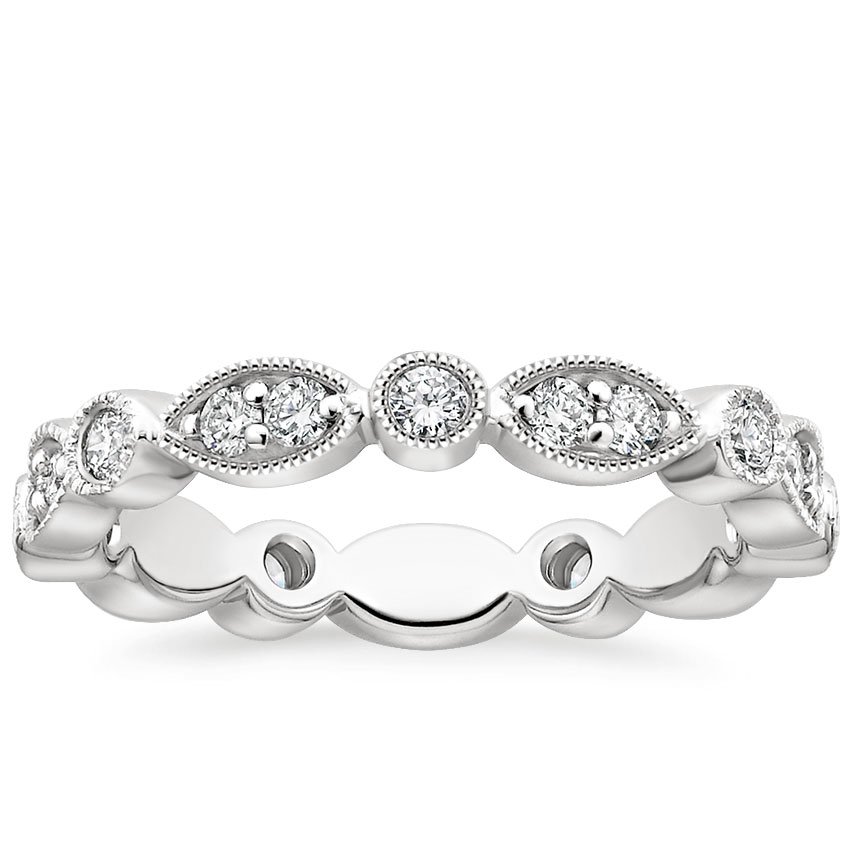 This luxe ring achieves a romantic, antique look with alternating round and marquise-shaped frames encircling the finger. This band is the perfect choice to stack or wear on its own.
Jade Trau Orneé Eternity Diamond Ring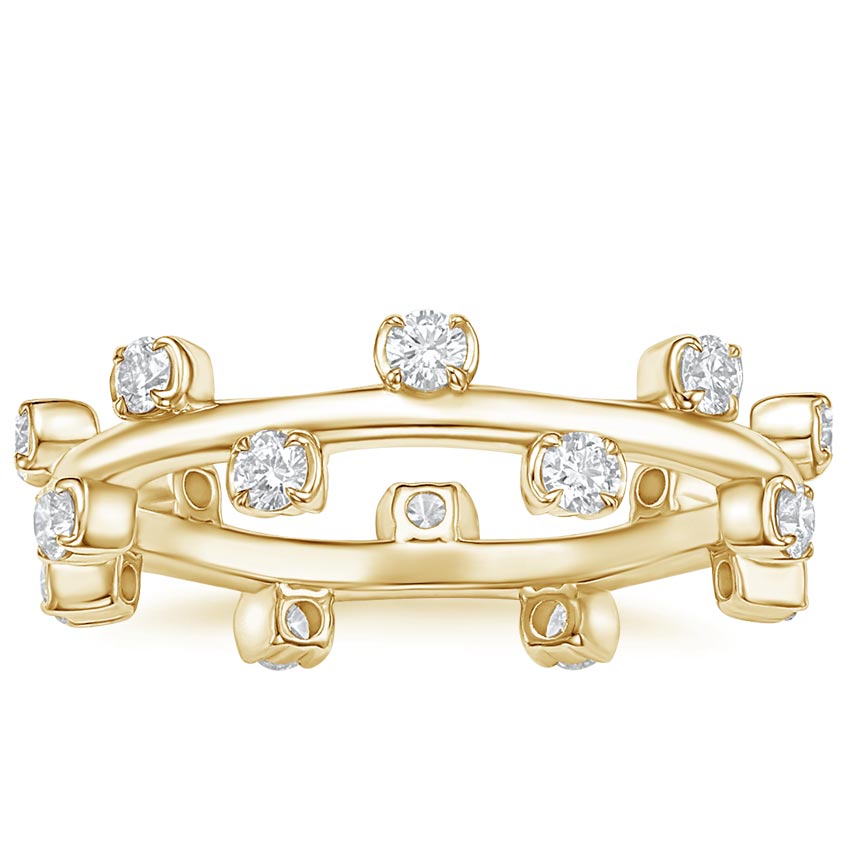 Prong set diamonds with semi-bezels rest on either side of a high polish band for a dripping-in-diamonds look with a structural yet whimsical feel.
Ivy Scroll Diamond Ring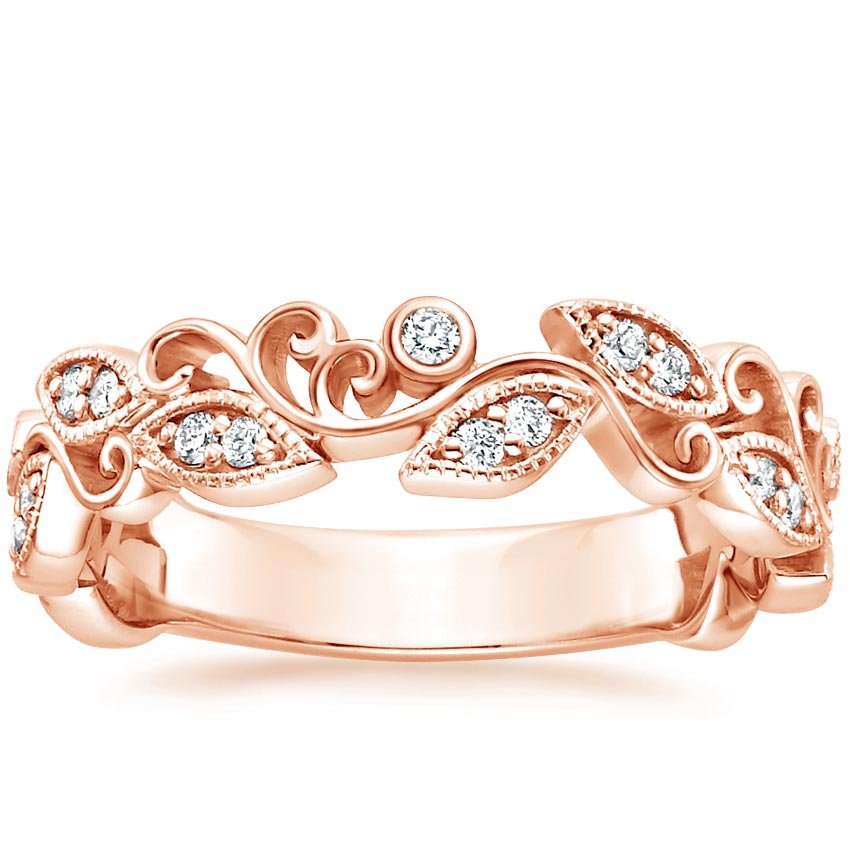 Swirling ribbons of precious metal and bezel-set round diamonds encircle the finger in this mesmerizing ring. Delicate milgrain accentuates leaf-shaped settings for a nature-inspired effect.
Rosalie Diamond Ring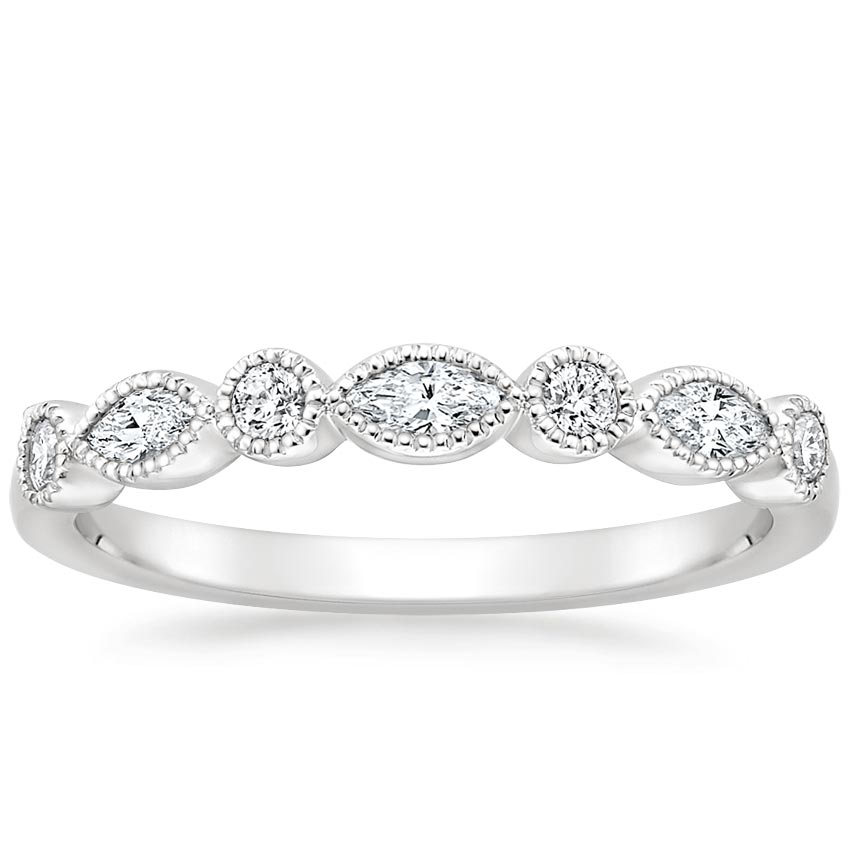 This romantic setting features a harmonious balance of round and marquise-shaped diamonds complemented with milgrain detailing.
Whether you're attracted to bezel settings for their sleek and modern appearance, or you prefer them for practical reasons, there's no doubt that these rings are striking! Let us know what style is your favorite on our Instagram, Facebook, Twitter, or in the comments below.