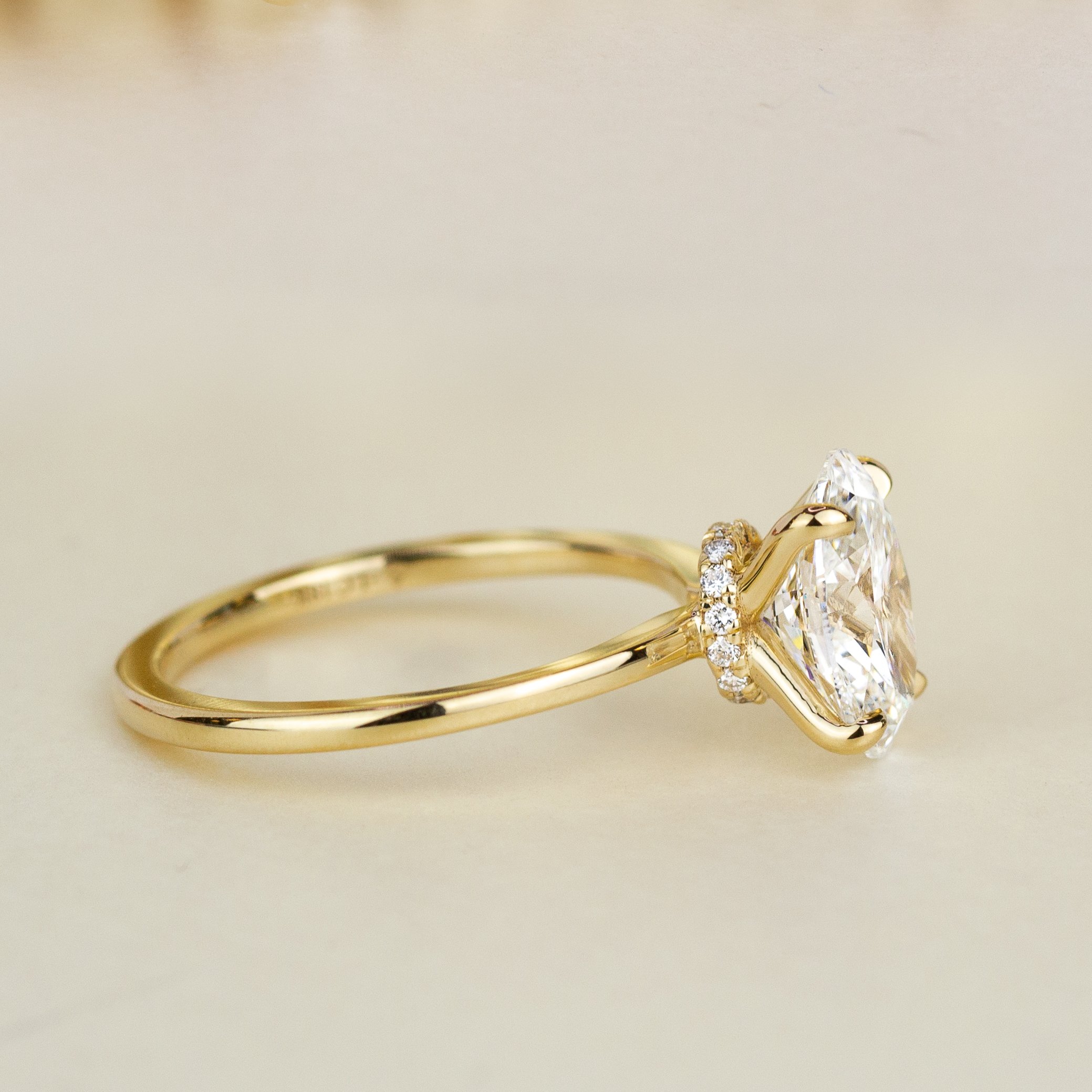 Just like us, we're sure you're ready to ring in the new year!
At Brilliant Earth we spend our days helping couples select and design the rings that symbolize their love and commitment and capture their individual style.  When doing so, we are always on the lookout to identify engagement ring and wedding ring trends as soon as they emerge.
We've pulled sales data and the expert opinions of our jewelry specialists to make some educated predictions about what will be some of the most popular engagement ring styles in 2021. Read on to learn more about what we think will be next year's favorite styles!
Gender Fluid Ring Styles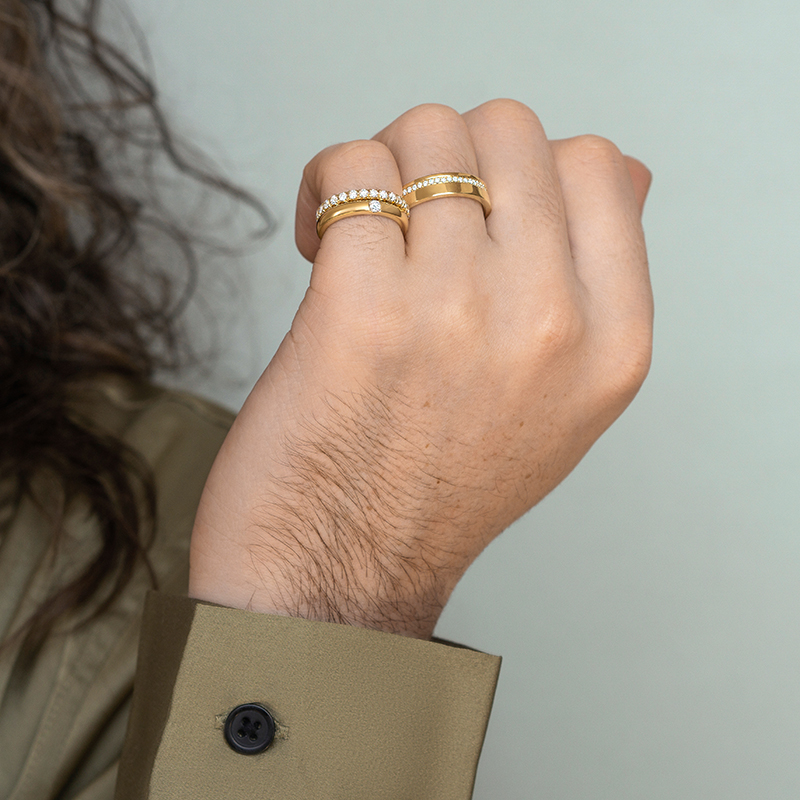 In 2020 we launched The Mx Collection, in which our designers sought to blur the lines between traditionally feminine and masculine styles to create fresh, gender neutral styles.  We also launched Rings for Everyone, which offers a more inclusive size range for diamond rings and wedding bands. Wider and more substantial bands in particular seem to be increasingly popular as part of a ring stack or wedding look. We expect gender fluid jewelry to increase in popularity in 2021 and for many years to come.
Yellow Gold Rings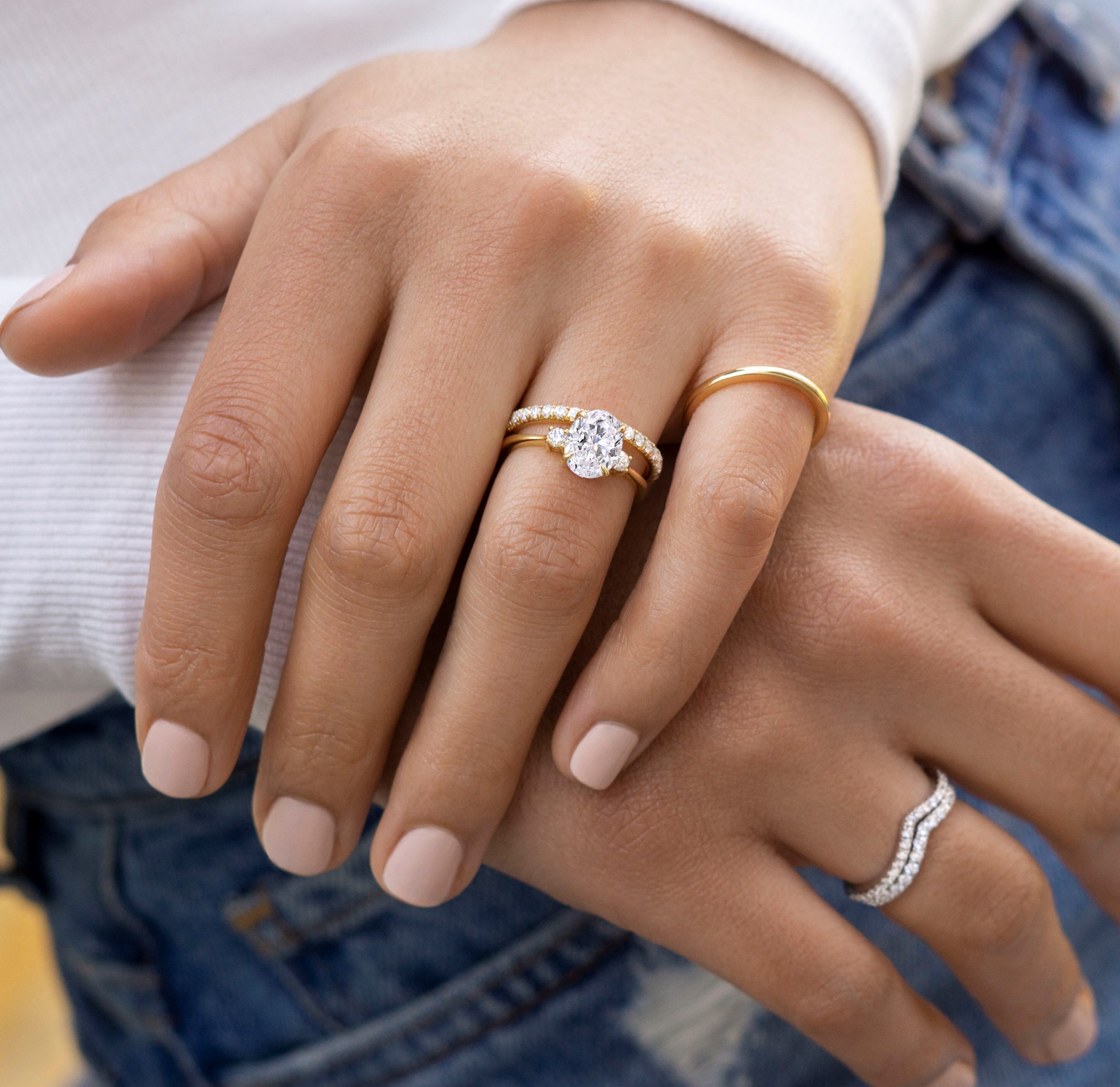 While rose gold was the favorite metal over the last decade, yellow gold has seen a huge resurgence in the last year and has been favored by celebs such as Jessica Hart, Jasmine Tookes, and Jenna Ushkowitz. Brilliant Earth customers are also loving this look, especially in the last 6 months where yellow gold has grown over three times faster than other metals. We expect the sunny and warm luster of yellow gold to continue to trend in 2021.
Elongated Fancy Shaped Diamonds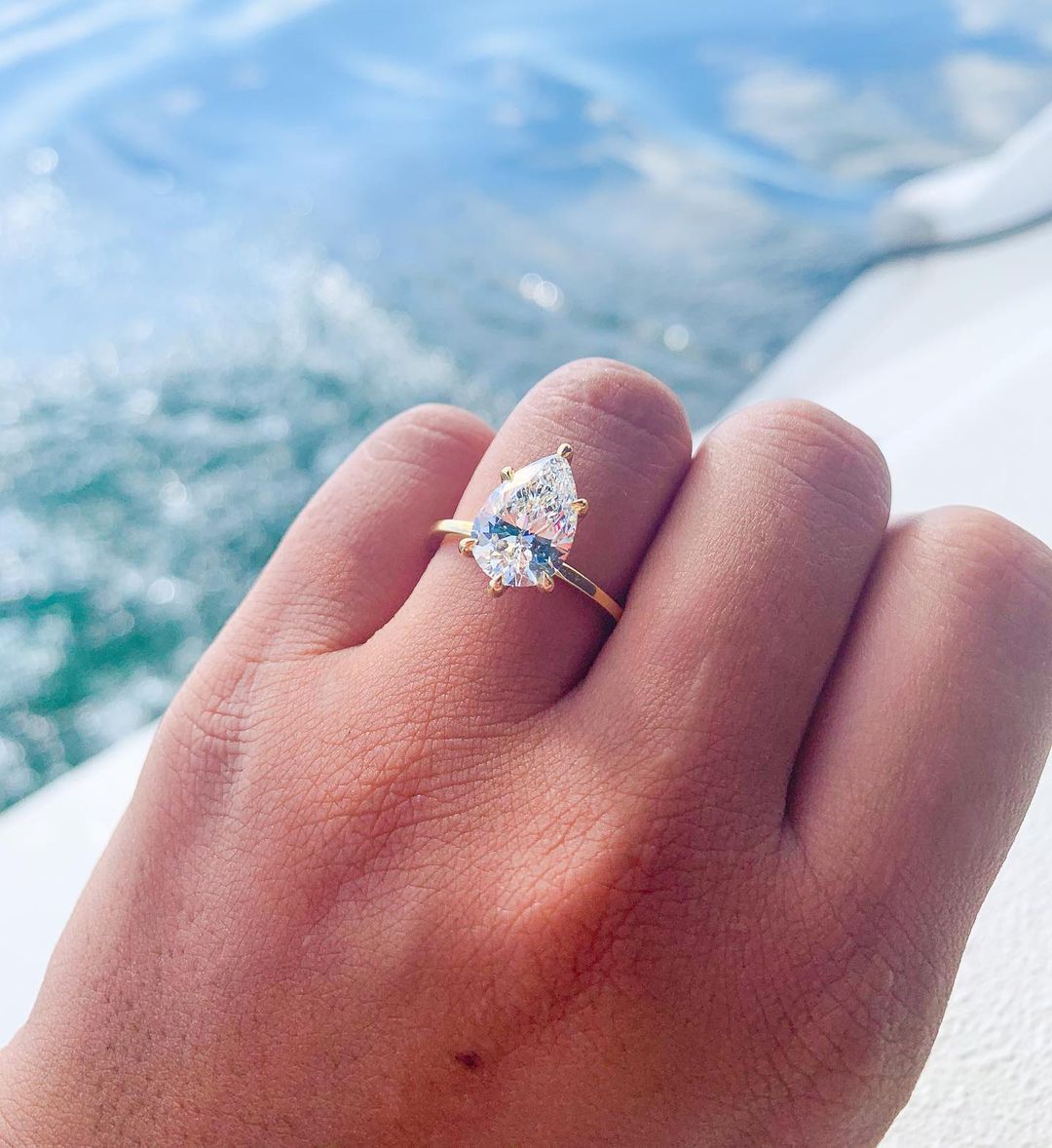 Fancy shaped diamonds are any diamond shape other than classic round brilliant, and elongated fancy shapes including oval, pear, emerald, marquise, and elongated cushion and radiant diamonds were particularly popular in the last year. We expect their popularity to remain strong, particularly as we saw celebrities like Ariana Grande, Demi Lovato, Nicola Peltz, Sienna Miller, Vanessa Grimaldi, Jourdan Dunn, and others receive elongated fancy shaped diamond rings this year.
Contoured Ring Stacks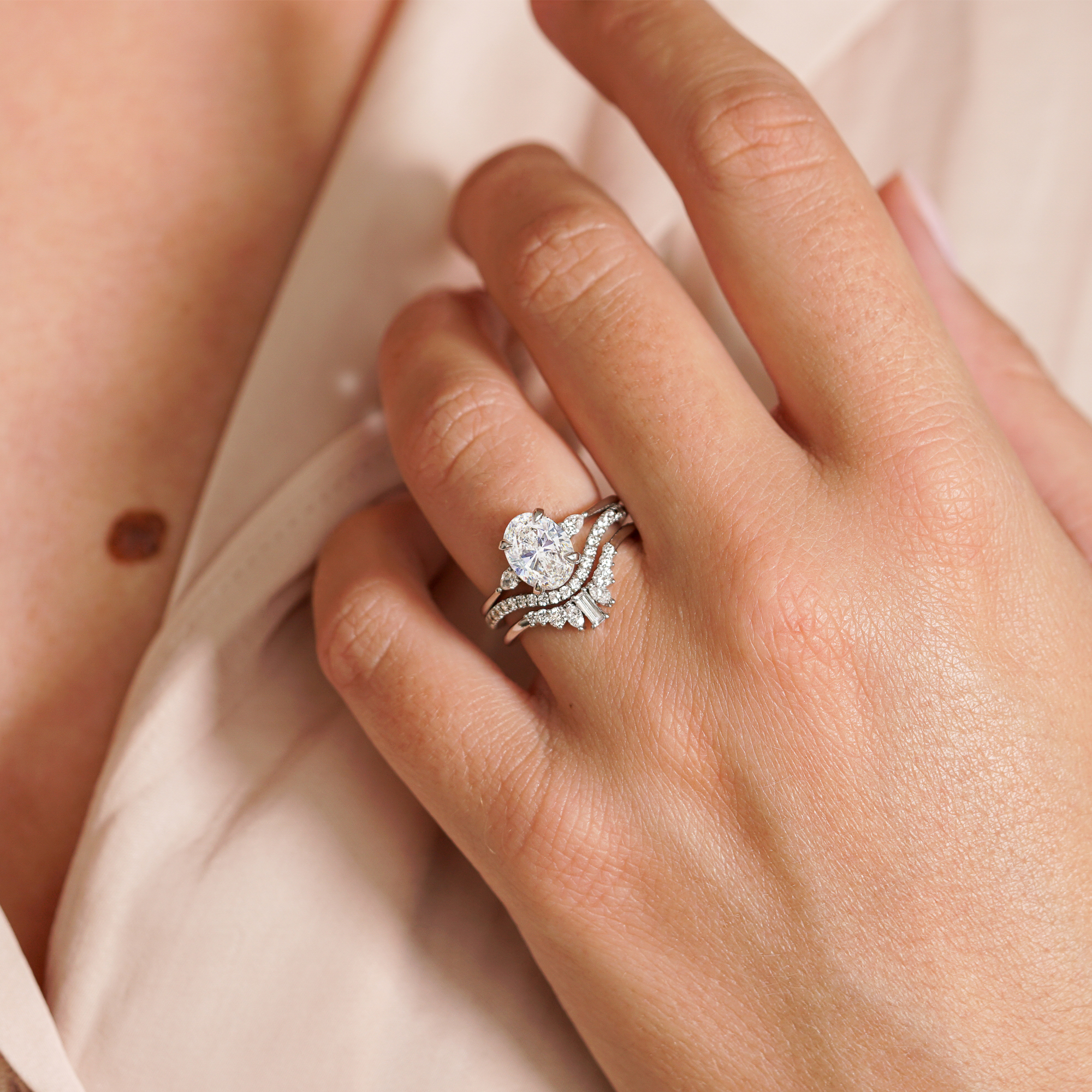 Stacked and nested wedding looks is a trend we've seen crop up in the past few years, and we only see it gaining steam. Stacking contoured bands is a great way to making a statement and highlight your center gem in a unique way. We think stacking thinner and wider bands together to create more weight and dimension to a stacked look will pop in particular in 2021, allowing more opportunity for individual expression.
Surprise Diamond Details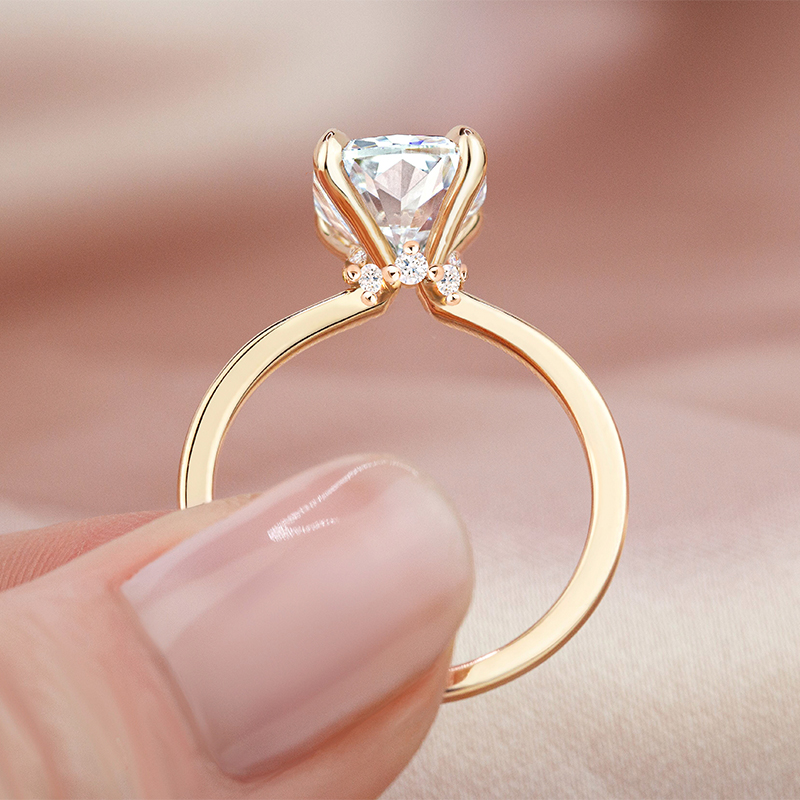 Who doesn't love an element of surprise, particularly when that surprise is more sparkling diamonds? Hidden diamond halos, diamond accented galleries, and other unique details crafted beneath a ring's center gemstone add extra sparkle and uniqueness to otherwise understated styles. Because these sparkling hidden accents are frequently paired with classic solitaire styles, we anticipate these modern classics will remain popular for years to come.
Final Thoughts
What do you think of our predictions – have you seen people get engaged with these styles recently? Let us know your favorite trends in the comments below or on our Instagram, Facebook, or Twitter!