Often associated with royalty, purple is not only a beautiful color once treasured by the elite but also rich with symbolism.
For centuries, purple was regarded as a status symbol worn only by the rich and noble due to the extensive process and high costs it took to dye fabric purple. Queen Elizabeth I helped to encourage the association when she banned anyone other than select members of the royal family from wearing the color.
Purple has been known to symbolize wisdom, imagination, peace, pride, mystery and independence. No matter what the color means to you, we think this endearing shade looks remarkable when featured in engagement rings! See the color shine in amethyst engagement rings and engagement rings set with purple sapphires.
Amethyst Engagement Rings
Due to its grape coloring, ancient Greeks associated amethyst with the wine god Bacchus and believed the gem to prevent drunkenness. Artist Leonardo da Vinci wrote that amethysts enhance intelligence and protect against evil thoughts. Symbolism aside, amethysts have captivated people for centuries, making the semi-precious gemstone a stunning engagement ring centerpiece.
Amethyst Odessa Ring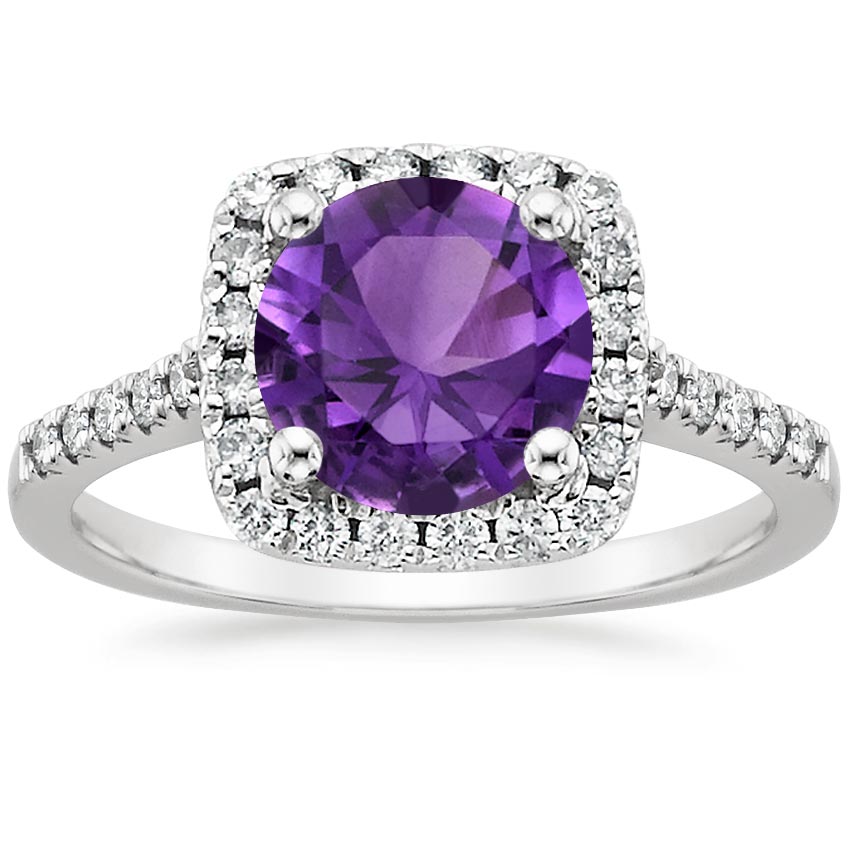 An intricate halo of pavé-set diamonds accentuates a vibrant round amethyst in this dazzling ring.
Amethyst Chamise Ring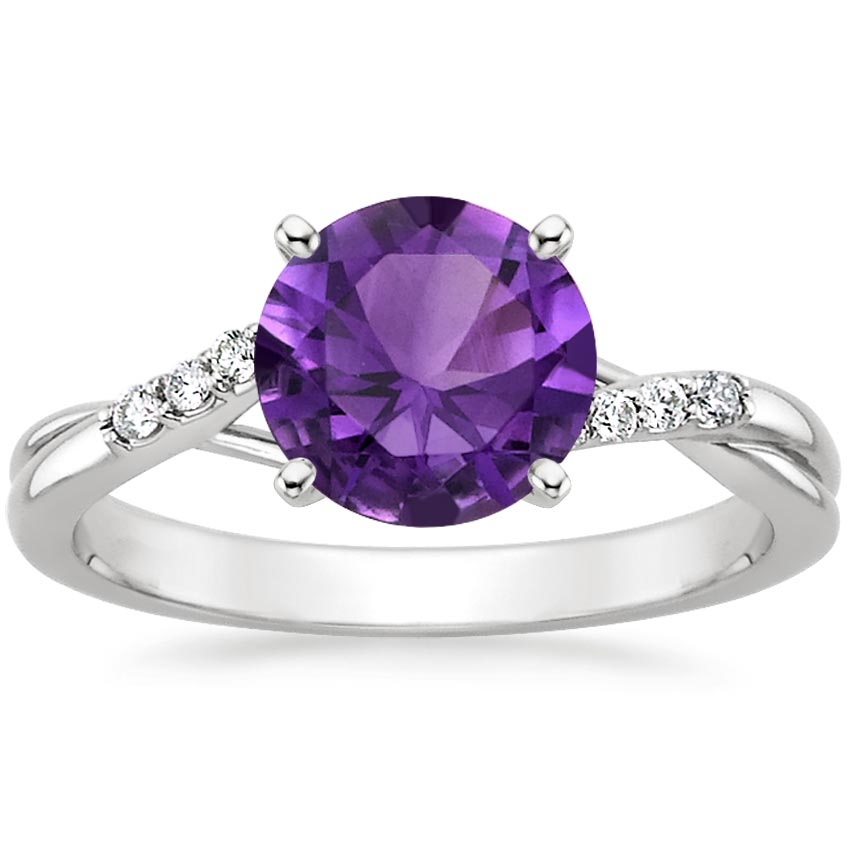 Ribbons of precious metal entwine to showcase a brilliant amethyst in this timeless ring.
Amethyst Willow Ring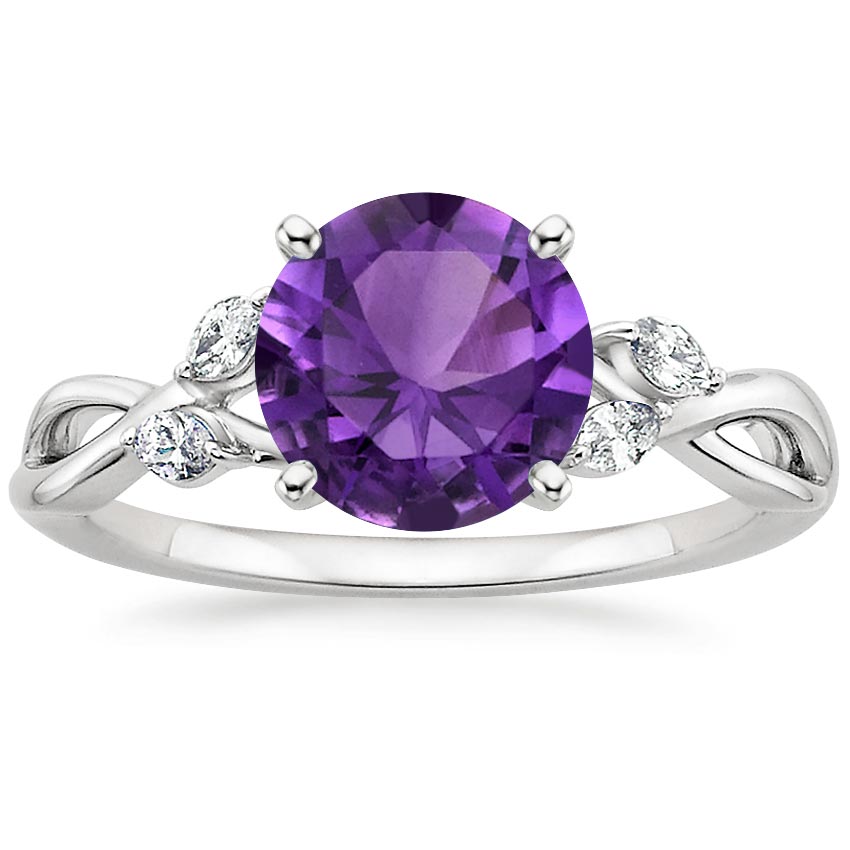 This nature-inspired ring features a stunning round amethyst entwined by wispy vines of precious metal and lustrous marquise diamond buds.
Purple Sapphire Engagement Rings
Although many people associate sapphires with blue, they come in a variety of colors, one of the most beautiful shades being purple! Sapphires, like the color purple, have also been frequently associated with royalty—making purple sapphires the ultimate crown jewel!
Petite Twisted Vine Diamond Ring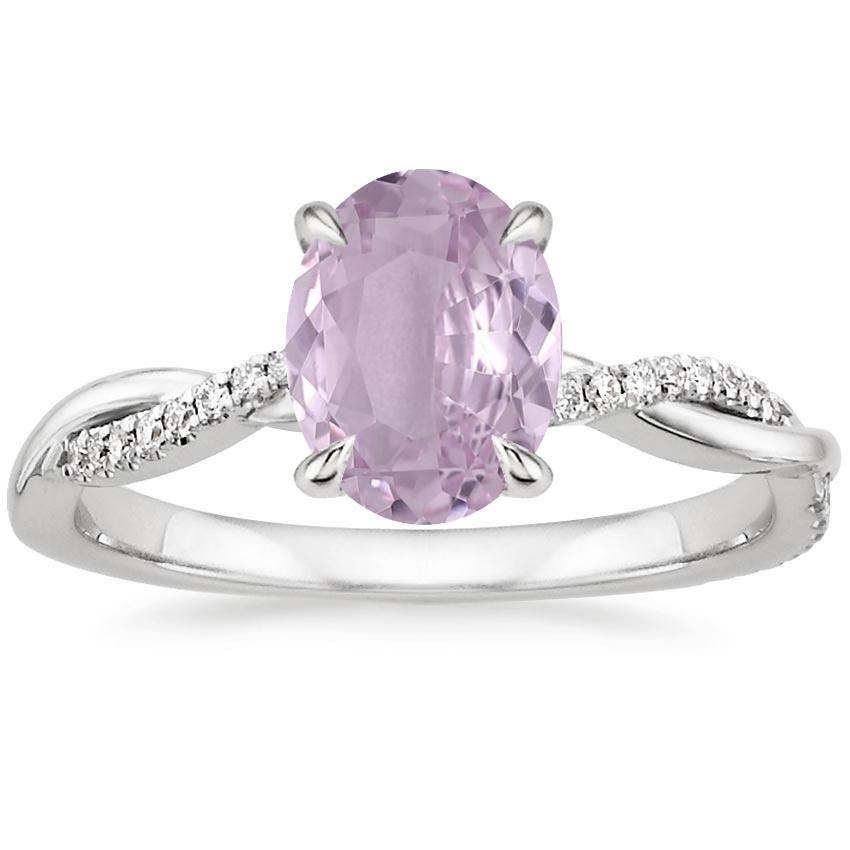 This beautiful ring features a captivating purple oval sapphire framed by a strand of diamonds entwined with a high polished ribbon of precious metal.
Reverie Ring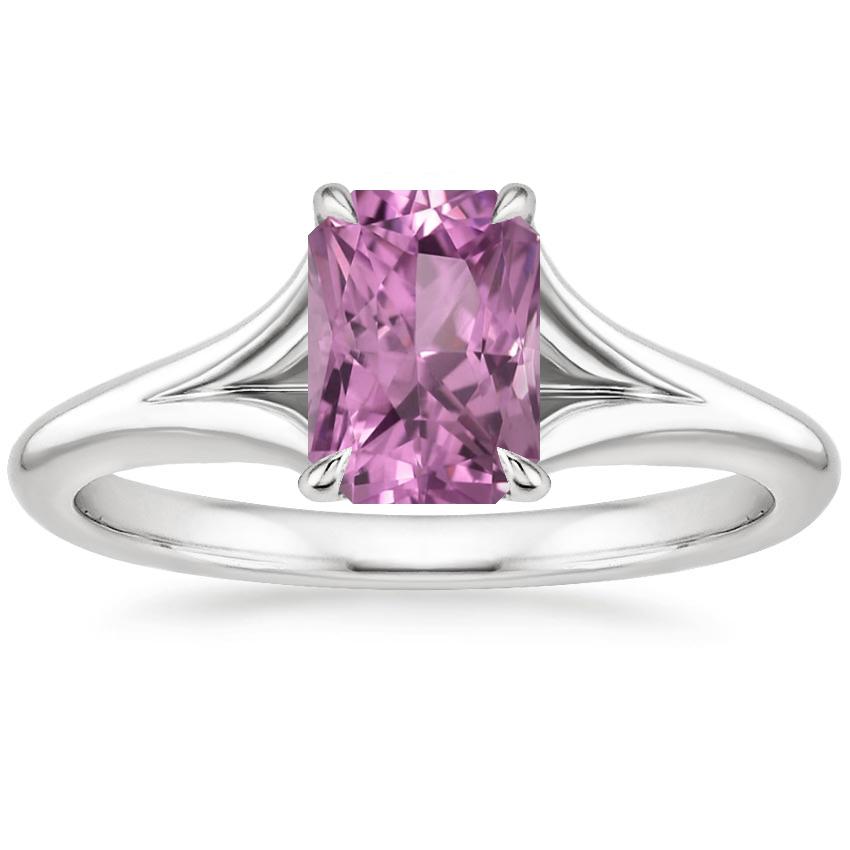 This contemporary ring divides into ribbons of precious metal that intertwine to embrace the center purple radiant sapphire, securing it with graceful claw prongs.
Waverly Diamond Ring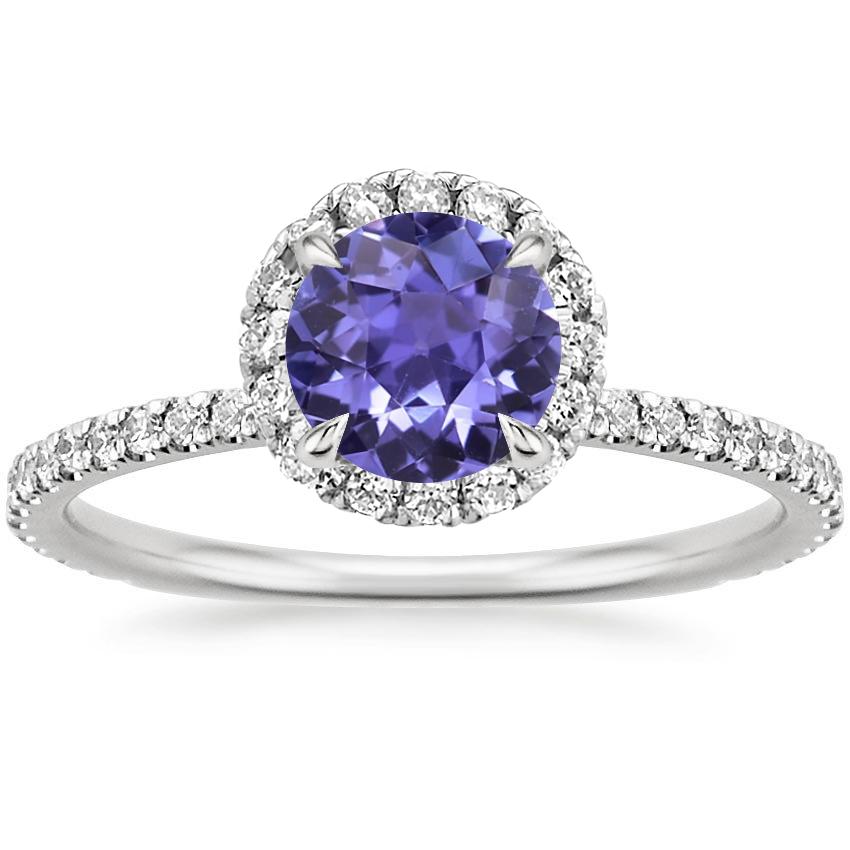 This sparkling halo setting features beautiful scalloped pavé diamonds that encircle the center purple round sapphire and adorn the band.
Vintage Purple Engagement Rings
Purple gems like amethyst, sapphire, tanzanite, and even purple diamonds are oftentimes featured in vintage jewelry. These gems look excellent set in looks from the Victorian period to the Retro-era to now!
The Helsinki Ring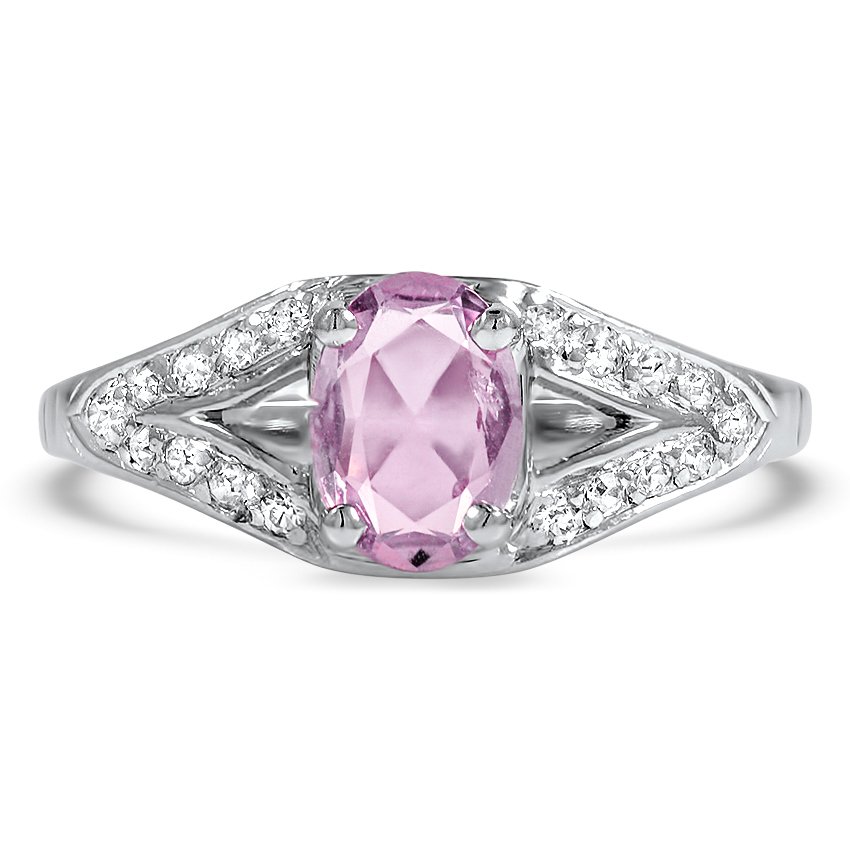 This glamorous Retro-era ring features a diamond embellished band that parts at the shoulder to frame a glistening center amethyst.
The Lorretta Ring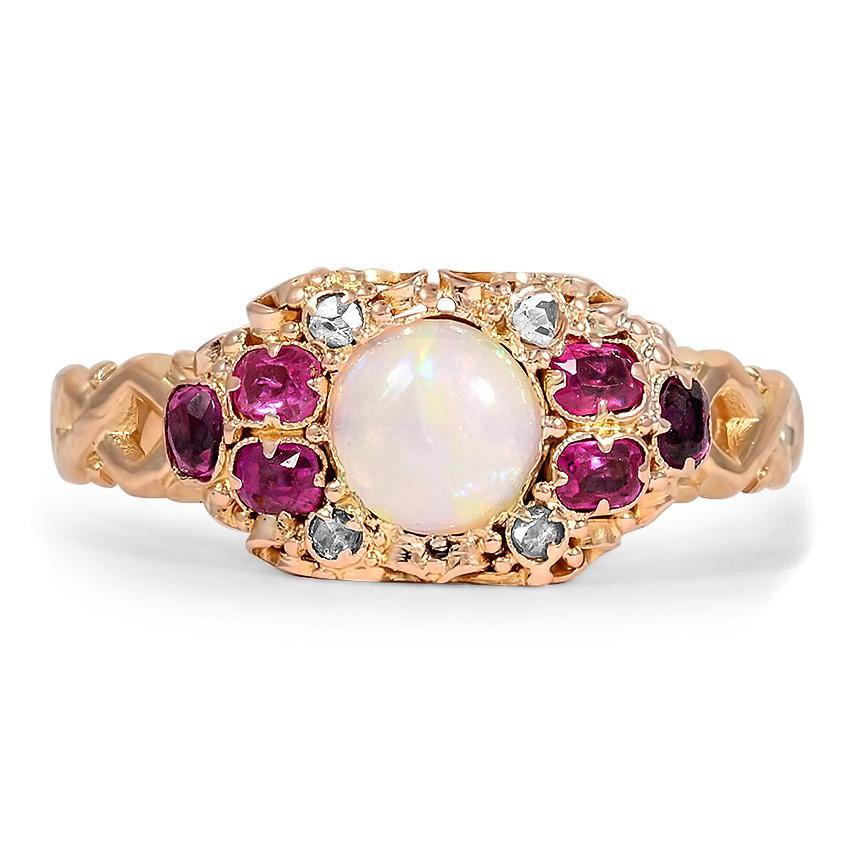 Victorian-era treasure, this stunning ring features a mesmerizing opal cabochon accented by cushion shaped natural purple sapphires and four rose cut diamonds.
The Kyung Ring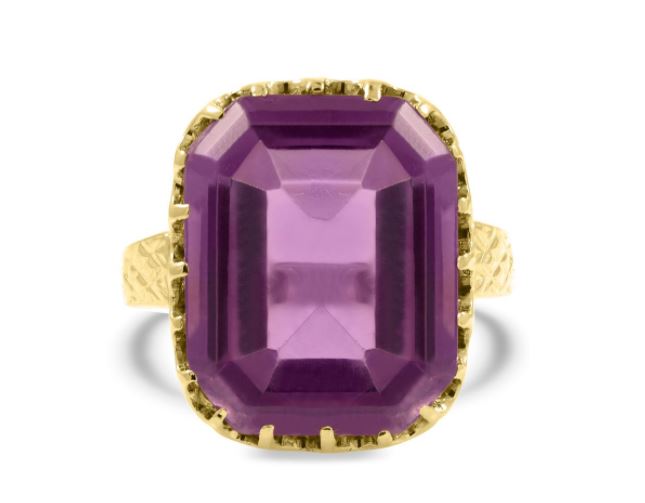 This Edwardian beauty features a stunning emerald-shaped amethyst and an intricately detailed gallery for a truly unique look.
Final Thoughts
Would you want a purple engagement ring? What is your favorite purple gemstone? Let us know on our Instagram, Facebook, Twitter or in the comments below!