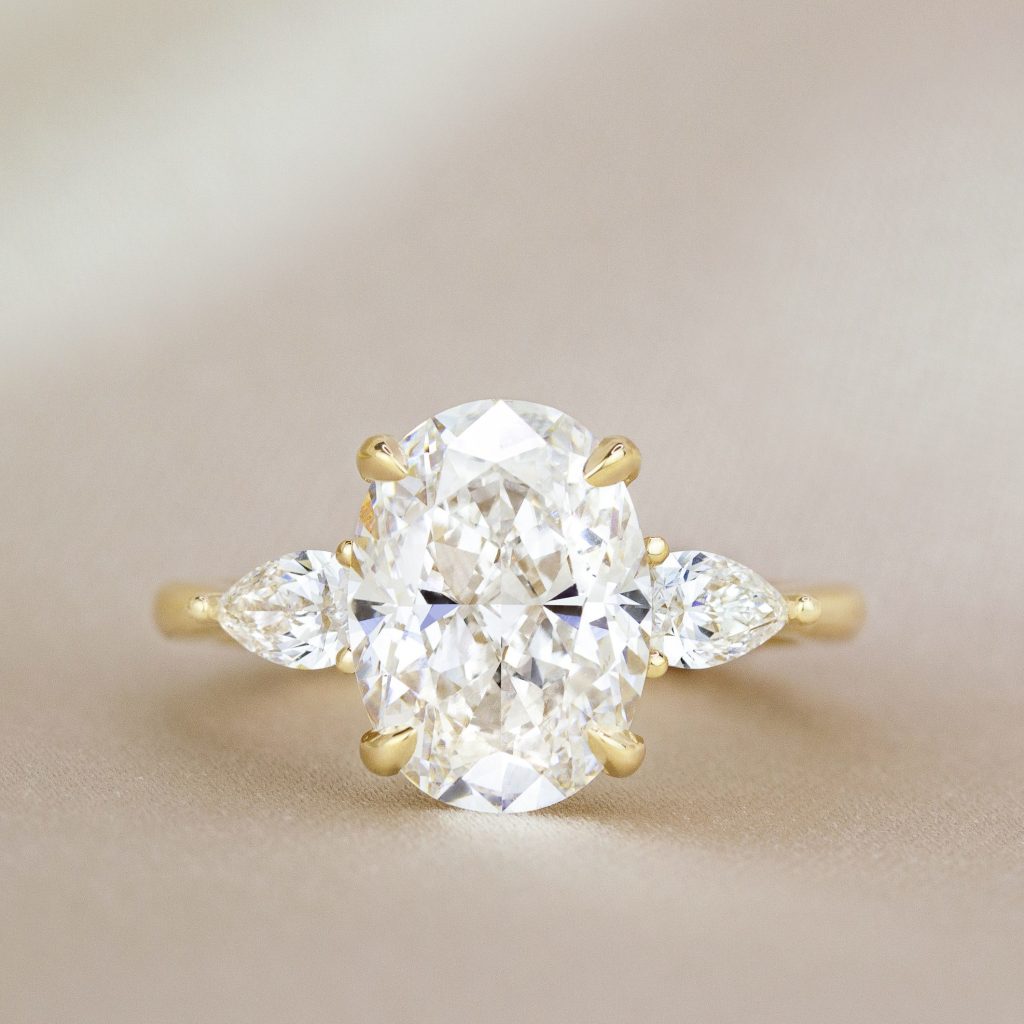 As we focus more than ever on maintaining important relationships, three stone diamond rings are a beautiful reminder of love's endurance.
These classic engagement rings symbolize a couple's past, present, and future together. In addition to this sentimental and romantic meaning, these ring styles are popular because of the subtle extra sparkle they add to a ring's center diamond or gemstone.
Discover some of our customers' favorite three stone ring styles below!
Aria Diamond Ring
Dainty pear shaped accent diamonds embrace the center diamond or gemstone of this beautiful three stone ring setting. A delicately tapered band completes this contemporary look.
Selene Diamond Ring
Classic simplicity defines this delicate setting, which features a thin precious metal band that gently tapers towards a sparkling round diamond accent on each side of the center gem.
Opera Diamond Ring
Similar to the Aria Diamond Ring, this elegant ring setting also features dazzling pear shaped accent diamonds. The pear diamonds of the Opera Diamond Ring, however, weigh in at about four times the total carat weight as those on the Aria. Both rings are stunning options that add unique sparkle to the center gem.
Tapered Baguette Diamond Ring
Sleek baguette diamond accents are bar set in this classic setting, reminiscent of the stunning ring Grace Kelly wore from Prince Rainier of Monaco. The Art Deco feel of this ring setting makes emerald and other step cut diamond shapes a popular choice as center stones.
Radiance Diamond Ring
This three stone ring is similar to another royal ring: Meghan Markle's elegant engagement ring, which features three diamonds set in a dainty pavé diamond band. To replicate Meghan's look, choose an elongated cushion diamond as the center gem for this setting!
Gramercy Diamond Ring
This seriously glamorous setting offers non-stop sparkle with French pavé-set diamonds embellishing the top three quarters of the band and prominent round diamond accents hugging the center gem.
Esprit Diamond Ring
The triangle shaped trillion diamond accents of this ring setting create a contemporary look that works particularly well with fancy shaped center diamonds and gemstones, like the peach oval sapphire pictured here.
Final Thoughts
Do you like the look of three stone rings? Share your favorite style with us in the comments below or on our Instagram, Facebook or Twitter!