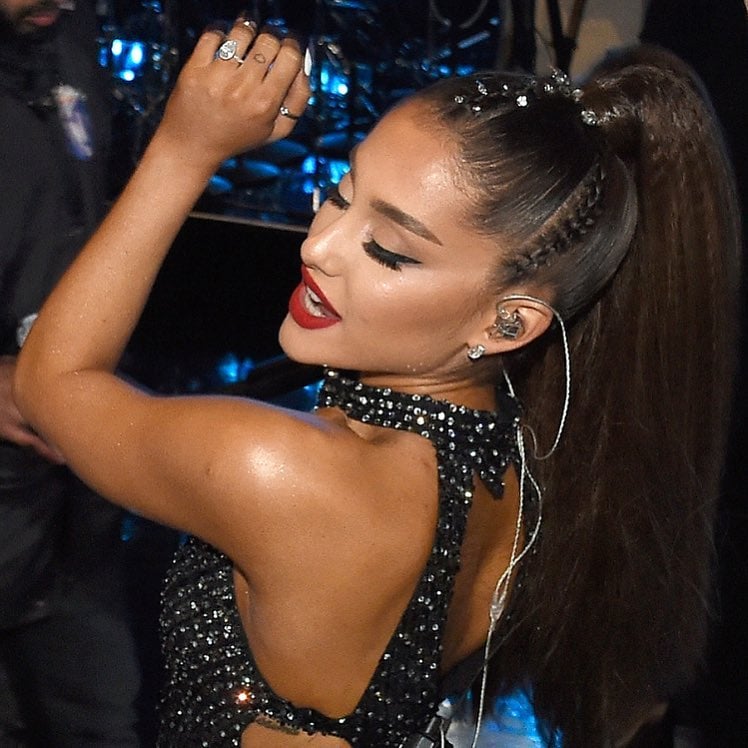 PHOTO: INSTAGRAM @people
We can't get enough of pear engagement rings, like Ariana Grande's from former fiancé Pete Davidson!
Pear shaped diamonds, or "teardrop diamonds", are named for their unique shape, one that features both a rounded and pointed end. This distinctive combination of the classic round cut with the stylish marquise diamond shape gives it an elegant and elongated appearance that is sure to stand out—making a pear engagement ring perfect for the celebrity bride-to-be. Ariana joined with the likes of other noteworthy celebrities with pear engagement rings, like Margot Robbie, Victoria Beckham, Paris Hilton, Cardi B, and Sophie Turner.
Ariana's former ring featured a fancy cut pear-shaped diamond of just over 3 carats, surrounded by a delicate diamond halo and set on a band accented with pavé diamonds.  While the engagement may be off, this is a ring that will stand the test of time.
"Pear sparklers are turning into a true star this summer," we told The Knot, "We've found that in the last year, pear-shaped diamonds have grown almost three times faster than traditional round diamonds."
If you love pear diamond rings like Ariana Grande's as much as we do, discover some similar designs below!
Waverly Diamond Ring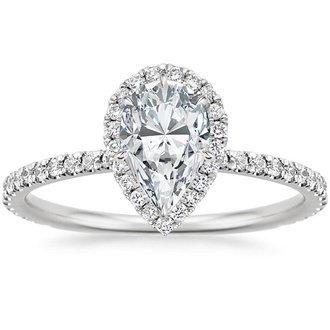 This sparkling halo setting features beautiful scalloped pavé diamonds that encircle the center gem and adorn the band. A diamond-encrusted gallery makes this ring truly spectacular.
Odessa Diamond Ring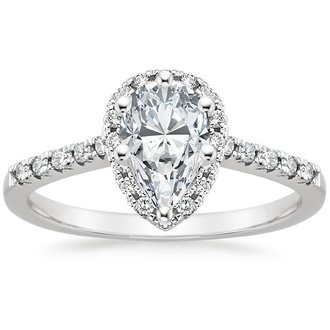 An intricate halo of pavé-set diamonds embraces and accentuates the center gem of this brilliant ring. French pavé diamond accents on the band add a truly dazzling effect.
Joy Diamond Ring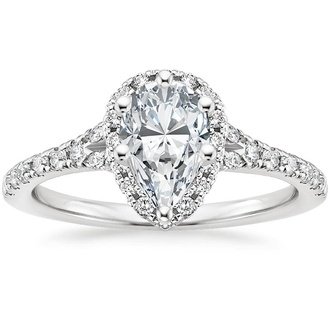 A glittering softened halo of diamonds surrounds the center gem in this elegant setting. A scalloped pavé split-shank band adds a stylish, dazzling effect.
Luxe Sienna Halo Diamond Ring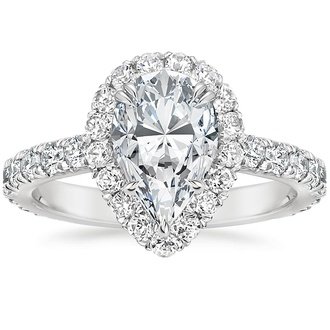 Elegant French pavé-set diamonds form a stunning halo, surrounding the center gem in a ring of brilliant light. Dazzling diamond accents adorn the band and gallery for a truly glamorous effect.
Lotus Flower Diamond Ring with Side Stones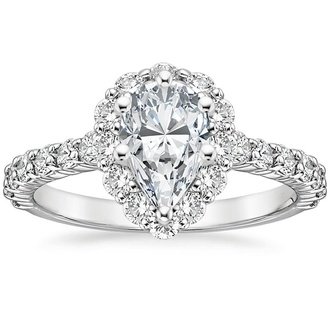 A subtle floral diamond halo blooms around the center gem in this exquisite ring. Dazzling diamond accents adorn the band for a truly glamorous effect.
Vienna Diamond Ring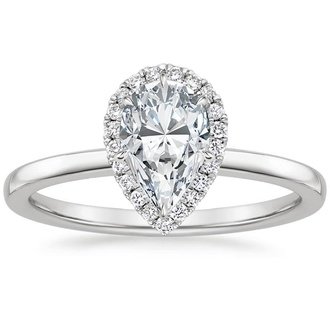 This beautiful setting features scalloped pavé diamonds that rise up the gallery and encircle the center gem in a halo of luminous sparkle.
Final Thoughts
Do you like the look of pear shaped diamonds? Do you love Ariana's Ring? Let us know in the comments below or on our Instagram, Facebook, or Twitter!