Wedding Ring Guide: How To Buy The Perfect Rings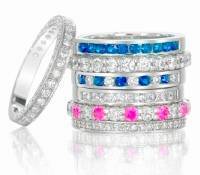 Wedding rings are the outward—and the ultimate—symbols of your
love and commitment. Your wedding rings should reflect your
individual style and your devotion as a couple. Whether you consider
yourself traditional or fashion forward, this guide will help you find your
perfect wedding ring.
Women's Wedding Rings
Women typically wear their wedding and engagement rings together on their left hands, with the wedding ring underneath the engagement ring, and therefore closer to the heart. If this is your intention, consider how the pair of rings will fit and look together. Think about precious metal choice, height and depth, finish, style, and gemstones.
Some women decide to wear their engagement and wedding rings on separate hands. In this case you really don't need to incorporate the look and feel of your engagement ring in your wedding ring decision. View different options, including unique one-of-a-kind wedding rings, wide wedding rings, and stackable wedding rings.
There are many different styles of wedding rings to choose from, including plain gold or platinum rings, diamond rings, sapphire rings, and eternity rings.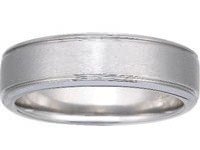 A man's wedding ring is an important expression of his love and commitment. Many men and women choose to coordinate their wedding rings—selecting the same precious metal, finish, motif, and/or design elements for matching wedding bands. Other men select a wedding ring that matches their individual taste and lifestyle. Either way, grooms have unprecedented options in wedding rings. The most popular styles for men include plain metal bands, or more distinctive and contemporary rings.
Once you've decided on the perfect wedding ring, there are some final touches to consider, including engraving and sizing.