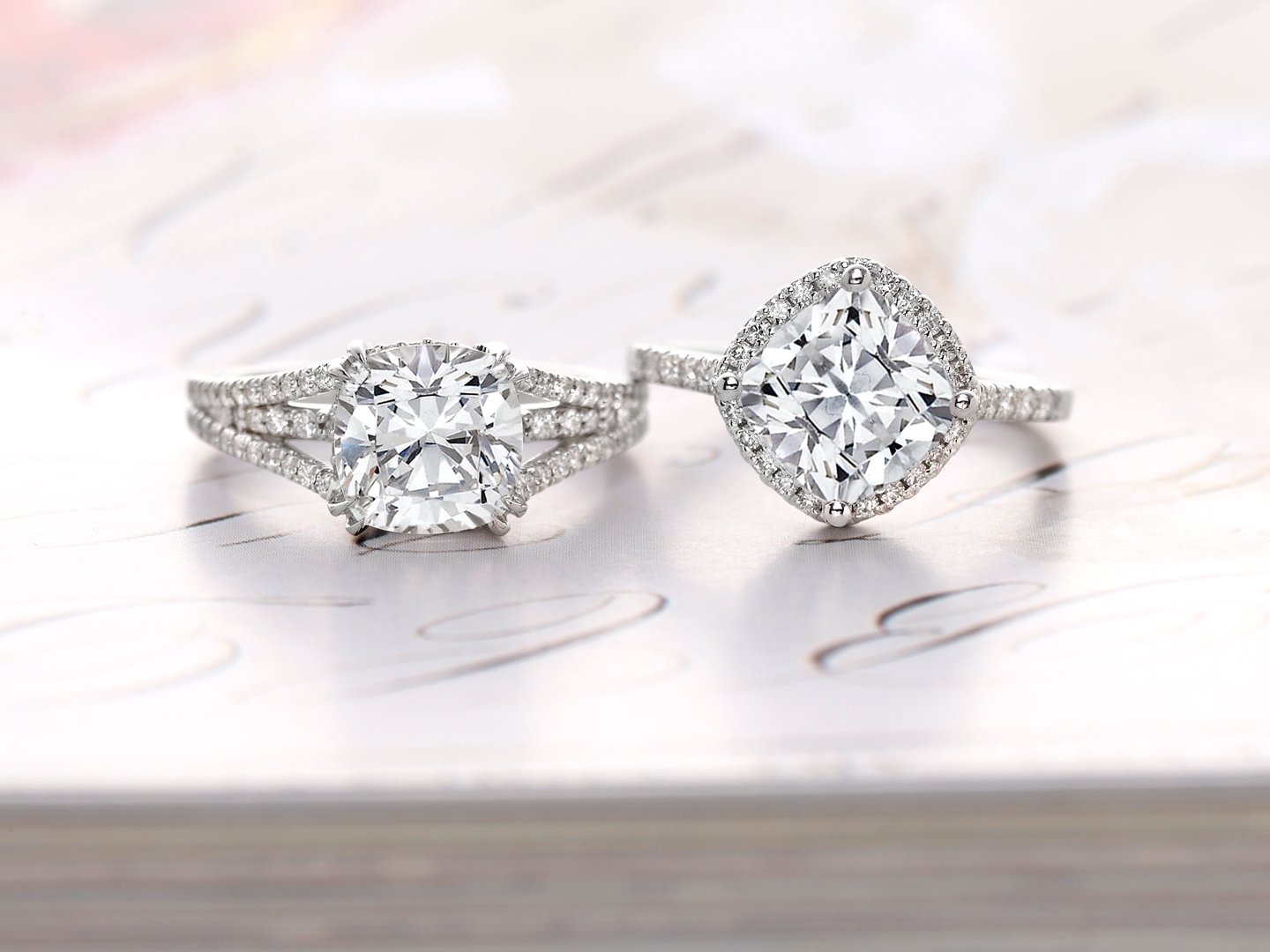 At Brilliant Earth we spend our days helping couples select the rings that symbolize their love and commitment, and designing rings that capture their individual styles and personalities. We're excited to share some of the latest engagement ring trends we are seeing. Here are a few things we've noticed about the styles couples are loving in 2016 so far:
Delicate Silhouettes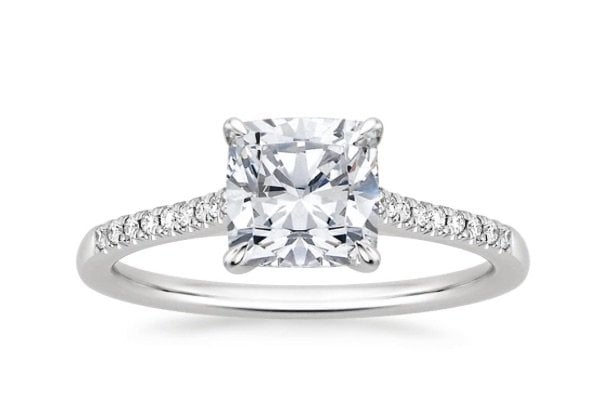 We've seen a return to classic elegance as couples opt for thin, petite bands, both in engagement and wedding rings. Often these rings feature accent diamonds that add subtle shimmer and make the center gemstone really pop, as seen in the Lissome Diamond Ring, which features scalloped pavé diamond accents on a thin band that rises to a cathedral setting.
Scalloped Pavé Accents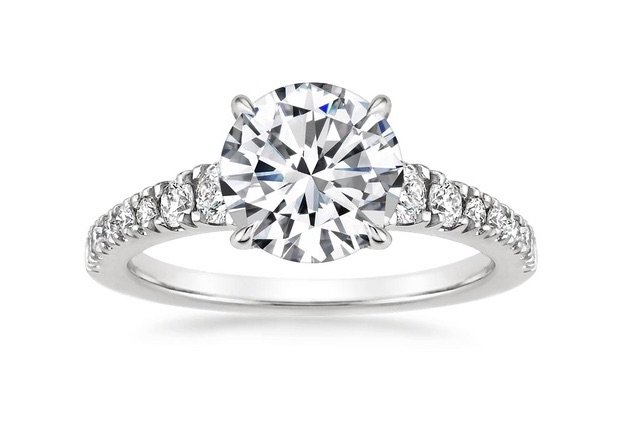 When it comes to accent diamonds along the band, today's couples gravitate toward scalloped or French pavé diamonds (a seen in the Simone Engagement Ring, above). This look minimizes visible precious metal, creating an effect of pure shimmer. Not too long ago bands with channel-set diamonds and straight pavé with metal "rails" were the go-to look. We suspect the shift toward scalloped pavé accents may be inspired by the current popularity of handcrafted vintage rings, which often feature this style of pavé.
Claw Prong Settings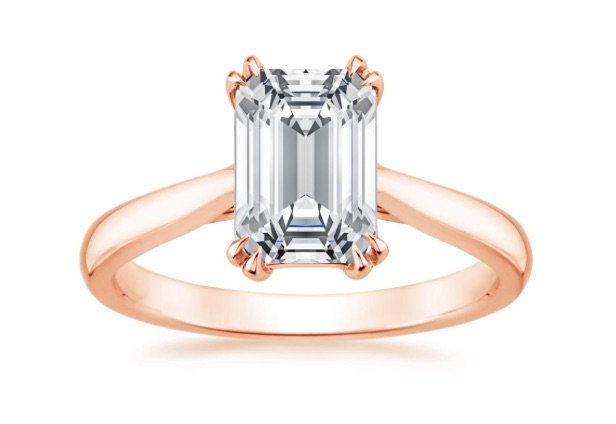 Claw prongs narrow to a super-fine tip (hence the name) and minimize the precious metal needed to secure the center gemstone, showcasing more of its beauty.  Claw prongs and "split-claw" prongs (seen in the Audrey Engagement Ring) are very en vogue because they add a special designer detail to a classic style.
Nature-Inspired Designs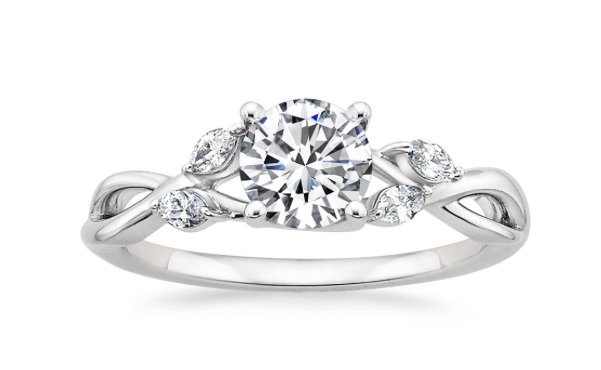 Ring settings that evoke vines, leaves, and buds using wispy, naturalistic designs remain very sought after, especially with couples who love the outdoors. Our Willow Engagement Ring features marquise-shaped "buds" of accent diamonds.
Twisting and Woven Silhouettes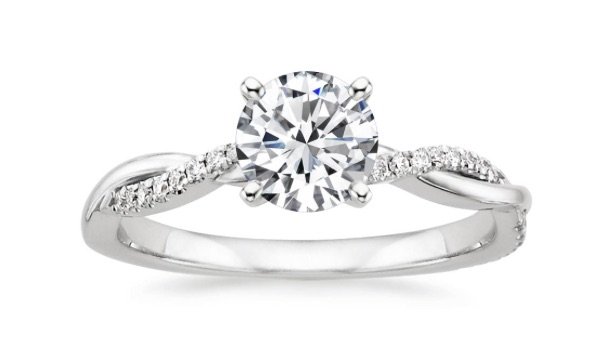 Many of today's couples are drawn to ring bands featuring intertwining strands of metal and diamonds (as seen in the Petite Twisted Vine Engagement Ring). These rings can symbolize both infinite love and intertwining fates, making them a very romantic choice.
Distinctive Halo Styles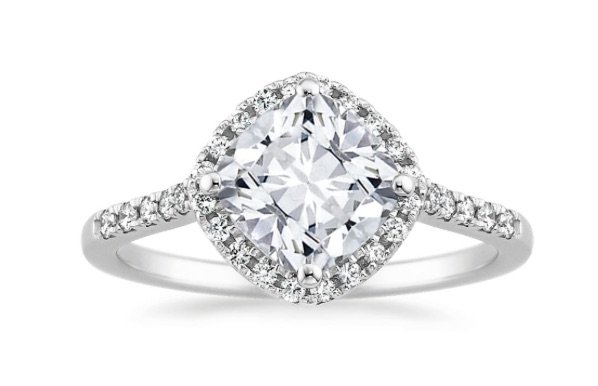 Halo designs featuring traditional round and cushion shaped diamonds have been a big trend for years now, perhaps because of their romantic vintage-inspired look, or because of the way a halo of accent diamonds makes a center diamond appear larger. Now we see couples craving more distinctive halo designs, such as halos around compass point settings (as seen in the Cometa Engagement Ring), double halos, and halos with floral details.
Fancy Shaped Gemstones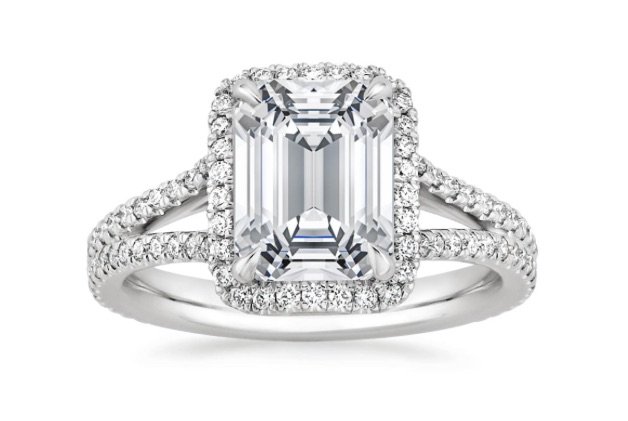 While traditional round brilliant cut diamonds remain the most popular shape for center gemstones, more and more couples now opt for distinctive fancy shapes, such as square cushion cut diamonds and elongated fancy shapes, such as oval and emerald cut diamonds. The Fortuna Engagement Ring makes an elegant showcase for an emerald cut diamond (and features some other top trends of the day–claw prongs and a split band). White gold princess cut engagement rings are ever-popular.
Rose Gold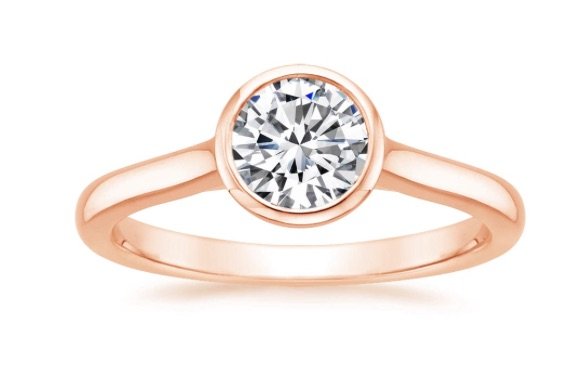 The warmth and romance of rose gold make it a very in demand precious metal for engagement rings. It's a fitting choice for a vintage-inspired design, but looks equally stunning in a modern style, such as the Luna Engagement Ring. Men are also getting in on the action–we often see a groom choosing a rose gold men's wedding band that coordinates with his fiance's rose gold rings. Rose gold halo engagement ring settings are particularly sought after.
Mixing Precious Metals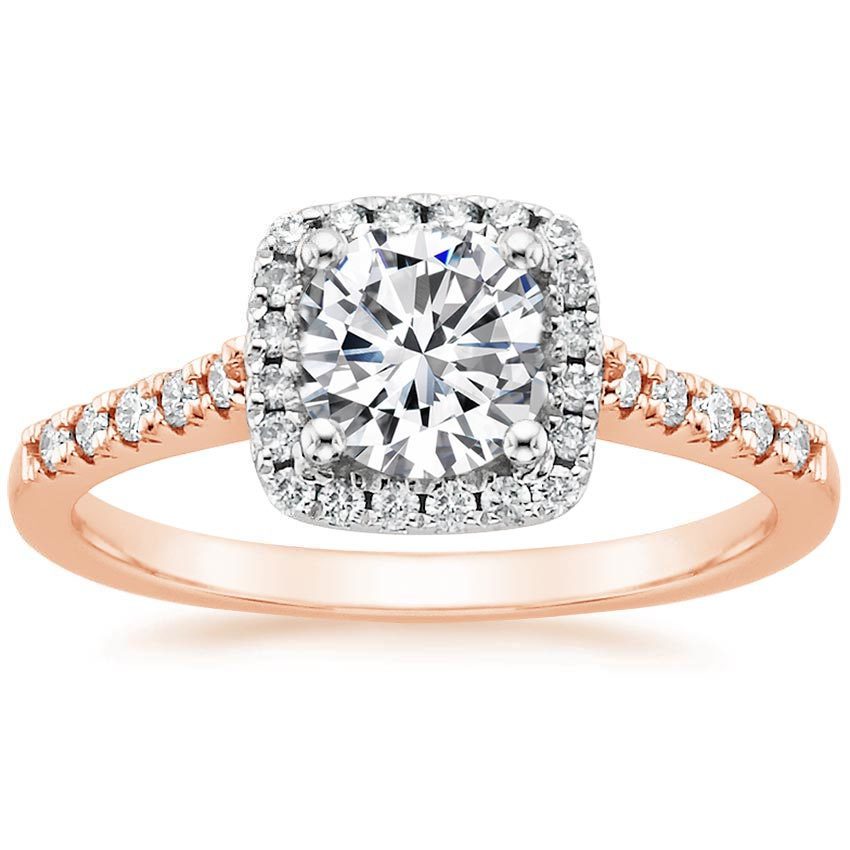 The combination of two different precious metals is often seen in vintage rings but was rarely seen in new designs–until now.  Perhaps inspired by antique styles, a growing number of couples are asking for rings that combine two tones (usually white gold with rose or yellow gold) in one ring, as in the Mixed Metal Odessa Diamond Ring.
Non-traditional Designs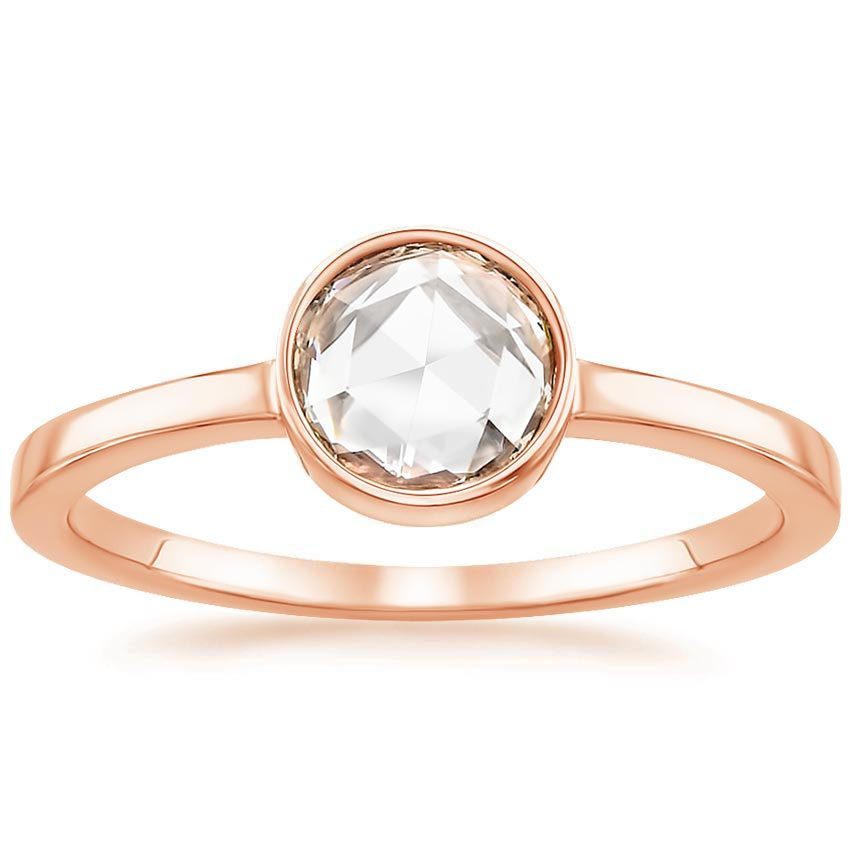 While today's brides-to-be love the tradition of engagement rings, they don't always want the rings to look traditional. Many women are opting to make a statement, to express their unique personalities or aesthetics. These couples usually seek custom designs or non-traditional rings involving elements like black rhodium, rose cut diamonds, and less traditional colored gemstones such as aquamarines.
Split Shank and Asymmetrical Bands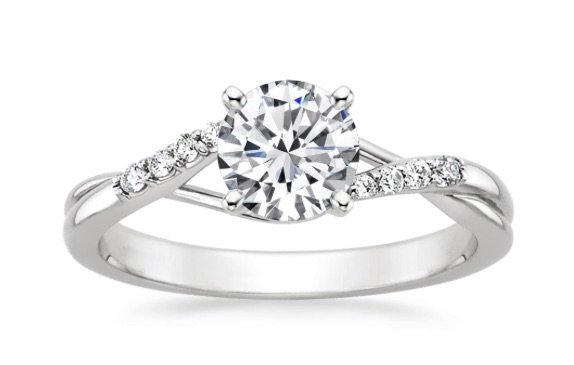 While in recent decades most engagement rings focused on the center gemstone, with little thought given to the band, some of the most sought after styles today involve eye-catching bands, like split shanks and curving, asymmetrical ones, as seen in the Chamise Engagement Ring.
Surprise Details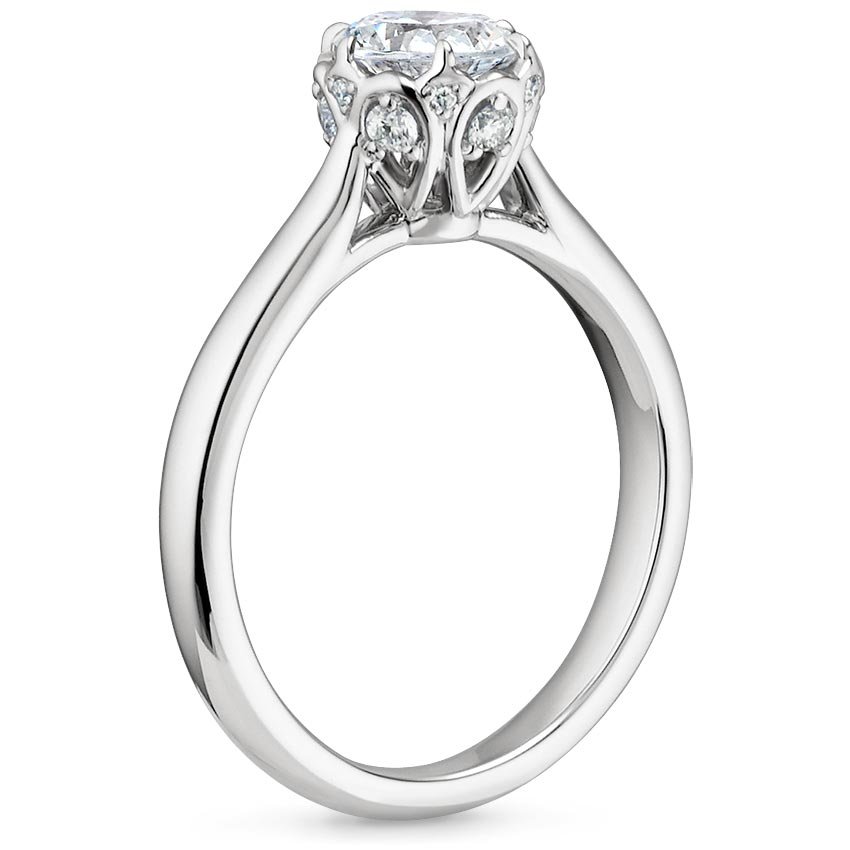 Flashy rings may be less popular than in years past, but couples crave beautiful little touches that set a ring apart. From gallery diamonds and double prong settings, as seen in the Pirouette Diamond Ring, to diamonds on all sides of a perfectly curved band, as seen in the Enchant Diamond Ring, people are seeking surprise details that are less about dazzling others and more about bringing delight to the wearer.
Baguette Accents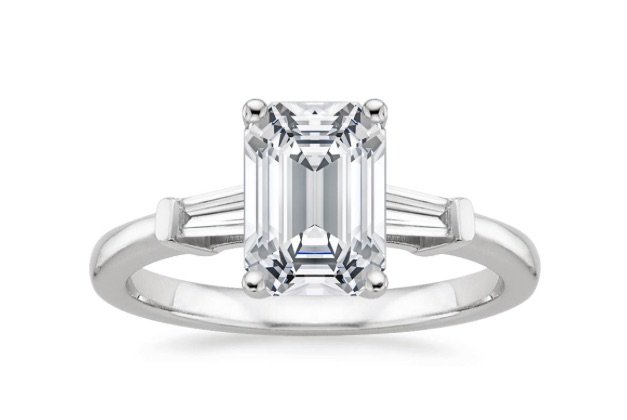 With their rectangular shape and step facets, baguette accent diamonds possess an elegant beauty that gives rings a classically beautiful look (as seen in the Tapered Baguette Diamond Ring). For the past few years shimmering pavé accent diamonds have eclipsed baguettes as the accent gems of choice, but now baguettes are growing in popularity.
Colored Gemstones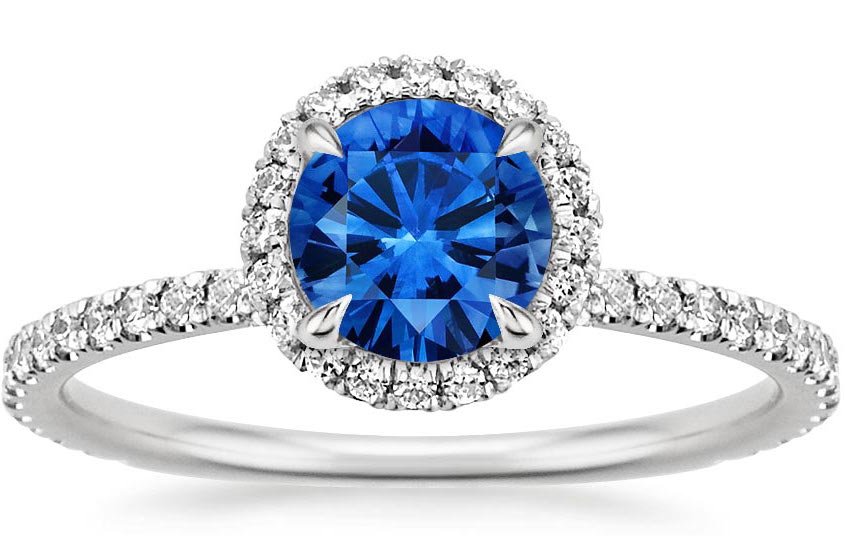 While diamonds remain as sought after as ever, we see a growing percentage of couples opting for bold colored gemstones as a way to express their style and individuality. These couples are falling for sapphires, both in the traditional deep blue and in less common shades of yellow, pink, peach, teal and green, as well as rings featuring emeralds, aquamarines,
and other vibrant gems. The sapphire Waverly Engagement Ring, above, also features the of-the-moment claw prongs and scalloped pavé accents.
Unique Vintage Rings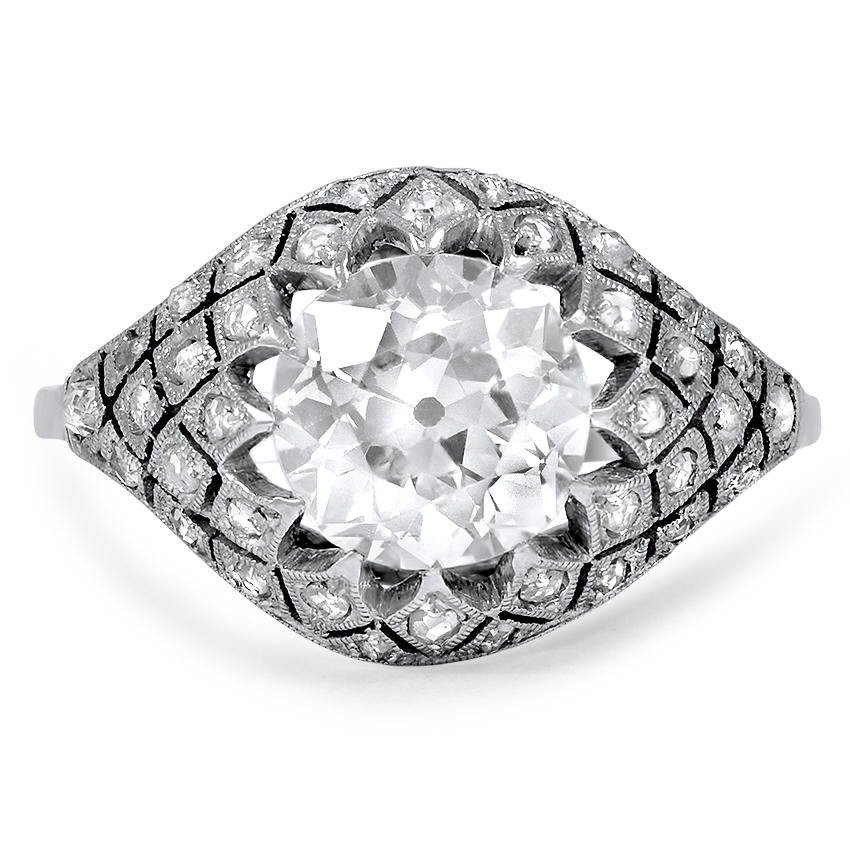 The romantic rings in our collection of vintage and antique engagement rings are beloved by couples looking for a unique piece that tells a story. A few years ago diamond rings from the Edwardian era were especially in demand, but we're finding that couples are now drawn to a broader swath of styles, especially Art Deco engagement rings, as well as distinctive pieces from the Victorian and Retro eras. Couples love both the old-world feel of these designs and the chance to weave a vintage piece into their own story.
Final Thoughts
What do you think of these engagement trends?  Have you recently become engaged?  Share your story with us on Facebook or Twitter, or in the comments section!