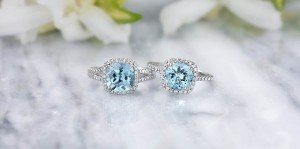 Girls born in March get a beautiful blue gem as their birthstone: Aquamarine, the color of which brings to mind tropical lagoons. Here's what March-born ladies (and those who shop for them) should know about aquamarines.

History and Origin
As you can probably tell, aquamarine means "water of the sea." The name originated in the early 18th century, around the start of the Georgian era. These gorgeous gems are part of the beryl family of minerals, which also includes emeralds. Aquamarines come in colors ranging from the palest blue to dark blue-greens. They usually have excellent clarity and can be found in quite large sizes.
Aquamarine is mined in Brazil, throughout Africa and Asia, and in Colorado, where it is the state gemstone. Although aquamarine and blue topaz can be mistaken for each other, aquamarine is more valuable because it's more rare and gets its color naturally, while blue topaz is produced by treating colorless topaz with radiation.

Meaning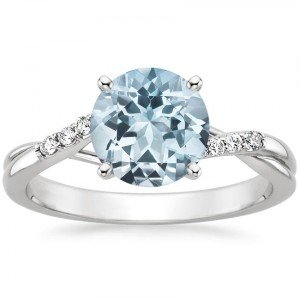 Legend has it that aquamarine provides mental clarity and good health, and that it protects the wearer against foes in battle or litigation. Aquamarine was once referred to as the "Sailor's Stone," because ancient sailors believed that the stone would protect them from disasters at sea. During World War II the US Navy commissioned a coastal patrol yacht called the USS Aquamarine, named in honor of the gemstone and its connection to the ocean.

Royal and A-list Fans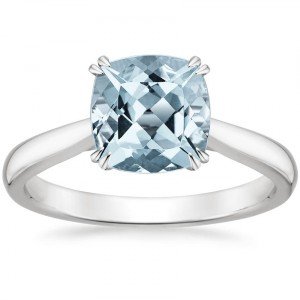 Some of the most famous aquamarine gemstones belong to Queen Elizabeth II. The President of Brazil presented her with a stunning aquamarine necklace and earrings at her coronation in 1953. Apparently the Queen adored them so much that she went on to add an aquamarine bracelet and brooch and even an aquamarine tiara to her collection of royal jewels.
Because Jessica Biel has a March birthday, thoughtful husband Justin Timberlake included two aquamarine accents in the engagement ring he designed for her (with, no surprise, an eye-popping diamond in between them).

How to Wear Them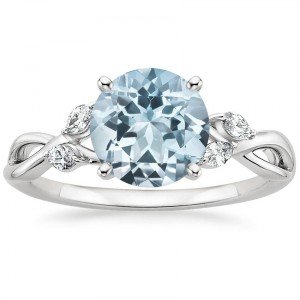 The light, bright blue of aquamarine looks especially chic paired with neutrals, like black and white, navy blue and camel. Wear your aquamarine jewelry with a crisp white blouse and black pencil skirt, with a little black dress and nude-hued heels, or to dress up dark jeans, tall boots and a neutral-hued cashmere sweater. But since the color aquamarine is practically a neutral itself, it looks great with just about any outfit you own.

Caring for Aquamarines
Aquamarines possess a score of 7.5-8 on the hardness scale, which means that they're durable enough to be worn as jewelry but that you should avoid any rough wear that might scratch them. They can withstand light exposure but don't subject them to extreme heat. Clean aquamarines with gentle soap and warm water.

Final Thoughts
If you are looking for a gift for a loved one with a March birthday, or if you simply crave a stunning piece of pale blue jewelry, you can't go wrong with aquamarine. Brilliant Earth offers stunning preset aquamarine engagement rings, as well as one-of-a-kind vintage rings featuring this stunning gem, which can make beautiful engagement rings or just an excellent gift for any special occasion. We also offer a wide range of ethical origin unique colored gemstones, and we are often able to source a broader selection of aquamarines upon request.
Do you love aquamarine jewelry?  Let us know what you think of this blue gemstone on Facebook or Twitter, or in the comments section!
To everyone born in the month of March, Happy Birthday!