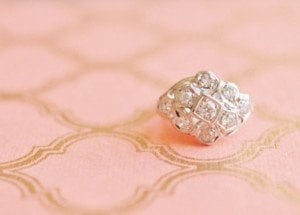 Antique jewelry from the Retro era, which spanned the period from the mid-1930s until the 1950s, is exuberant, creative and anything but understated.
During World War II and the post-war years people craved glamour, and Retro-era engagement rings delivered. To get a sense of the artistry of jewelry from this period, take a look at these stunning engagement rings:

The Amery Ring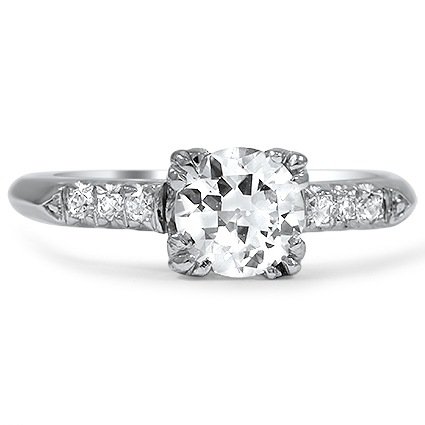 The classically beautiful Amery Ring features a dazzling center diamond triple-prong set in glistening platinum, three diamond accents on either side of the center gem, and exquisitely precise knife edge detailing, resulting in a look of timeless elegance.
The Mariko Ring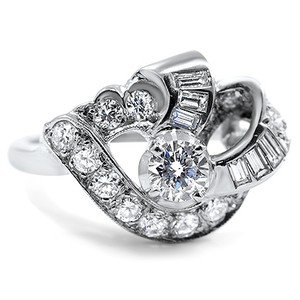 With a round brilliant diamond surrounded by six baguettes and twelve round diamonds framed in swooping ribbons of white gold, the Mariko Ring is breathtaking. The whimsical asymmetrical ribbon design is quintessential Retro style.
The Premala Ring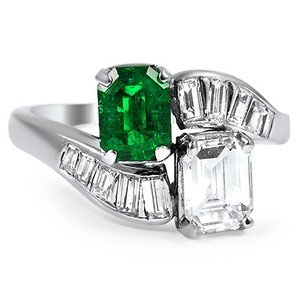 The stunning Premala Ring features an emerald cut diamond and a gorgeous green emerald, with ten diamond baguette accents flush set into the white gold band. With its curving lines and pairing of an emerald and diamonds, this ring reminds me of Jackie Kennedy's famous engagement ring.

The Crystal Ring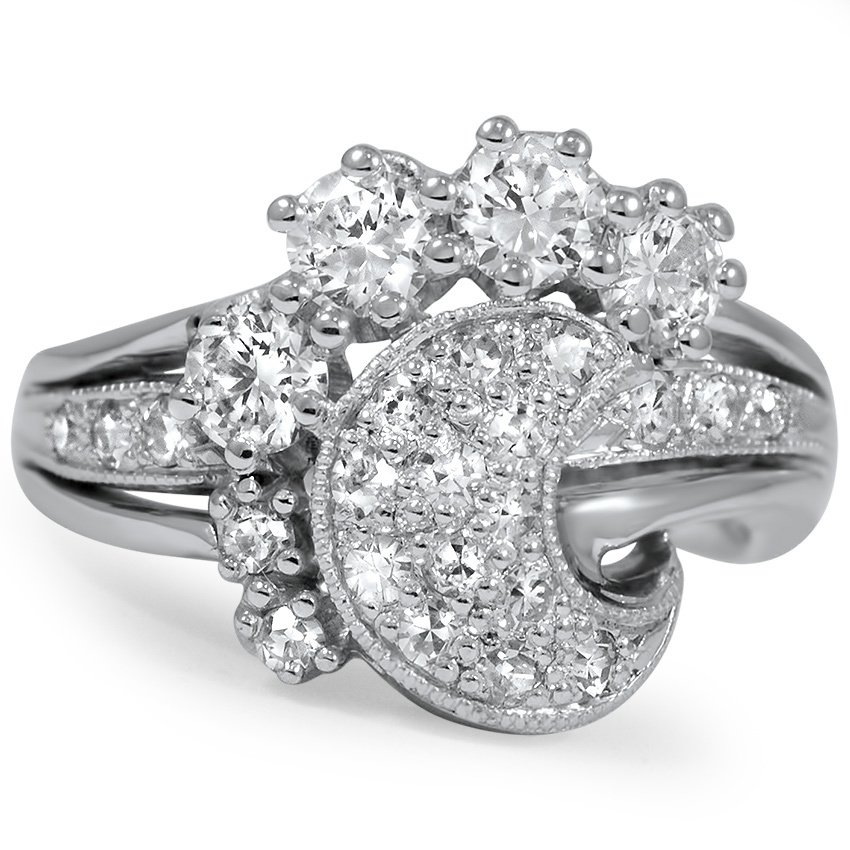 The Crystal Ring sparkles with twenty-five round diamonds accented with high-polish milgrain and beadwork, for a ravishing mid-century look.

The Trinh Ring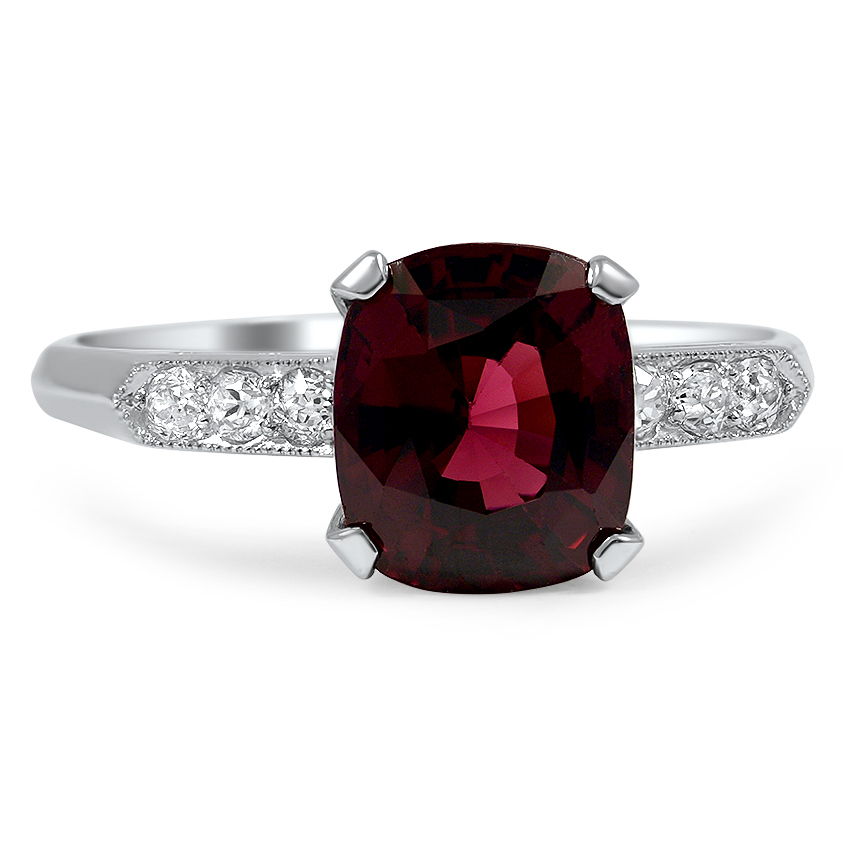 The Trinh Ring is a gorgeous statement piece showcasing a cushion shaped spinel set in platinum. Sparkling old mine cut diamonds grace the sides, for a classic feel.

The Hedia Ring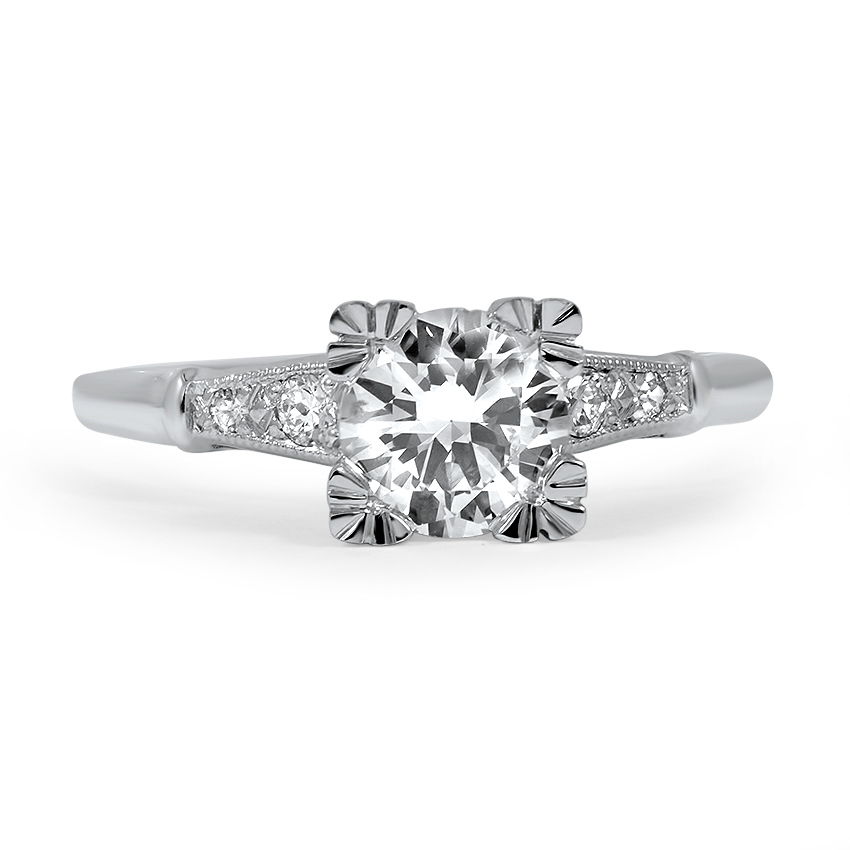 Floral motif prongs draw the eyes to a ravishing round brilliant center diamond in the 1930's Hedia Ring. Round diamond accents gently taper away from the center diamond, creating a look both elegant and feminine.
The Sachet Ring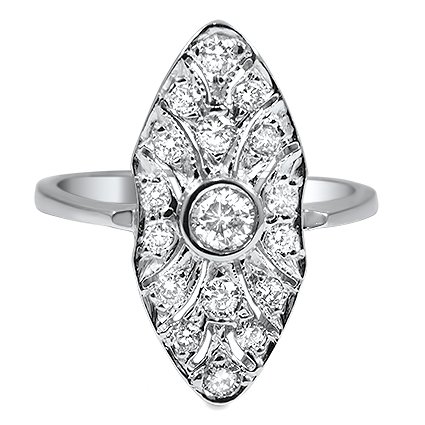 The dazzling Sachet Ring features a bezel-set round brilliant diamond at the center, surrounded by sixteen diamond accents twinkling between curving lines of lustrous white gold.

The Kinley Ring
A round brilliant diamond dazzles in the Kinley Ring and is surrounded by six single cut diamonds that shimmer enchantingly from a delicate swirl design.
Final Thoughts
Do you like rings from the Retro era?  Which of these is your favorite?  Let us know on Facebook or Twitter or in the comments section!