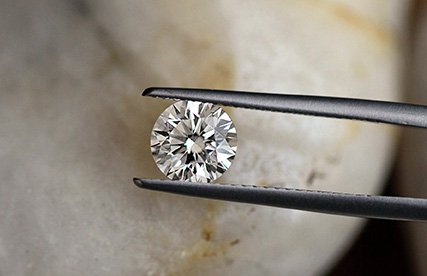 Lab created diamonds aren't new, but you may feel like they're suddenly everywhere. The first one was created by scientists at General Electric in the 1950s, and manmade diamonds have been available to consumers for about a decade, but they are now having a major moment. Lab-created diamonds were recently covered on The Today Show and in The New York Times.
Then in November a man proposed to his girlfriend at halftime in the New Orleans Superdome with a manmade diamond ring, in front of TV cameras and tens of thousands of football fans. The gem he presented on bended knee was a dazzling 2.62 carat pear-shaped lab-created diamond (she said yes).
Here are some of the reasons man-made diamonds are an increasingly popular option for couples choosing an engagement ring:
They are real diamonds
Lab created diamonds share the same chemical and optical characteristics as diamonds that were made naturally by the earth. Lab conditions that simulate natural processes result in carbon atoms arranged in the characteristic diamond crystal structure. Even professional gemologists can't tell the difference between lab created and earth-created diamonds without using specialized scientific testing. Lab diamonds are entirely different from diamond simulants such as cubic zirconia, which are nowhere near as dazzling or as durable.
They are born of cool, cutting-edge technology
Since the first manmade diamond was created in the 50s, the technology has advanced by leaps and bounds. High-pressure, high-temperature chambers mimic the conditions in the earth's crust in which natural diamonds were created. At first only very small diamonds could be produced in labs, but sophisticated modern techniques allow the creation of dazzling diamonds of two carats and more.
They come in a range of colors
In addition to bright white, you'll find lab created diamonds in fancy shades of yellow and pink, colors that are very rare in nature.
They offer significant savings
A manmade diamond typically costs about 30% less than a natural diamond of comparable size and quality. Lab created diamonds are very much a luxury item, owing both to their beauty and to the time and technological precision required to create them, but they can be a smart choice for couples trying to optimize for diamond size and quality on a budget.
They are eco-friendly
Because it requires no mining, a manmade diamond is an extremely eco-conscious choice and is untouched by any of the ethical considerations related to mined diamonds. Although all of Brilliant Earth's natural diamonds are mined according to our stringent ethical and eco-friendly beyond conflict free standard, the entirely mining-free origins of lab-created diamonds appeal to some couples.
It is important to note the vast distinction between lab created diamonds and diamond simulants. Diamond simulants, such as cubic zirconia and moissanite, are not made of the true carbon crystals that give diamonds (both manmade and natural) their brilliance and beauty. For that reason, simulants sell at much lower prices than lab created diamonds. (Learn more about moissanite vs. diamond.)
Browse our collection of lab created diamonds, and do not hesitate to contact us to learn more about them.
Final Thoughts
Do you own a lab created diamond?  Would you like to?  Let us know on Facebook or Twitter, or in the comments section!