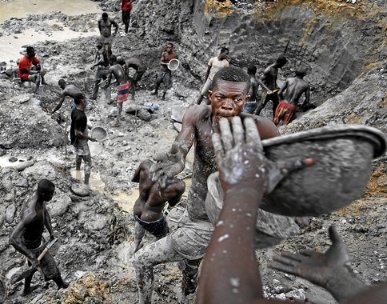 Almost four years ago, President Obama made his first foreign trip to sub-Saharan Africa. Rather than go to Kenya, his father's birthplace, he chose to go to Ghana because he wanted to draw attention to Ghana's democracy, one of the strongest in Africa.  "Africa doesn't need strongmen, it needs strong institutions," he said in a speech before the Ghanian Parliament on July 11, 2009. It was a message Obama tried to reinforce last week, when he visited Africa again. On this trip, he visited South Africa, Senegal, and Tanzania – three countries that, like Ghana, are touted for their good governance.
But the work of building strong and effective institutions isn't always easy. A case in point: Ghana. Although President Obama went to Ghana to single it out for praise, the weakness of its regulatory institutions is one of the main reasons why gold mining there remains so dangerous. Indeed, according to a new Human Watch report, the absence of effective government regulation in Ghana is partly to blame for a tragic gold mine collapse in April. Sixteen gold miners, including one 17-year-old boy, died in that accident.
According to the report, the accident happened when a mud wall collapsed in a large gold mining pit. Some of the miners were pulled out of the mud, sustaining only injuries, but most did not survive. The report also found that children – some as young as 12 years old – had been working in the mine, carrying heavy loads of ore and processing it with toxic mercury. The boy who died, Abroso Kwabena Donkor, was an orphan who had been working in the gold mines since he was 15 years old.
Human Rights Watch has urged Ghana's government to do a better job regulating its gold mining sector in order to improve safety standards and prevent child labor. In Ghana, at least, the government may have the ability to respond. But that would only be a partial solution to the safety issues plaguing gold mining. As we noted in a recent blog, there lately has been a spate of gold mine collapses in Africa, many in countries more troubled than Ghana. This past spring, there was a gold mine collapse in the Democratic Republic of Congo that took 20 lives and another in Sudan that left about 100 people dead. A few weeks ago, a gold mine collapse in the Central African Republic took 62 lives.
In these countries, it may be unrealistic to count on better regulation. It is probably not a coincidence that all three gold mine collapses happened in politically unstable areas. The gold mine collapse in Congo happened in the North Kivu province, the location of a long-running civil war. The mine collapse in Sudan took place in the Darfur region, where rival tribes are warring over land and mineral rights. And in the Central African Republic, the mine collapse happened partly as a side effect of a rebel uprising. Last December, when rebels in the Central Africa Republic threatened to seize the government – they have now done so – the mining company which was developing the mine site ceased operations, saying the country was too unstable. That allowed unlicensed artisanal gold miners to enter the mine site and the accident to occur.
So what is the solution to preventing these types of mine collapses? There's no single solution, although better regulation should be the first response in countries like Ghana, where government institutions are stable. But in the absence of strong institutions, we think the jewelry industry has a responsibility too. After all, jewelry is the most common use for gold. (Jewelers and investors together are responsible for 80 percent of gold consumption.)
Greater use of recycled gold in jewelry could reduce the need for gold mining. More transparent jewelry supply chains could allow consumers to avoid gold from conflict regions or gold tainted by dangerous working conditions, child labor, or serious environmental harm. (Most gold mining, actually, poses significant environmental risks.) An expanded fair trade gold certification system could help educate artisanal gold miners about safety issues. And rising consumer awareness can help build the conviction – among governments and in the jewelry industry – that people shouldn't die to produce gold.