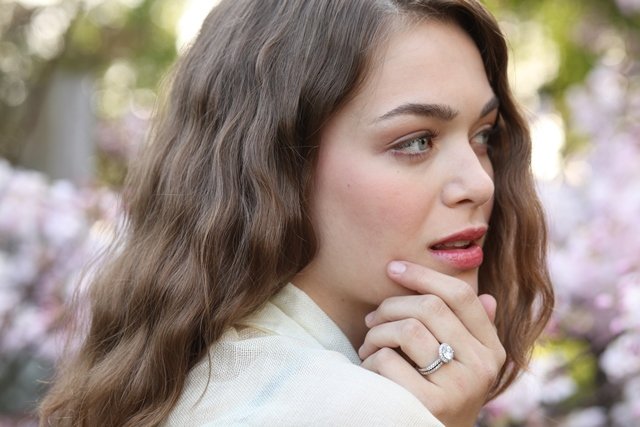 Is it possible to tell what women want in an engagement ring? We talk with Brilliant Earth's Senior Gemologist Beth Moore to find the answer. 

Here's an important question that's on everyone's mind… Is it better to buy a ring before or after the proposal?

Beth: It can be a puzzle! It's very mixed. Really there are benefits both ways! You get points for going the 'surprise road.' It shows that you put some thought into it and that you know her style. On the flip side, women have so much personal style nowadays and they are encouraged to express that, so it can be a bit risky. Guys  will also earn a lot of points for encouraging their gals to select what she feels best represents her. It works out wonderfully either way!

If someone comes in alone—pre-proposal— how would you guide them to the right ring? 

Beth: A lot of it is talking about her. What type of jewelry she wears, what she does for a living, what her hobbies are like, whether she likes elaborate vintage things or whether she likes things that are simple…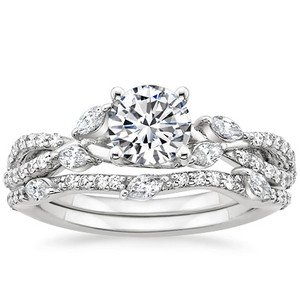 Some men bring in a picture of their girlfriend on their phones because you can tell a lot about a girl's style from her picture.

What about lifestyle?

Beth: Lifestyle and hobbies are important- a lot of it has to do with wearability. Women who are out hiking, backpacking, rock-climbing, gardening, or doing yoga—they probably shouldn't be wearing something super delicate, or anything too high set. For these women we suggest semi-bezels, bezels, and low baskets. For the very active, it's a good idea to leave off side accents.

Is there a particular metal that is popular?

Beth: White metals are very popular right now—white gold and platinum. An alternative metal, palladium, is also increasingly popular for those that want the hypoallergenic qualities of platinum at a lower price point. White metals are typically a safe bet. Rose gold has been very hot, but it's a bit riskier. Rose gold looks especially beautiful with vintage and modern designs. Pay attention to the type of jewelry she wears. If she wears mostly yellow gold, go for that. If it's mostly white gold, go for white gold.

Pay attention and do your homework before you shop!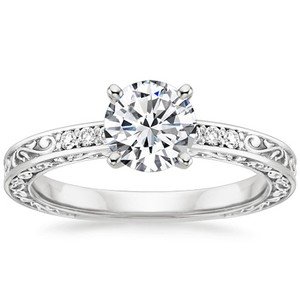 When do you suggest antique rings?

Beth: If she loves everything vintage and lots of detail. Some guys are a little scared to go vintage. Engagement rings are a symbol of a person and a relationship that she will wear every day. He will be looking at that ring for the rest of his life, so he should like it! Men's tastes are generally sleeker, so they might not be sure about antique, but I encourage them to pay attention to her personal style.
What are the most popular diamond sizes and settings you are asked about?

Beth: Quite often we get requests for 0.70 to 0.90 carat diamonds. This gives them the visual impact that they are looking for, but they're not hitting the one carat mark, where we often see a more substantial price increase. Really, there's no right or wrong diamond size. It all depends on comfort and wearability. We want everyone to feel good about the purchase, emotionally and financially.

As for settings, we are often asked about the iconic Brilliant Earth scroll patterns such as the Delicate Antique Scroll, the True Heart, and the Adorned Trio. Many women are also into organic rings like the Seacrest, Cascade, and Willow.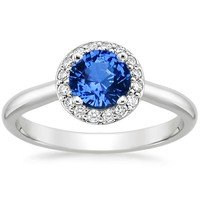 Do you ever suggest a colored gemstone?

Beth: I suggest it a bit more than most because I love colored gemstones! Sapphires can handle daily wear very well because they are the second most durable gemstone next to diamonds. They come in every color of the rainbow. We can match almost any color to a sapphire.  Some people even send us a picture of their girlfriend's eyes so that we can match them exactly. It's very romantic.

It is easy to be intimidated by diamonds. Diamonds can be so difficult to learn and understand because some of their characteristics can't even be seen! When it comes to sapphires, the color just speaks to you. There's not as much focus on the nitty gritty details. You either like it or you don't!

Do you encourage men to design a custom ring?

Beth: Yes! Whether it is tweaking one little detail on an existing style to make it more personal or pulling details from different ring styles, we encourage that creativity. Our customers are very much involved in the design. Once they see that, they understand that the process isn't that scary. Designing a custom ring is definitely a gutsier move.

Any take home points for what women want in an engagement ring?

Beth:  If you are buying an engagement ring for someone else, the best thing you can do is go with your gut instinct. There's no wrong way to do it. Guys need to be a little easier on themselves!