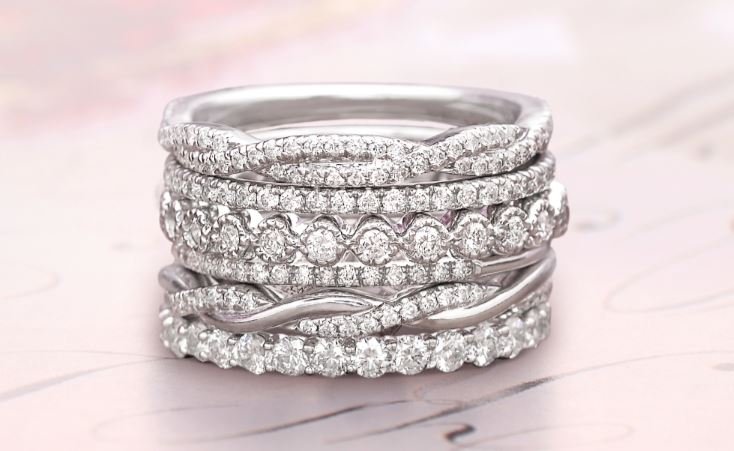 A woman's diamond wedding band isn't like a pair of shoes—you can't change it three times a day, and you probably don't have a closet full of them.
This one ring is given to you as you make your vows, becoming a lifelong symbol of your love and commitment. Finding the right ring is important! Not all diamond wedding rings are the same. There are many different qualities and characteristics to take into consideration, so think carefully about what you want out of your diamond ring!
Precious Metal
Metal type is very important to the overall look and feel of your diamond wedding band.
White Metals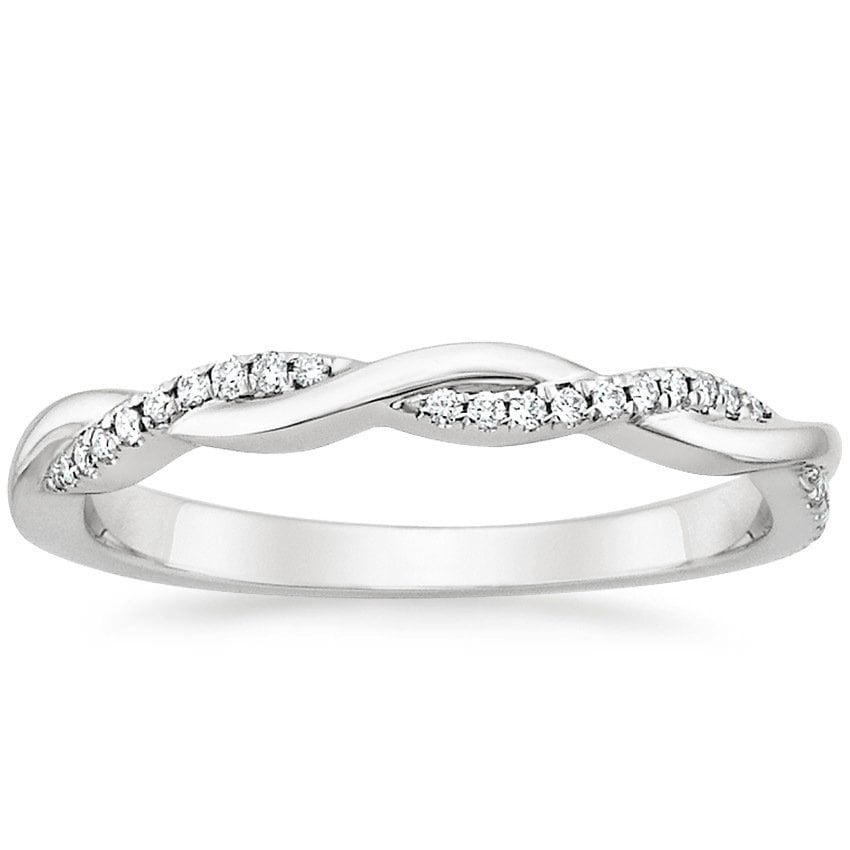 White metals are very popular right now because their bright white finish beautifully complements the whiteness of diamonds, making the diamonds appear brighter. Platinum and white gold wedding bands take a step back and allow the diamonds to be the center of attention.
Yellow & Rose Gold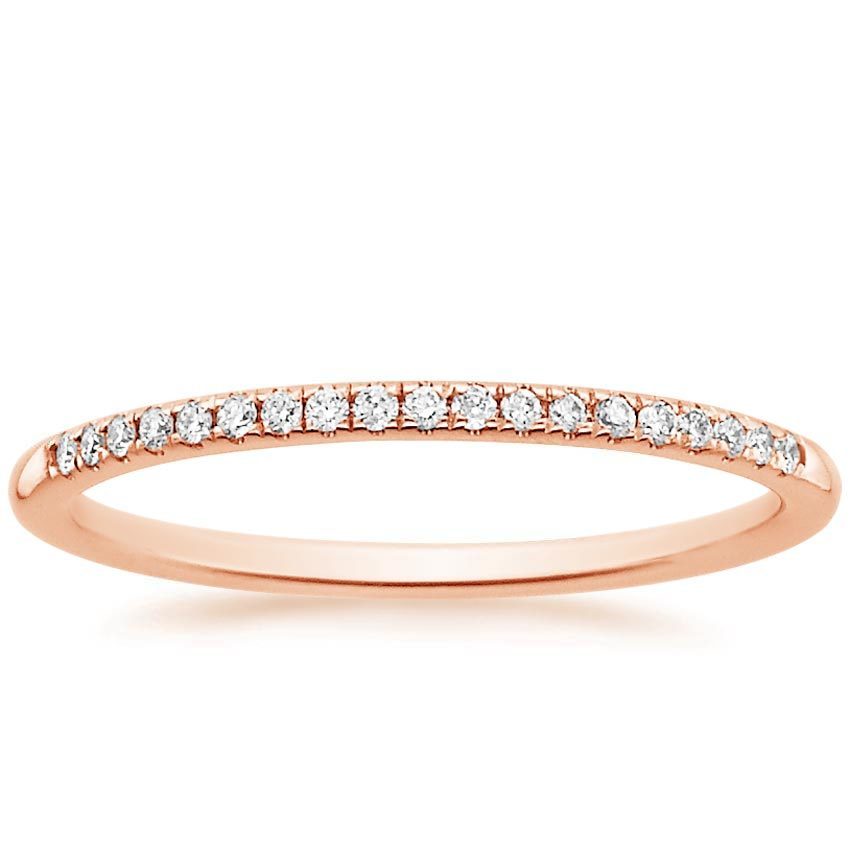 Yellow and rose gold are beautiful, distinctive options. These warm, alluring metals stand out against the sparkle of the diamonds, setting them apart from white metals. Yellow gold bands are seen as very luxurious, as this metal is associated with pure 24 carat gold, making it a desirable option. Rose gold wedding rings have also become very popular because they give diamonds a soft, romantic glow.  Both yellow and rose gold complement a variety of skin tones.
Recycled Gold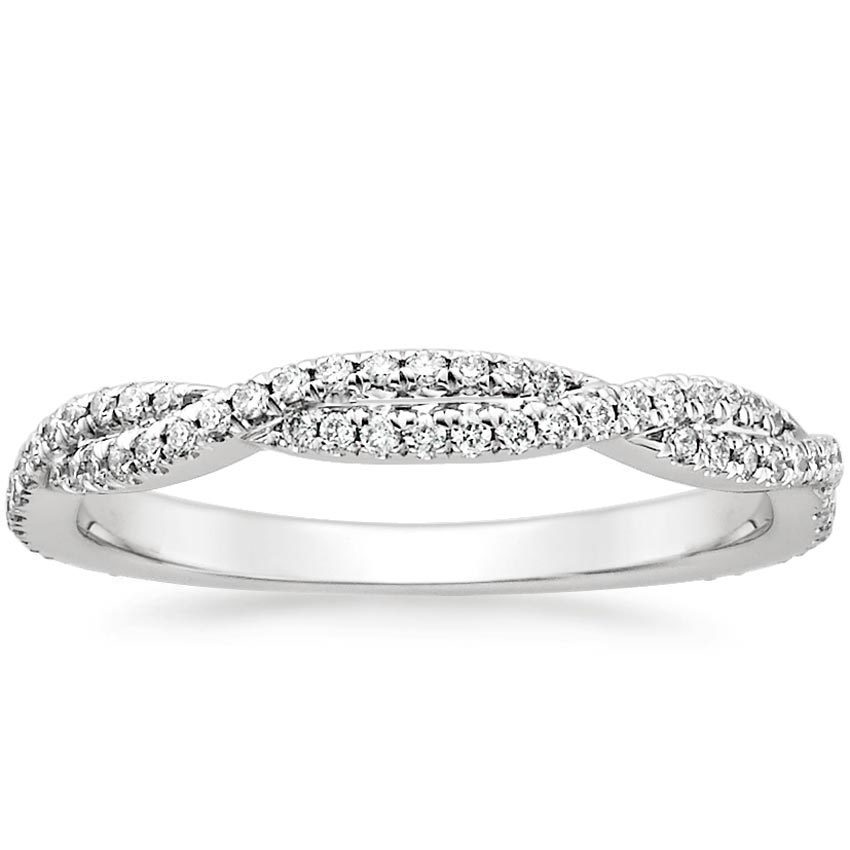 Gold mining has a history of being environmentally destructive, so choosing a ring made of recycled precious metals helps to diminish the overall demand for further gold mining. Metal can be endlessly recycled while maintaining its original quality, making it a beautiful, renewable resource!
Style
Diamond wedding bands come in a wide variety of styles! The way a ring's accent diamonds are set determines how the ring looks and how wearable it is. Wearability is key to consider if you have an especially active lifestyle.
Shared Prong Setting
In a shared prong setting, multiple diamonds are lined up next to each other so that they can—yep, you guessed it—share prongs! Each prong does double duty, clasping two diamonds in place. This is a beautiful setting because it shows off a diamond to the fullest, but you need to be careful not to snag shared prong rings on hair or clothing.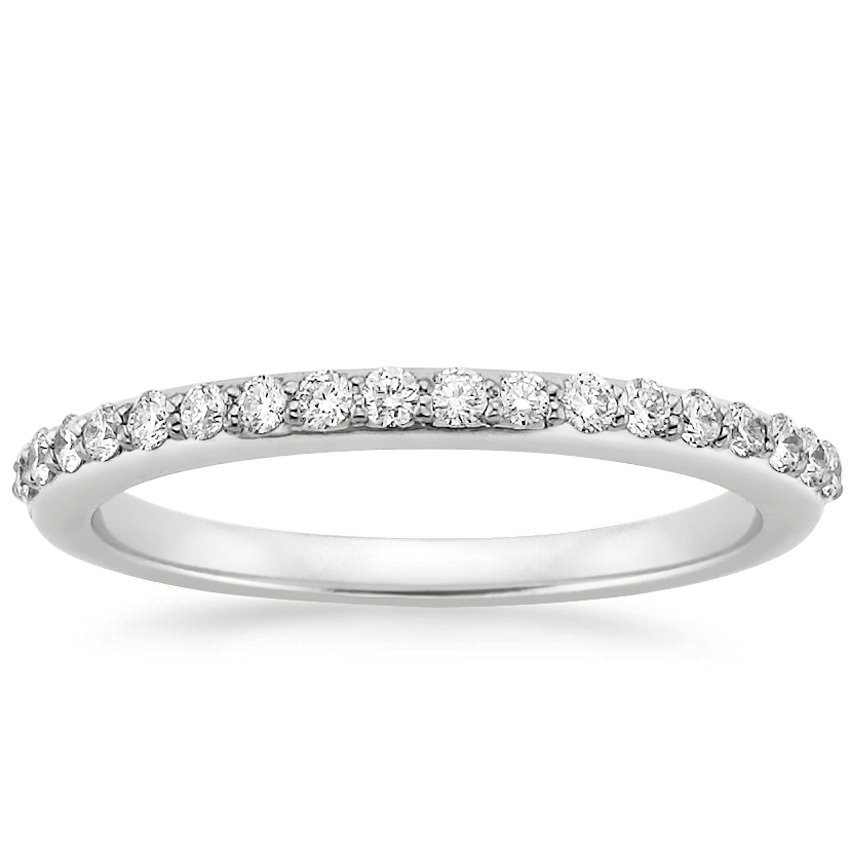 Recommended for:
Women who don't work with their hands (computers excluded!)
A calm lifestyle, where the wearer does not engage in rigorous outdoor exercise
Pavé Setting
Pavé diamonds are set within two thin bars of precious metal, the crown of the diamond level with the surface. The empty space between the stones is then filled with precious metal, creating a bead that keeps them in place. This setting produces a "paved" look of pure sparkle. This setting will often feature two or more rows of pavé diamonds set closely together, creating a solid ring of light.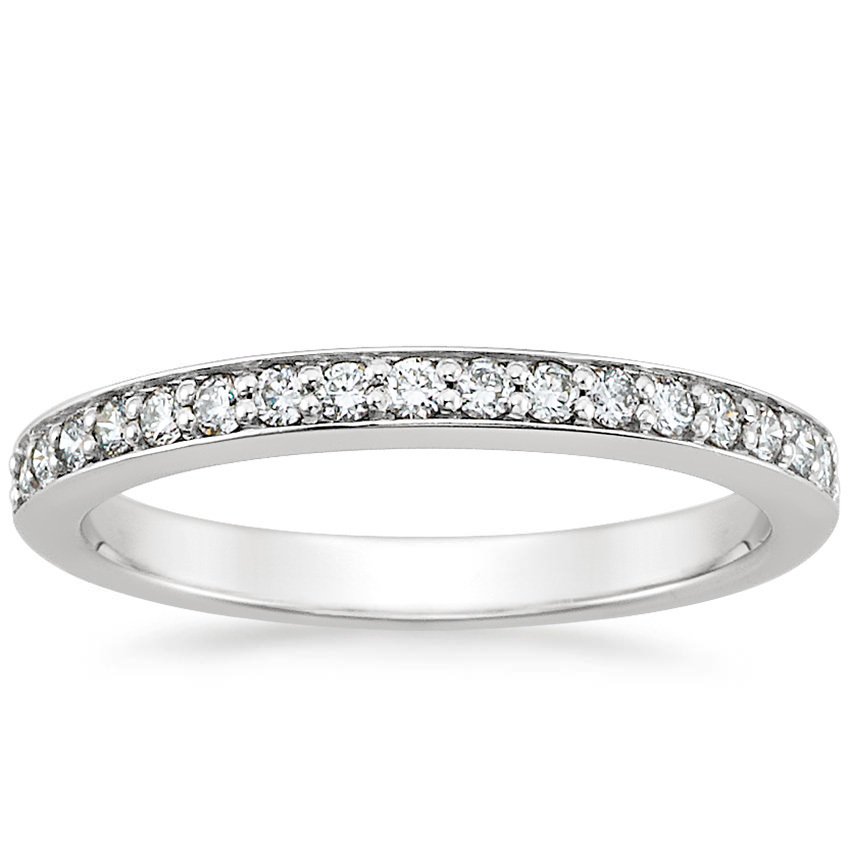 Recommended for:
Women who occasionally work with their hands
Moderate lifestyle
Channel Setting
Channel set wedding rings are a traditional, classic style. With this setting, diamonds are secured at the girdle (the widest part of the circumference) between two strands of precious metal. The diamonds are securely set in tiny grooves on either side. You will often find princess and emerald cut diamonds in channel set wedding rings because these shapes sit flush against each other. These styles look stunning next to an emerald or princess cut engagement ring. This setting is clean, streamlined, and pairs beautifully with a channel set engagement ring.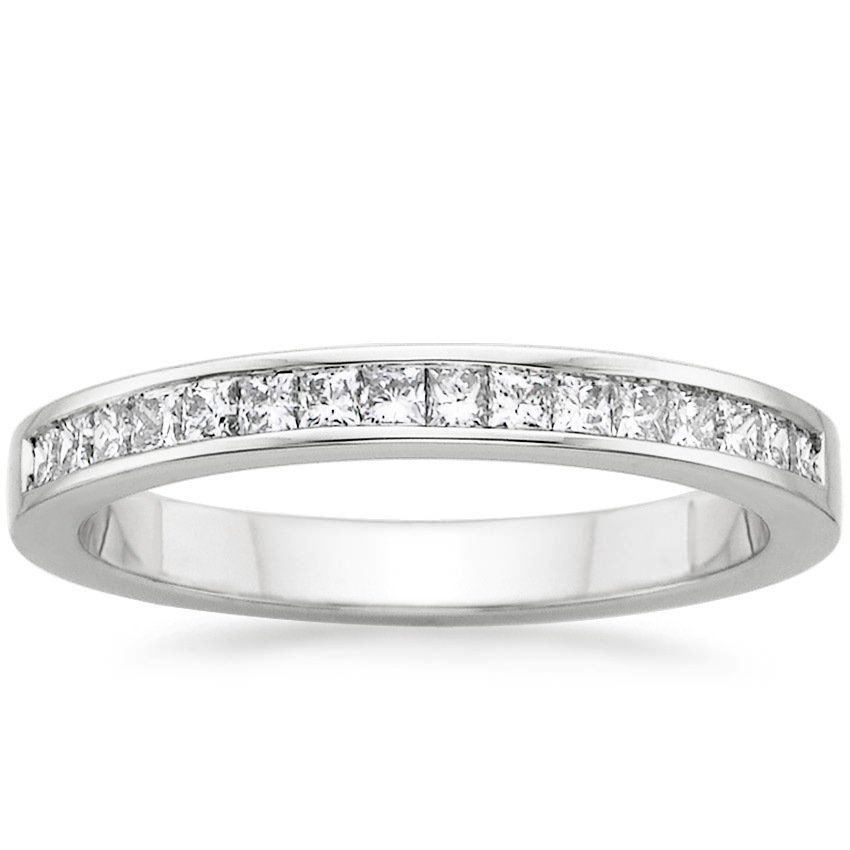 Recommended for:
Women who occasionally work with their hands
Moderate lifestyle
Bezel and Flush Settings
Accent diamonds are considered to be bezel set when a thin strand of metal surrounds all or most of a diamond's girdle, and it may or may not enclose the sides. This leaves the crown (the top) of the diamond visible, while the rest is safely tucked away. Bezel set wedding rings often create a "scalloped" edge when multiple bezels are connected, though shapes such as princess and emerald create a straight line.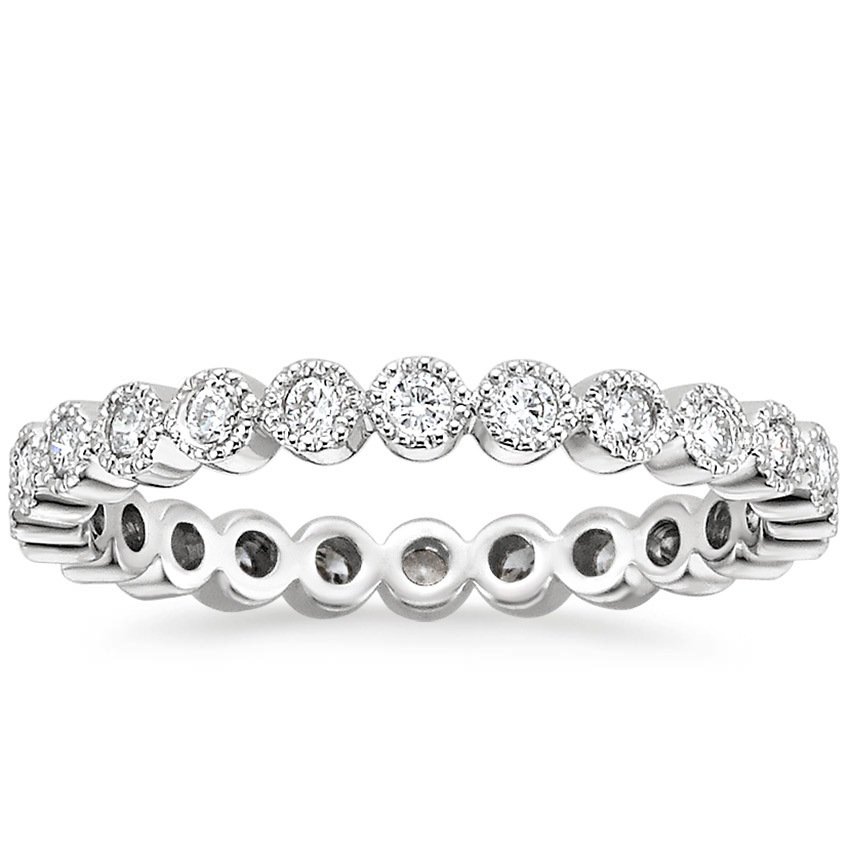 A flush set diamond is set into the band so that no part of the diamond protrudes beyond the surface. The surface of a flush set diamond wedding ring is completely smooth, making the ring highly wearable.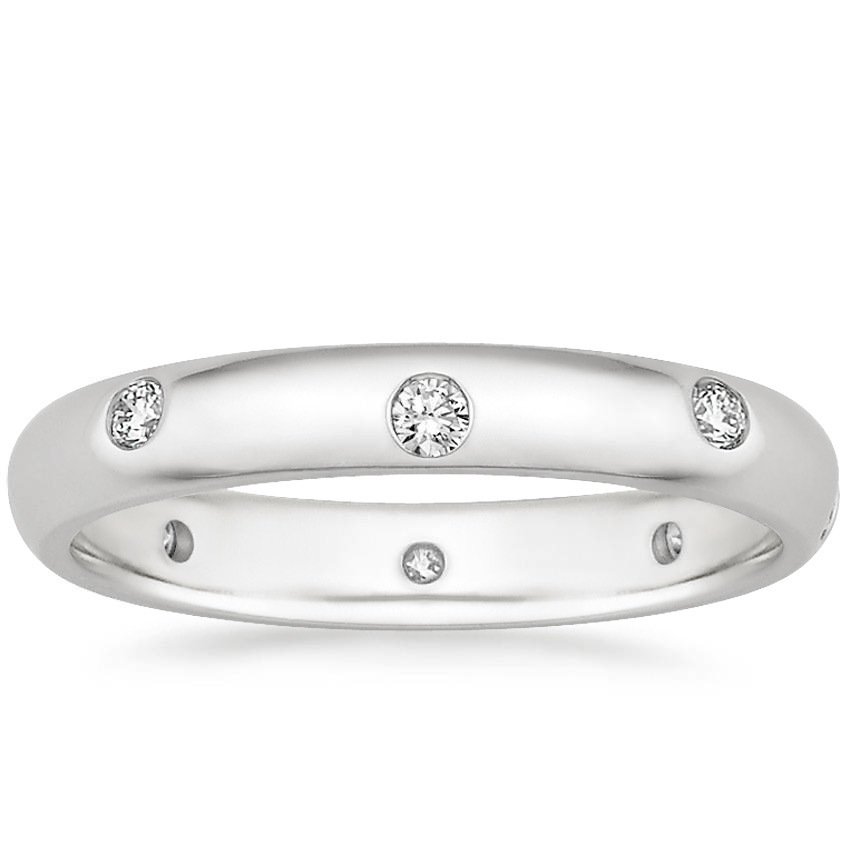 Recommended for:
Outdoorsy women
Active lifestyle
Women who work with their hands daily
Eternity Wedding Bands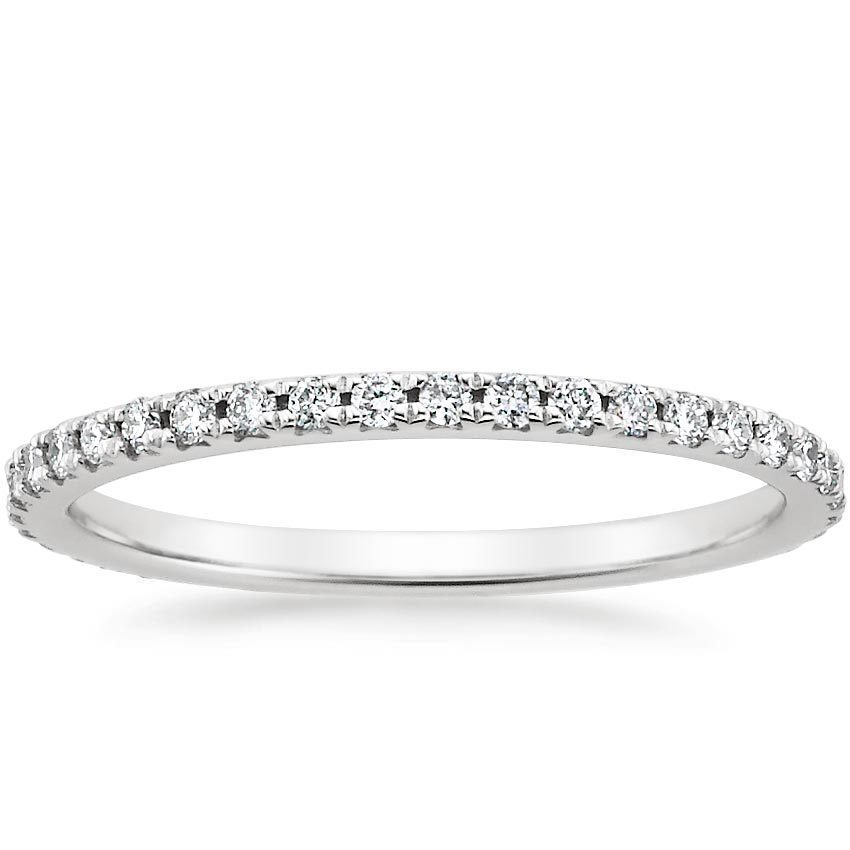 Diamond eternity bands have diamonds encircling the entire circumference of the ring. Some women love these rings because of their romantic connection to eternal love and lasting commitment. Others simply appreciate that no matter which way the ring turns, diamonds will always be at the forefront. These bands are a popular option, particularly if you have a simple engagement ring.
Antique vs. New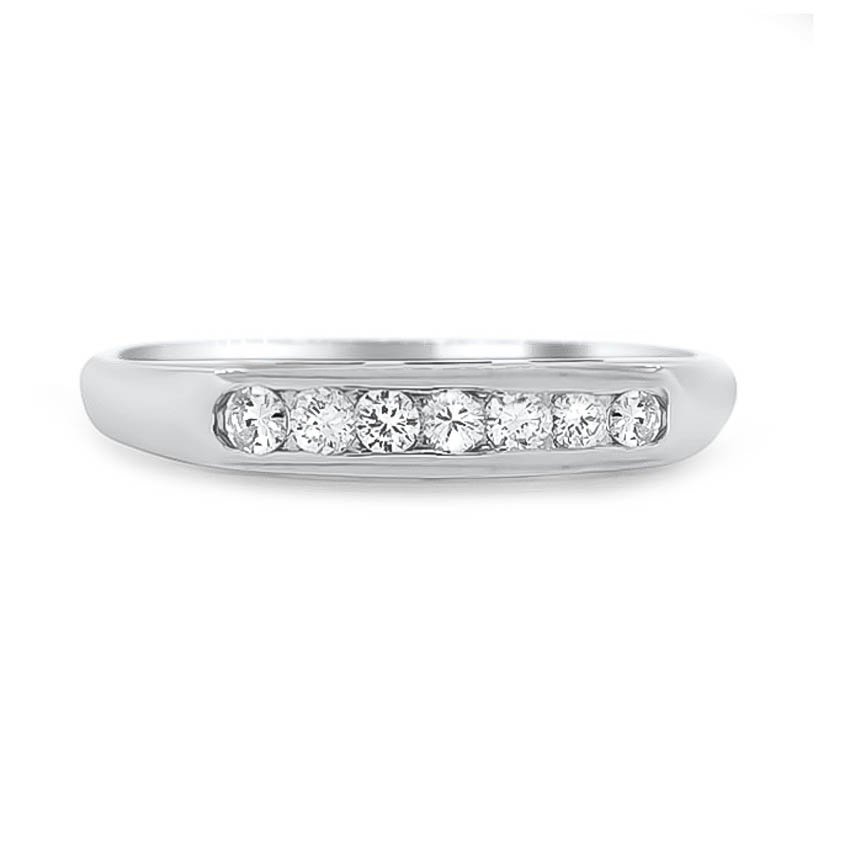 If you are looking for a unique diamond wedding band, look no further than a stunning antique ring. A wedding ring is a beautiful symbol that deserves to have a long life, bringing joy to more than just its original owner. These rings have a romantic past, and they are just waiting to begin a new life with you and your partner.
Custom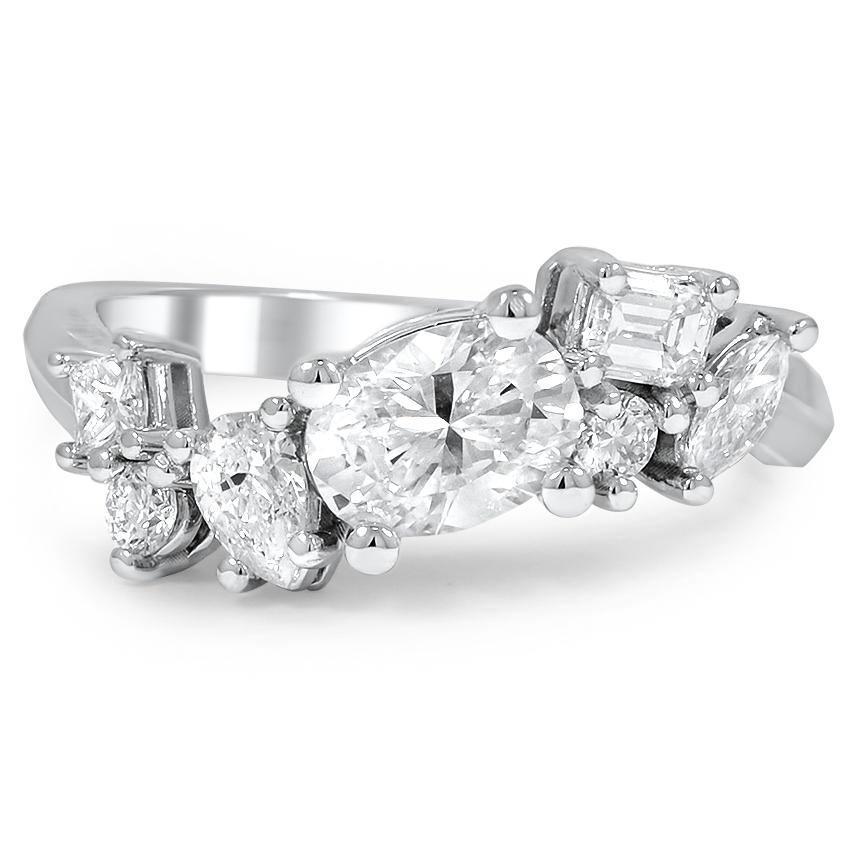 If you and your partner want to be involved in the creation of your rings, creating a custom diamond wedding band is an amazing option. The sky is the limit when you go custom—you can use diamonds to create whatever design you want! Designing a wedding ring with your partner makes it infinitely more precious.
Final Thoughts
If you are planning on wearing your diamond wedding band on the same finger as your engagement ring, we highly recommend that you choose a band that has a similar metal and diamond setting. A diamond wedding band is your "forever ring," so make sure that you love it as much as you love your partner!
What does your future (or current!) diamond wedding band look like? Let us know on Facebook, Instagram, or Twitter or in the comments below!