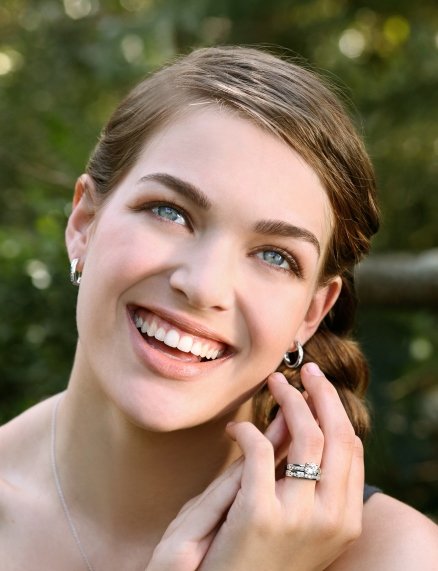 When you walk down the aisle and you catch sight of your fiancé, your eyes will sparkle and your smile will shine… but most brides still want a little something extra! There are many options when it comes to wedding jewelry for brides, so if you are unsure about what to choose, take the following into consideration:
Let Your Dress Be Your Guide

Are you having difficulty choosing between bracelets, rings, necklaces, and earrings? Don't just pile them on—fine jewelry shouldn't have to compete for space and attention!  The best way to choose your wedding jewelry is to look at your dress. Take cues from the amount of detailing and the neckline.

Detailing
Is your dress covered in crystals and beading from head to toe? Or is it simple and unadorned? If you have a dress on the decorated end of the spectrum, it is wise to go lighter on your wedding jewelry. If not, your dress and jewelry might clash or compete for attention. Nothing should distract from your natural beauty! Simple diamond studs are a classic choice. They add a bit of sparkle around your face but they don't overwhelm. In this situation, don't go with a large statement piece—your dress is your statement piece!
If your dress is understated, consider yourself a blank canvas. Go with a statement piece, like diamond tear drop earrings or even a crystal belt! Allow smaller pieces to play a supporting role for whatever eye catching piece you choose to feature.

Neckline
♦ Strapless/sweetheart

If your dress is strapless you'll probably want some sparkle at your décolletage. Good news—you're in the clear when it comes to necklaces and earrings! Look for a statement necklace that rests above the top of your dress, particularly if you have a sweetheart neckline. A diamond halo necklace is a beautiful option that will catch the light without distracting from the beauty of your dress. If you want to leave your neck bare, dramatic chandelier earrings are an equally stunning choice.
♦ One-Shoulder

It's not the best idea to wear large earrings or any necklace if you are wearing a one-shoulder dress. One-shoulder dresses create a very unique asymmetrical look, and adding a necklace might make you look lopsided. Half of the necklace would be on your skin and half would be on your dress, disrupting the dramatic cut of the dress. Beyond conflict free diamond studs and dramatic, sparkling bracelets are a great choice.
♦ Halter

Similar to one-shoulder dresses, wearing a necklace with a halter top dress has the potential to look strange. The chain of the necklace might get tangled or lost in the straps of your dress, pulling the necklace to and fro. Overall it makes your neckline look cluttered and chaotic. Consider one-of-a-kind vintage drop earrings or more modern channel set hoops.
♦ V-neck

If you would like to wear a necklace with a V-neck dress, take the size of the V into consideration. Straps that sit wide on your shoulders (closer to an off-the-shoulder dress) will leave your collar open for decoration. If your straps are encroaching on your neck and the V is very thin, you will want to go with a thin, short necklace such as an elegant recycled precious metal pendant.
♦ Illusion

It is the general consensus that brides should not wear necklaces with illusion necklines. These necklines are delicate, transparent overlays that often lend a vintage feel to a modern dress. When you wear a wedding necklace you run the risk of snagging it on the illusion fabric. But don't worry, illusion necklines are most often decorated with lace, beading, or crystals, so you probably won't miss a necklace at all! If your illusion dress includes long sleeves, you might not want to wear bracelets because they might disappear.
Brilliant Earth Jewelry Tip

It doesn't matter if it is 24 carat gold and covered in diamonds: brides simply should not wear watches to their weddings! Wearing a watch gives off the impression that the bride has somewhere else they'd rather be. Choose a sparkly bracelet instead!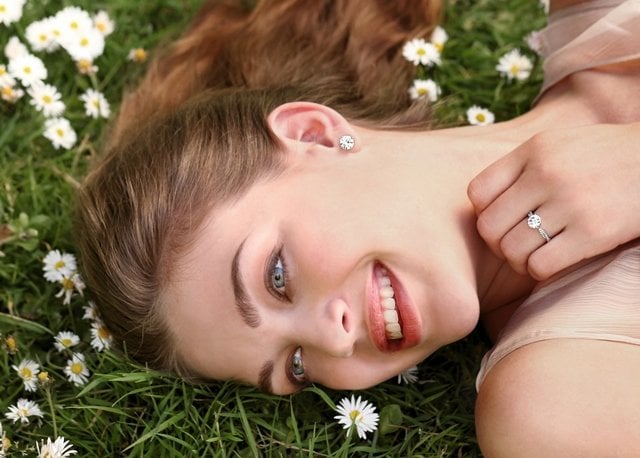 Select Timeless Jewelry

Your wedding jewelry should be classic and well-made so that you will still be wearing those pieces on your fortieth wedding anniversary. Some styles are more long-lasting than others, so invest in a piece or two that will remain highly sought after for centuries. To find such jewelry, you must take two factors into account: style and craftsmanship.

When it comes to style, how do we know what is considered classic? The best thing to do is to look to our past. Diamond stud earrings, pendant necklaces, and dangling earrings have been popular for quite some time. If you want something timeless, lean towards sophisticated and simple rather than trendy.
As for craftsmanship, you want to have jewelry that will last generations! You will probably want to pass down your jewelry someday, so look for pieces that are expertly crafted and will pass the test of time. Our vintage wedding jewelry has passed that test with flying colors! Our classic rings, necklaces, and earrings were created in romantic eras of the past and they still dazzle today.
And just think, an antique sapphire ring could be your something old and something blue!
Final Thoughts

Let your own style shine through in your wedding jewelry selection. To achieve the best look for you, try to match your jewelry to your dress and look for styles that endure!

Just remember, as you're walking down the aisle all your partner will be able to see is your dazzling smile!