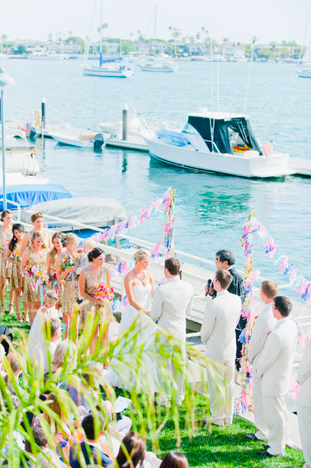 As society changes and couples pick and choose the wedding traditions they wish to follow, it causes many to wonder whether wedding guest etiquette has changed as well. Are you expected to follow the same rules for an intimate backyard wedding as you would be at a grand ballroom affair?  Should you follow the same protocol if you're attending a destination wedding and a wedding just across the street?

The general consensus is that yes, standard wedding etiquette still applies to every type of wedding, big or small, formal or informal. Though there might be circumstances that will allow you to deviate slightly, the same general principles apply. If you haven't been to a wedding in a while or you're afraid you've made some recent faux pas, don't worry! We have collected a few universal wedding etiquette tips to help you out!

Always RSVP

Responding to an invitation isn't just beneficial for the bride and groom, it's a form of common courtesy. For example, if someone asks you to go out for lunch, you don't let them know that you've agreed to go by just showing up! You would never do this in your everyday life, so make sure that you formally RSVP to every wedding invitation.

Try to RSVP within two weeks of receiving your invite. You can go old school and send it through the mail, but it's even easier if the bride and groom have a wedding website!

Be Gift Savvy

Weddings come hand in hand with a number of smaller events, including engagement parties, wedding showers, brunches, bachelor and bachelorette parties, rehearsal dinners, and finally the big night. Don't feel as though you have to bring a gift to every event. The shower and the actual wedding are times when gifts are greatly appreciated.

There has always been the expectation that if you receive an invitation you should send a wedding gift, regardless of whether you can attend the wedding or not. Occasionally, however, if the bride and groom know that you cannot attend they will send an invitation for you to have as a keepsake, oftentimes with a small note indicating that no gift is expected.

Keep in mind that you shouldn't feel pressured to match the cost of your attendance. You can't control how much a couple chooses to spend on their wedding, and you shouldn't feel responsible for giving them a gift of equal value. Weddings shouldn't be a quid pro quo situation. Give them a gift that you feel is appropriately priced.

Don't Assume You Can Bring a Guest

Never assume that you are entitled to a plus one. If you are in a long-term relationship that the bride and groom know about, chances are your partner will be invited as well. If you're single or casually dating, however, don't expect the invitation to be extended. If you're unsure about whether or not you are allowed a plus one, look at your invitation. If you're the only one invited, your name will be the only one printed. If you're allowed to bring someone, it will usually say "your name & guest" or "your name & your guest's name" on the envelope and/or on the actual invitation.

Don't Assume You Can Bring Your Children

This rule follows the same principles as above. Some couples don't want children at their wedding, a request they are fully within their rights to make. They will surely understand if this rule means you cannot attend.

Once again, look at how the invitation is addressed. If your children are invited, the invitation will say something along the lines of "The Doe family" or "Mr. and Mrs. Doe and Family." Occasionally children will even receive invitations of their own. If the invitations arrive addressed to the parents specifically, it means you should leave the kids at home. If you're still unclear or the invitation conflicts with a prior conversation, feel free to call the couple and ask.

Be Prompt

A wedding is the worst place to be fashionably late. If you know that you can't make it in time, let the couple know ahead of time and strategically make your entrance. Whatever you do, don't walk down the aisle and crawl over other guests to take a seat. If you show up during the ceremony, stand quietly in the back if there aren't any seats you can take surreptitiously.

Don't, however, be ten minutes late just because your hair had to look awesome. It's proper form to show up at least a half an hour before the ceremony starts so that you can greet other guests and find your seat. As a side note, if there aren't any ushers to show you where to sit, play it safe and leave the first two to three rows open, depending on length of the rows and the size of the family, for the immediate family members.

Don't Be the Photographer

Weddings and technology have come together to produce fun, exciting events, but unless you've been told otherwise, leave your cell phone and camera in your purse or pocket during the ceremony. The couple has probably paid good money for photographers and videographers who are going to take amazing photos that you can snag later. Waving your phone around—particularly during the ceremony—is rude and distracting, especially in the eyes of the less tech-savvy guests.

There are some modern couples that will encourage their guests to document the night, but don't take the initiative. There is also the question of posting photos on social media. Always ask the bride and groom if it's okay to post the photos you've taken right away.

Dress Appropriately

If the dress code isn't included in the invitation, you can either make an educated guess or get in contact with the couple. You can put yourself in the general ballpark by looking at the time and location of the wedding. Early afternoon garden weddings will call for a much more casual mode of dress than an evening event at a swanky city hotel. Ask other guests what they are planning on wearing, and if everyone's unsure, contact the couple for clarification.

Even though more and more brides are choosing to put their bridesmaids in white dresses, don't wear white to the wedding as a guest. Everyone will be looking at you, but for all the wrong reasons.

Don't Get Drunk

This should be simple. An open bar doesn't mean the bride and groom want their wedding to turn into a drunken mess. If you're being glared at for your behavior, it's time to stop. Remember, those photographers are everywhere, so mind what you do! Moderate your drinking and savor your drinks (they taste better when they're free) so that you'll remember everything in the morning!


Wait to Leave Until After Dessert

With the exception of elderly guests, guests with young children, or guests that don't feel well, it's a good idea to try and stay until after dessert. The cutting of the wedding cake (or the invitation to visit the dessert table) is a good indication that you can graciously leave. You've stayed through the important parts, and the rest of the night will likely be filled with dancing and revelry. If you choose to leave, say goodbye to the bride and groom and quietly make your exit.

Final Thoughts

Do you agree with these wedding etiquette tips? Tell us your favorite wedding etiquette story on Facebook, Twitter, or in the comments!