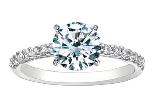 1. Your opinion matters!
Don't hesitate to get involved. If you choose to have your sweetheart involved in the ring selecting process, you don't have to keep to the back seat. She's going to wear this ring for the rest of her life, and she wants your support and values your opinion. Selecting an engagement ring requires detailed research that might feel tedious to you, but she's excited, and you should be too! Show her you care by listening to her concerns, offering your opinion and supporting her choices.
2. Keep her personal style in mind.
A girl's personal style is all her own, so don't dismiss it while shopping for the perfect engagement ring. Engagement rings come in a wide range of designs, so start paying attention to the details of her décor and wardrobe. Does she prefer a more modern, minimalist look? If so, she might like a brushed band with a bezel-set stone. Is her style more fashion forward or vintage-inspired? A halo setting might be just her thing. Don't hesitate to consult her girlfriends-you'd be surprised how much they know!
3.Trust your sources.
And don't believe everything you read online. There is a lot of great information to read online, but there is also a lot of misinformation as well! What with all of the blogs, review websites, and supposed "experts" sharing information online it can be difficult to sort out legitimate information from uneducated rambling. Everyone has a different opinion regarding diamond grades, gemstone shapes, metal types, and setting styles. Add in the task of finding real information regarding responsible sourcing and environmental impact, and you might find you need some help with making your decisions. Call a Brilliant Earth jewelry specialist for help with answering all of your questions.
4. Keep it balanced.
One of the most difficult decisions you have to make is how to balance the size of the gem with the quality characteristics that determine price. Don't become obsessed with gem grades. It is most important that your engagement ring choice suits her personal style and your budget. Some differences in gem grades are rarely visible to the naked eye, and are more important for investors than love gestures. Call a Brilliant Earth jewelry specialist for help with answering your questions about gem grades. Every gem is different and we are more than happy to assist you in selecting the ideal stone according to your preferences.
5. Don't make a hasty decision about your choice of metal.
First, consider whether she tends to wear more white metal (silver, platinum, white gold), rose gold, or yellow gold jewelry. Next, think about your budget and her style. For example, premium platinum is durable, hypoallergenic and a bit more expensive than other precious metals. White gold is lighter weight and less expensive, but also less durable over time. Finally, you'll want to consider how and where your metal was mined, and think about using environmentally and socially responsible recycled materials. A Brilliant Earth jewelry specialist can help you to sort out your many options.
6. When it comes to ring size, don't just pick a number between one and ten.
You'll want to get as close to your partner's ring size as you can, which could require a little bit of crafty research. Borrow a ring from her jewelry box (make sure it's one she wears on her ring finger), or ask her mother, best friend or sister if they know her ring size. Once she receives the ring, a professional jeweler will be able to make further adjustments.
7. Surprise!
If you're planning on surprising her, don't forget to consider whether she will want to wear a wedding band with her engagement ring. If she'll later be choosing her own band, look for rings that have a flat side profile so that any wedding band will sit flush alongside it. Will she want a matching band? Look for a matched set – many sets come with a contoured wedding band that fits perfectly around the engagement ring setting.
8. Don't wait till the last moment.
If there is a special day you plan you propose, it's a good idea to plan ahead. Leave yourself enough time to have that special ring created just for you.
9. Don't break the bank.
You'll want to start your life together in a strong financial position, so be realistic about what you can truly afford. If she's looking for serious impact, milgrain detail, pavé diamond accents and side stones can achieve million-dollar sparkle for a lot less.
10. Do what makes you feel good! Don't compromise your values.
When selecting your ring, look for ethical approaches that both of you can feel good about. Recycled gold and platinum and environmentally responsible, conflict-free diamonds make for the ultimate gesture of love and lifelong commitment. Consult Brilliant Earth for information on responsible sourcing and a wide selection of ring styles and materials.