You, the gracious hostess, have offered to throw a bridal shower. It seemed like a great idea at the time, but now you don't know where to begin your planning and the date is fast approaching. You want to throw a shower that makes the bride-to-be glow with appreciation and the guests line up to deliver you their kudos, but what kind of party might that be?
Look no further for inspiration. There are three surprising and unique ideas for an unforgettable bridal shower, but be warned: the other women in your life may want a repeat performance once they become engaged.
1)      For the Girly Girl: A Vintage-Styled Luncheon
Does the bride-to-be:
– Have a naturally luminous disposition? Is she full of energy and optimism?
– Have ten or more bookmarked design blogs that she checks daily?
– Fawn over the vintage engagement ring she always dreamed of and now wears?
The way to this girl's heart is in the details. Check out her Pinterest boards for inspiration, and create a lovely escape where guests can unwind and just be girls –  outdoors! After all, spring is the perfect backdrop to celebrate your guest of honor's romantic, feminine nature. The warmth beckons us outside, and what better way to make the most of a sunlit afternoon than an outdoor brunch or luncheon?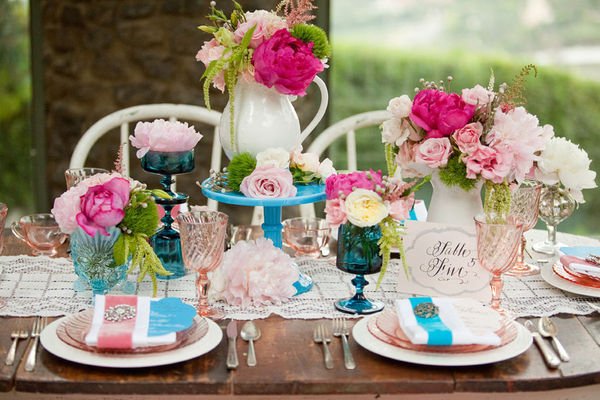 Set the scene: Vintage-Styled Visual Splendor
Create an airy, romantic, vintage-inspired atmosphere that melds perfectly into the surrounding landscape. Cover tables with patterned linens in spring colors, add pretty china and set out silver trays of spring-inspired food and delicately flavored cocktails. Collect jam jars of various sizes and fill them with loose bouquets of fresh wildflowers. Nothing really matches, yet it all fits together perfectly in a vintage-inspired bridal shower theme.
If your backyard isn't a fitting backdrop for such an affair, try a local park with a secluded area or even a spot at a local campground. Your guests will love happening upon the outdoor wonderland you've created in an unexpected locale.
2)      For the Life of the Party: A Co-Ed Shower, Mad Men Style
Does the Bride-to-be:
– Cherish the perfectly crafted martini?
– Covet all things retro and mid century?
– Have her weekends planned come Wednesday?
If so, the traditional, girls-only shower might not be her cup of tea, so to speak. She'll probably appreciate something a bit cooler, a bit more stylish, and a bit more … well …fun!
The hit television show Mad Men caused a revival of iconic American style. Both men and women will happily don retro-cool attire for an evening. Even if some of the guests don't watch the show, you can style the invitations such that they will understand it to be a mid-century themed affair. Holding the shower at night and inviting the boys guarantees that it won't be a snoozer. Even if the bride-to-be's in-laws and 80-year-old great aunt are in attendance, the shower will be fun and fabulous – just the way she likes it.
Set the scene: A Retro 60s Cocktail Party
Cocktails and hors d'oeuvres are the name of the game. Recreate the kitschy finger foods of the 1950s, such as Swedish meatballs, pigs in a blanket, and deviled eggs. Hostess advice from 1960s women's magazines includes pulling the chairs out of the room so that guests have to stand, making for a lively party with maximum mingling. Make sure your sound system is loaded with your favorite music from the era; think bossa nova, Nancy Sinatra, The Beach Boys, and Ella Fitzgerald.
3)      For the Foodie: A Gourmet Tasting Soiree
Does the Bride-to-be:
– Eat at the newest restaurant before you've even heard of it?
– Drive well out of her way in search of the perfect espresso?
– Automatically raise her hand when the waiter asks who will taste the wine?
If you answered yes, yes, and yes – you've got a foodie on your hands! A gourmet tasting bridal shower will be the perfect way to pamper and honor this bride-to-be. Tastings are interactive affairs, and thus a great way to get guests involved, animated, and mingling.
Wine and cheese go together like Bonnie and Clyde, but keep your guests on their toes by mixing the unexpected – chocolate with cheese, French fries with champagne, or guacamole with Gruner Veltliner, for example.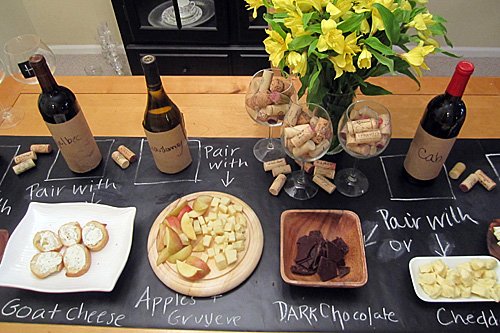 Set the scene: A Feast for the Eyes as well as the Palate
Start with a neutral canvas: cover your dining table in chalkboard contact paper. Arrange trays of food and bottles of wine atop the chalkboard covered table and draw arrows in chalk to specify which food should be paired with which libation. If you do a blind wine tasting, the chalkboard table can also be used to keep track of each wine's score.
Final Considerations for Unforgettable Bridal Shower Themes
When planning a bridal shower, the most important thing to consider is the bride-to-be: what she likes, what she does with her free time, and what she believes in. At the end of the day, the party is about her, and hosting a shower that reflects her unique personality is the best way to demonstrate how much you love her!