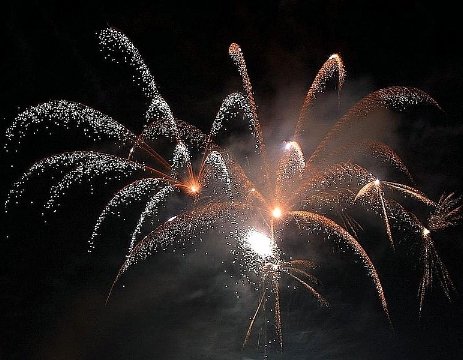 One of the best parts about providing wedding and engagement rings is that we're constantly helping our customers celebrate one of the happiest days of their lives. Working at Brilliant Earth is a little like being in the movie Groundhog Day—except that every day is like the one at the very end of the movie (the day after Groundhog Day) when Bill Murray and Andie MacDowell begin their new lives together.
The same mood doesn't always apply when it comes to our social mission. In the fight for a more ethical gem and metal supply, the news isn't always good. The year 2013 was no different. Blood diamonds and conflict gold remained serious problems. Labor and environmental conditions at many mines remained terrible. And yet, in 2013 there were plenty of stories to cheer about, as well. Here are 13 of the biggest ethical jewelry stories of 2013, starting with the most somber ones and moving toward the positive:
#1: War Comes to the Central African Republic
The Central African Republic, home to an estimated 100,000 diamond miners, was plunged into violence in March, when rebels overthrew the dictator Francois Bozizé. Sectarian violence has since escalated, with militants recently massacring about 1,000 people in two days. Conflicts over diamonds and other natural resources are a factor in the violence—but don't count on a ban on the country's diamond exports to stop the fighting.
#2: Mine Collapses Kill Hundreds
This past spring, we heard news of catastrophic gold mine collapses in countries including the Central African Republic, Sudan, the Democratic Republic of Congo, and Ghana. The worst of these accidents, the one in Sudan, left 100 people dead. With gold prices still high, artisanal and small-scale miners seem to be taking enormous risks to earn a living.
#3: Mugabe Reelected Despite Diamond Crimes
President Robert Mugabe, the Zimbabwean dictator, was reelected in July despite years of mismanaging his country's diamond trade. In his last term, Mugabe and his cronies stole more than more than $2 billion in diamonds and committed atrocities in the country's diamond fields. Although many observers believe that the vote was rigged, the European Union decided after the election to lift sanctions on Zimbabwean diamonds.
#4: Jewelry Certification Schemes Stay Flimsy
The Kimberley Process, the international diamond certification scheme, remained weak and flawed this year, failing to revamp its mission to meet modern challenges. The jewelry industry's own attempt at a certification system, the Responsible Jewellery Council, doesn't do a very good job either, according to an analysis released in May. Will an effective jewelry certification system ever be created?
#5: Human Rights Groups Highlight Forced and Child Labor
Labor abuses in Africa's gold mines got noticeable attention from media and human rights groups this year. An Australian group called the Walk Free Foundation issued a report noting that 450,000 people in the Democratic Republic of Congo, mostly miners, are trapped in "modern slavery." PBS did a story on the one million children who labor in Africa's gold mines. Human Rights Watch reported on child labor in gold mining in Mali and Tanzania.
#6: Diamond Thieves Pull Off Big Heists
Thieves pulled off spectacular diamond heists this year: one at a Brussels airport and another, possibly the work of the Pink Panther gang, in southern France. The fact that diamond heists happen at all shows that a black market for illicit diamonds still thrives. These thefts also reveal a paradox: the diamond industry is outraged when diamonds are stolen in Europe, but it seems to care much less when a dictator like Mugabe steals diamonds from his own people.
#7: Nelson Mandela Passes Away
When Mandela died on December 5 at age 95, the world stopped for several days to celebrate, as well as examine, his life and legacy. Mandela didn't have the best record on blood diamonds; rather than support the campaign against blood diamonds, he was openly skeptical of it. But Mandela did demonstrate through his leadership that peace, reconciliation, and prosperity are possible in even the most divided nations.
#8: Obama Administration Fights Elephant Poaching
An epidemic of elephant poaching has been sweeping Africa. To get out the message that ivory should not be considered an item of value, the Obama administration in November publicly crushed the entire U.S. stockpile of confiscated ivory. Six tons of illegal ivory were fed through a rock crushing machine at a wildlife refuge near Denver. If only the diamond and gold mining industries could show that kind of determination against blood diamonds and conflict gold.
#9: Local rights activists fight back in Zimbabwe and Angola
Human rights activists in Africa inspired us this year with their courage and resourcefulness. Farai Maguwu, whom Zimbabwean authorities briefly imprisoned in 2010, worked to document continued violence in Zimbabwe's diamond fields as well as the mistreatment of displaced individuals. In Angola, the journalist Rafael Marques is fighting corruption and torture in Angola's diamond fields. Although Angola's ruling generals have fought back by accusing him of libel and temporarily throwing him in jail, Marques continues his work.
#10: Communities Resist New Gold Mines
While some communities have turned to gold mining as a way of developing their economies, many others are saying no. A few times this year, communities decided that gold mining, which can cause environmental devastation, just wasn't worth the risk. People in Romania, Costa Rica, and Alaska all successfully fought back against efforts to establish gold mines in their communities. We applaud these efforts!
#11: Gold Prices Start to Drop
Gold prices have steadily climbed in the past 12 years. This year, however, gold prices fell 28 percent to about $1200 per ounce. Analysts predict a further drop to $1000 per ounce by the end of 2014. The drop in gold prices will benefit jewelry consumers. It also means that there will likely be less gold mining in 2014, which will be good for the environment.
#12: Congolese War Could Be Ending
The Congolese civil war, which is being fueled by mining for gold and other metals, may finally be coming to a close. In March, the warlord Bosco Ntaganda unexpectedly surrendered himself to the International Criminal Court. Then in November, the rebel group he once led—the largest rebel group in the country—decided to lay down its arms. Could this truly be the end of the world's deadliest war since World War II? It's too soon to say, but we can hope.
#13: Brilliant Earth Continues Leadership Role
At Brilliant Earth, we continued to take a leadership role in the jewelry industry. This fall, we became one of the first U.S. jewelers to offer gold certified under the Fairmined label. Through our non-profit fund, we supported a path-breaking development diamond program. Our Facebook community kept growing, surpassing 500,000 likes in December. And we were proud of our co-founder, Eric Grossberg, when JCK Magazine named him of the Top 20 people in the jewelry industry under age 40!
Final Thoughts
So what to make of 2013 in the campaign against abuses in gem and metals mining? If there is any pattern, perhaps it's that people continue to press for an end to violence, labor abuses, and environmental devastation, despite seemingly insurmountable odds. What do you think?