The engagement ring styles that qualify as "most popular" always vary by year, by location, and by the type of person ring shopping. With so many gorgeous and distinctive rings available today it's impossible to crown any one style most popular, but we can share some themes we're seeing in which rings are especially sought after. Whether you're the type of person who likes to be "on trend" or more the sort who avoids popular things and seeks a truly unique look, you'll want to learn about the latest popular engagement rings before you go ring shopping. Here are some of the ring designs and features that are most in demand right now:
Wispy, Nature-Inspired Designs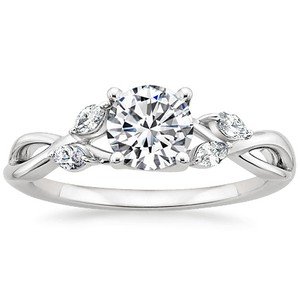 Delicate, curving settings that evoke the lines of nature are among the most popular styles right now, a trend that we predict will continue. Although often embellished with diamond accents to create magnificent shimmer, these designs are a bit understated compared to some styles. The Willow Ring and the Chamise Ring are two top-selling examples of this trend.
Vintage-Inspired Effects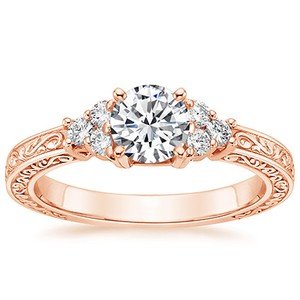 Style details that evoke vintage and antique rings are also especially popular. Rose gold, milgrain detailing, hand engraving, and designs drawn from specific eras of the past feel fresh and exciting to today's couples. Our Belle Epoque Collection features rings inspired by the aesthetic that reined at the turn of the 20th century, and the Windsor Collection celebrates the exuberant glamour of the mid-century Retro era. Our Delicate Antique Scroll Ring and the Adorned Trio Ring are two vintage-inspired designs that are especially sought after.
Colorful Gemstones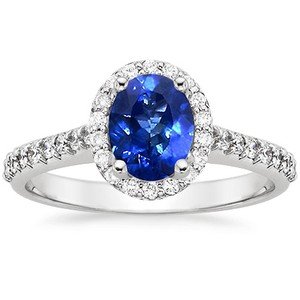 Lately, lots of celebrities have been wearing engagement rings featuring fancy colored diamonds and vibrant green emeralds, and less famous women are loving colored gemstone rings as well. Brilliant Earth offers sapphires in deep blue, glamorous yellow, and romantic pink, fancy yellow lab-grown diamonds, and a Unique Colored Gemstone collection featuring ethically sourced fine gems in just about every color of the rainbow.  If you seek an ethically sourced gemstone in a specific color, just contact us and we would be happy to source one for you.
Timelessly Chic Antiques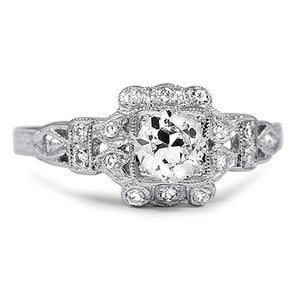 Many of today's couples are falling for engagement rings that are fifty or even more than one hundred years old. Couples love the unique, handcrafted style of antique rings, and the sense of history and romance that these pieces possess. Brilliant Earth offers a stunning array of antique and vintage rings and demand for these one-of-a-kind treasures continues to grow.
Popular Engagement Rings of the Past
People have been exchanging rings as symbols of commitment since ancient times, and the first instance of a diamond ring being given as a betrothal gift is said to have occurred in 1477 when Austria's Archduke Maximillian gave Mary of Burgundy a gold ring with her initial M spelled out in diamonds. Diamond engagement rings came to prominence in the 20th century, first in lacy and feminine Edwardian designs, then in the geometric, modernist styles of the Art Deco years, followed by the glamorous and dazzling diamond rings of the Retro era.
Final Thoughts
What do you think of today's popular engagement ring trends?  Do you love them, or would your prefer a less in-demand look for your ring?  Let us know on Facebook or Twitter, or in the comments section!