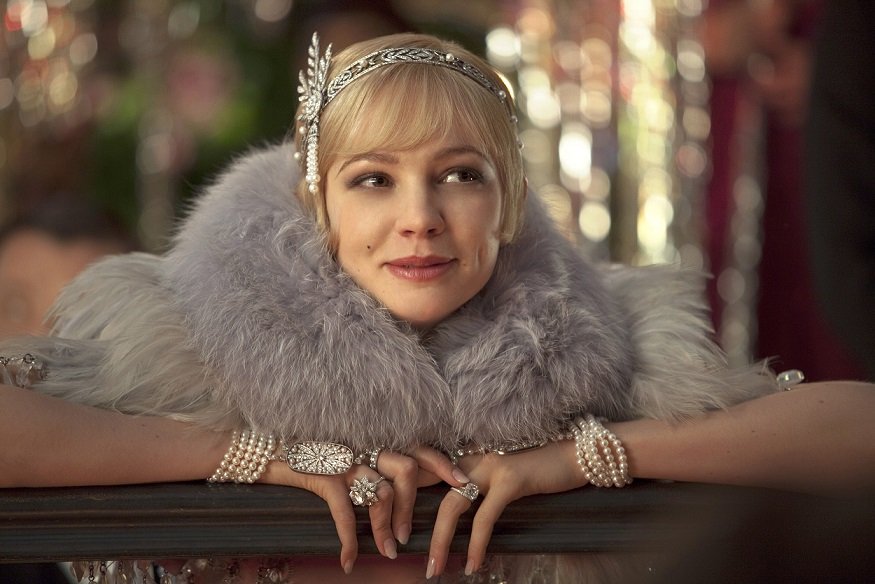 In honor of the upcoming The Great Gatsby movie premiere, we are shining the spotlight on the stunning jewelry of the Roaring Twenties. This exciting decade was a whirlwind of fashion, social change, and economic prosperity. Prohibition in the twenties only heightened the urge to cast aside Victorian restraints and embrace daring, luxurious styles! During this time women gained the right to vote, talking movies were released, and jazz music blossomed. Despite its abrupt end with the stock market crash of 1929, the culture of the 1920s still burns bright in our imaginations (and now on the big screen)!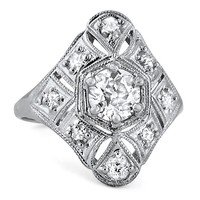 Art Deco Style
Art Deco is a design style that became very popular in the twenties when luxury and modernism were en vogue. Whereas the previous era of Art Nouveau style featured curving lines and soft colors, Art Deco engagement rings were bold, bright, and extravagant. Patricia Bayer, author of Art Deco Architecture, described the movement as, "an architecture of ornament, geometry, energy, retrospection, optimism, color, texture, light, and at times even symbolism."  The unique style of this era can be seen in its architecture, interior design, art, cars, fashion, and more, much of which will be brought to life in The Great Gatsby!

Art Deco Jewelry
Bold, Geometric Shapes
Art Deco engagement rings often showcase prominent geometric shapes. Individual circles, squares, rectangles, triangles, and a range of other shapes interact to form beautiful, elaborate designs. Round diamonds within square milgrain frames were especially beloved, and you will often notice beautiful patterns and symmetry within Art Deco rings.
Larger Than Life
As you can see in The Great Gatsby, the twenties were all about luxury and grandiose style. Even the sky-high, dramatic Empire State Building is an example of 1920s Art Deco architecture, and jewelry design went the same route! Today we continue to be stunned by these grand, sparkling works of art. Whether they feature glittering rubies encrusted with gems or a jaw-dropping solitaire, these rings are sure to turn heads. In 1919, innovative diamond cutters discovered the round brilliant cut, maximizing the brilliance of the diamond. This cut remains extremely popular today.
Streamlined Style
The stunning geometric elements of Art Deco engagement rings make them appear bolder than its predecessors. Jewelry crafters abandoned the delicate, lacy details of the Edwardian era and the curving, pastel elements of Art Nouveau. Art Deco stood out as a daring style that employed sharp edges and bold structural elements. You will occasionally see rings from the 1920s that are decorated with filigree, but it is usually applied in wide, straight strands, adding to the linear style.
Bright Colors
Women began expressing themselves through fashion in the Roaring Twenties. The iconic flappers were known for their scandalous (i.e. knee length) sheath dresses and their chic bob haircuts. Women also began wearing makeup, primarily adding color to their cheeks and lips. This infusion of color made its way into sparkling evening gowns, headpieces, and, of course, jewelry. Art Deco engagement rings feature  brilliant rubies, emeralds, sapphires, coral, aquamarines, and more.  These colorful rings tend to be big, bright, and intricate. For those of you who have been following the previews for The Great Gatsby, you'll notice that Gatsby's lavish parties are full of life and bright colors.
Final Thoughts
The Great Gatsby is sure to dazzle you with the sights and sounds of the Roaring Twenties. Soak in the onscreen Art Deco wonders, and know that you can own your very own piece of history! Brilliant Earth offer stunning antique jewelry from a range of decades, including the 1920s. Take a look at our antique Art Deco engagement rings collection to find your dream Gatsby style!