This year for Valentine's Day, we've chosen 10 items from our collection to help guide your shopping. But as we whittled down this list, we couldn't help but be driven into a passionate state ourselves. We admit it. We're in love with our own jewelry!
Have a look and we think you'll fall for it too. Each piece is impeccably crafted, and all of our jewelry is produced in a socially and environmentally responsible way—which makes it so much easier to adore. In fact, for each piece of jewelry described below, we were inspired to provide a poetic quotation that expresses our loving feelings. (Hint: for the boldly romantic, these lines also make wonderful odes to the actual recipients of the jewelry!)
1.) Silver in the Stars Pendant – This stunning brushed recycled sterling silver pendant depicts a constellation of "stars" arranged according to the zodiac sign of your choice.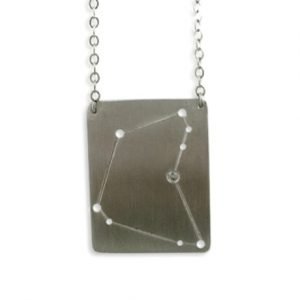 Quotation: "You are my sun, my moon, my starlit sky. Without you I dwell in darkness." – Quote from the movie Willow.
2.) Silver Charm Pendant – These beautiful pendants come styled with an icon of your choosing, offering something for every personality. Made from recycled sterling silver or 18K yellow gold.




Quotation: "You got my heart you got my soul / You got the silver you got the gold." – The Rolling Stones
3.) Silver Leaf Pendant – This sterling silver leaf shaped pendant sparkles with a green tourmaline. The pendant is gracefully suspended from a delicate sterling silver cable chain.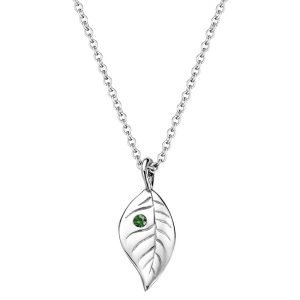 Quotation: "I love you as the plant that never blooms / but carries in itself the light of hidden flowers." – Pablo Neruda.
4.) Silver Heart Pendant with Conflict Free Diamond – This sterling silver heart shaped pendant sparkles with a conflict free round diamond.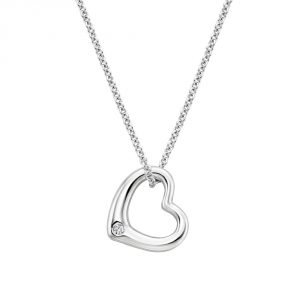 Quotation: "For it was not into my ear you whispered, but into my heart. It was not my lips you kissed, but my soul." – Judy Garland
5.) 18K White Gold Tahitian Pearl Stud Earrings –  A pair of beautifully-matched Tahitian cultured pearls mounted on classic push back posts. These organic gemstones shimmer with a spectrum of iridescent overtones.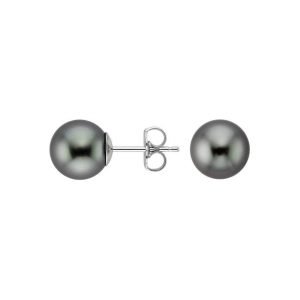 Quotation: "When the mountains crumble to the sea / There will still be you and me." – Led Zeppelin
6.) 18K White Gold Round Diamond Stud Earrings – A beautifully matched pair of Canadian round brilliant diamonds secured in classic basket settings with screw-back posts for pierced ears. Each diamond weighs roughly 1/4 carats, for a total diamond weight of 1/2 carats.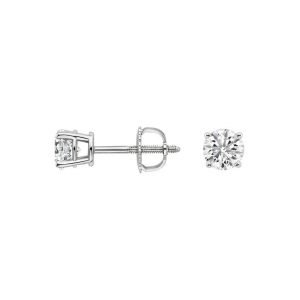 Quotation: "You go to my head / And you linger like a haunting refrain / And I find you spinning 'round in my brain / Like a bubble in a glass of champagne." – Louis Armstrong
7.) 18K White Gold Tiara Diamond and Sapphire Stud Earrings – These stunning earrings achieve a romantic, antique look. The settings are studded with sapphires and alternating round and marquise-shaped diamonds and sapphire settings.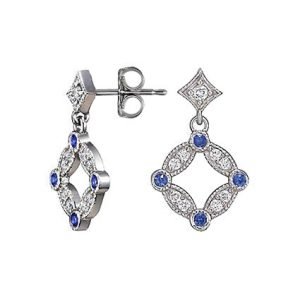 Quotation: "When I'm feeling blue, all I have to do / Is take a look at you, then I'm not so blue." – Phil Collins
8.) The Nakia Ring – This exquisite estate ring features graduated geometric tiers of illusion-set single cut diamonds surrounding a center European cut diamond.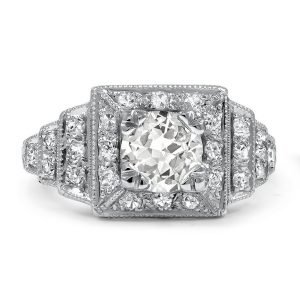 Quotation: "With you beside me / No wind in winter would blow / With you beside me / A rose would bloom in the snow." – Nina Simone
9.) 18K White Gold Flora Ring – This exquisite ring features an intricately detailed center vine of pavé diamond accents and milgrain detail scrolling between two brilliant diamond bands. Sparkling diamond accented leaves and buds add a touch of natural beauty.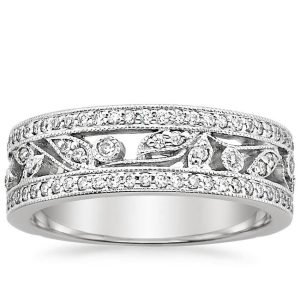 Quotation: "I see your face in every flower / Your eyes in stars above / It's just the thought of you / The very thought of you / My love." – Nat King Cole
10.) 18K White Gold Sapphire Victorian Halo Ring – This romantic setting encircles the center sapphire with an octagonal diamond accented border. The pavé-set diamond accents and milgrain detailing give this ring a vintage feel. The center gem is elevated away from the band, allowing a wedding band to be tucked underneath.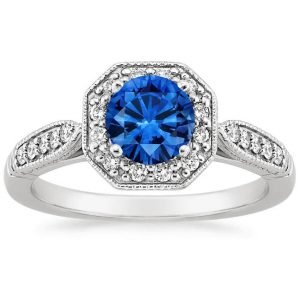 Quotation: "I love thee, I love but thee / With a love that shall not die / Till the sun grows cold / And the stars grow old." – William Shakespeare