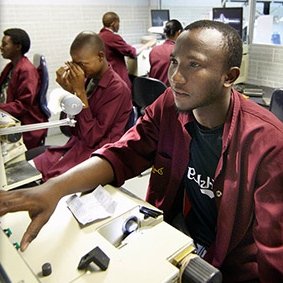 Our social mission at Brilliant Earth is partly about stopping abuses tied to jewelry. We're against the violence that plagues diamond and gold mining. We're against dangerous working conditions and child labor. We're against environmental destruction. But our social mission also has a positive, constructive side. Through our non-profit fund, we invest in communities historically harmed by the jewelry trade. We believe that mining for precious metals and gems, if conducted ethically, could become a vital tool for international development.
This month, the United States celebrates the 50th anniversary of the War on Poverty. Fifty years ago in his State of the Union address, President Lyndon B. Johnson declared "unconditional war on poverty in America." The anniversary has gotten both political parties talking about poverty—about what has and hasn't worked and what might work going forward. Johnson's War on Poverty was focused on poverty in the United States. Still, we thought this would be a great chance to talk about what Brilliant Earth is doing to help fight poverty abroad.
But then the political discussion took an interesting turn. Right-leaning politicians and experts have been promoting a solution to poverty that, as a jeweler offering wedding and engagement rings, we couldn't help but notice: marriage. In a speech last week, Florida Senator Marco Rubio called marriage the greatest tool to lift children and families from poverty." The political pundit Kathleen Parker wrote a column on Tuesday called, "To defeat poverty, look to marriage."
Conservatives and liberals don't all agree on this issue. Conservatives argue that when there are two working adults living together, household income goes up. Families become less vulnerable to economic shocks. Liberals argue that the benefits of marriage as an anti-poverty tool are being oversold. They point out that it often isn't advantageous for low-income women to get married. Many men from disadvantaged communities don't have good jobs. Single moms can end up in worse shape financially by marrying struggling men.
This is a complicated question, so we'll just leave it to readers to think about and study.  But we will make two points. First, we agree that there's something special about marriage and that society ought to value it. But part of valuing marriage is enabling couples to marry. That's why we support marriage equality.
Second, there are ways to reduce poverty that most people probably can agree on. And this brings us back to what we'd originally planned to write about today: our efforts to help fight poverty abroad, and the beliefs that guide us in those efforts.
One of those beliefs is in the power of education. Every child has the right to a quality education, and everyone should have opportunities to learn new job skills. Along these lines, we've funded schooling to ensure that young children don't work in diamond mines and gemology training to help workers build new skills. More recently, we've supported the Diamond Empowerment Fund, which provides scholarships for youths in diamond-producing African countries.
Perhaps the best anti-poverty strategy is to create well-paying jobs. For diamond diggers in developing countries, the problem is often that they don't get a fair price for their diamonds. To help solve this problem, we've supported community centers where diamond diggers can join together and negotiate fair prices. Another way to raise miner pay is to connect them directly with jewelry consumers, cutting out the middlemen and giving miners a greater share of the profits. To this end, we've supported a development diamond pilot program aimed at creating a fair trade-like certification standard for diamonds. In addition, we were one of the first U.S. jewelers to offer Fairmined gold jewelry, which ensures that responsible artisanal gold miners receive fair value for their gold.
We also believe in the importance of government institutions able to maintain order and create decent working environments. In Africa, some miners never get a chance to escape poverty because they live in war zones. Even when wars stop, governments are often corrupt or lack the capacity to enforce basic labor and environmental standards. To help Sierra Leone rebuild from its diamond-fueled civil war, we've supported medical care for amputees and a program to restore lands devastated by reckless diamond mining. To encourage better regulation of Zimbabwe's diamond industry, we've funded a group monitoring human rights abuses in the country's diamond fields.  And to help build stronger government institutions in diamond-producing countries, we've supported a program that trains government officials in the art of effective, humane regulation.
There will always be disagreement about the best anti-poverty strategies, whether in foreign countries or in the United States. The debate about marriage is just one example. But in our own work abroad, we are guided by a belief in education, well-paying jobs, and effective government institutions.
What do you think works against poverty? What kinds of programs would you like to see Brilliant Earth fund?