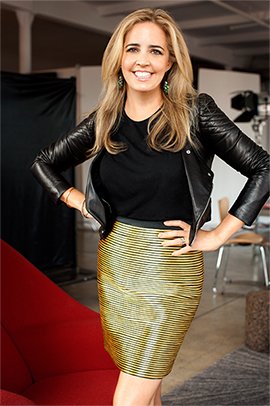 This month we're excited to unveil a special Brilliant Earth collection of vintage jewelry curated by celebrity stylist Michelle McCool. A fashion industry veteran who has held Fashion Director and Editor roles at Cosmopolitan, Glamour, Elle, and Allure, Michelle has styled celebrities including Adele, Jessica Alba, Taylor Swift, and Lady Gaga, to name just a few.
We sat down with Michelle to learn why she's so passionate about vintage jewelry, and to score her stylist advice on how to incorporate favorite pieces from earlier eras into your wardrobe.
Why do you love vintage jewelry?
I love the quality, the integrity of design, and how unique it is. That's what sets it apart from much of modern manufactured jewelry. Plus you can't replace the lovely, slightly worn-in patina that you find on some vintage jewelry pieces. It's so beautiful and it can't be manufactured.
How did you learn about vintage jewelry?
Early on I was the accessories director for Allure magazine and I really got an education while I picked the jewelry for the shoots. I've also learned a lot simply by shopping and exposing myself to it—I've been collecting vintage jewelry since my teens, and always look for it in markets when I travel. I've found favorite pieces at San Telmo in Argentina, on Portobello Road in London, and in Prague, where you can find gorgeous, special items from the late 20s and early 30s.
Do you have a favorite antique design era?
I can't choose just one! I love Edwardian pieces, and I have an Edwardian engagement ring, but I also love the clean lines of Art Deco jewelry and the glamorous style of the 1940s and mid-century.
Tell us about your Edwardian engagement ring.
It's a cushion cut diamond with French cut diamonds on the band. I told my now-husband that I wanted a vintage ring because I craved something unique. At the time it felt like everybody I knew was getting engaged and a lot of the rings looked the same. I wanted something that nobody else would have. I also received a vintage ring as a baby gift—it's a Buccellati gold band with an ornamental leaf design.
Do you have any tips on choosing the right ring for your finger shape?
When you have a long thin finger, a rectangular or square shape is usually a better choice—a somewhat elongated gemstone will fill more of the space between your knuckles. But if you have shorter or thicker fingers then round cut gemstones or chunkier band rings will be more flattering.
What's your style advice on how to wear vintage jewelry?
I think it looks best to wear vintage jewelry with new jewelry, it's more modern and stylish to mix them together. And no matter the occasion, you always want to wear an item that's sort of a conversation piece, whether it's your grandmother's charm bracelet, a unique vintage necklace, or a cocktail ring. A vintage piece can make all the difference to an outfit, it's that unique element that creates a well-dressed look.
How do you use vintage jewelry when you are styling photo shoots or celebrities?
I look for vintage pieces that will really bring an outfit to life and add the right dimension to it. Sometimes the clothing doesn't really speak for itself until I add a vintage ring, or link bracelet, or a pendant necklace. When I'm styling I don't like to see a naked earlobe or wrist, or a hand with no rings on it—I like adornment!
What's your best advice on shopping for vintage jewelry?
Of course it's fun to comb little boutiques around the world until you find the perfect piece, but that's not very practical. That's why the curated Brilliant Earth Vintage Collection is so amazing—all the pieces have been selected for quality and beauty, and you can shop from wherever you are, any time of day!

Tell Us What You Think
Browse Michelle's curated vintage collection then let us know what you think! Which of Michelle's picks is your favorite?  We'd love to hear from you on Facebook or Twitter, or in the comments section!