Square engagement rings—those featuring square shaped diamonds at the center—have soared in popularity in recent years. If you are drawn to square engagement rings, know that there are many beautiful options for both center gems and setting styles, and we invite you to explore them all when choosing your dazzling, distinctive ring.
Square Shaped Diamonds
Round diamonds are the most popular choice for engagement rings—about 60 percent feature a round diamond. But square shapes are the second most popular choice, and are perfect for the couple who wants something a little bit different but still classic and utterly timeless. If that describes you, you should know that the term "square" encompasses a variety of diamond cuts, each gorgeous in its own unique way. Dreaming of a square engagement ring? Read on to learn about the array of exquisite square shaped diamonds you have to choose from.


Princess Cut Diamonds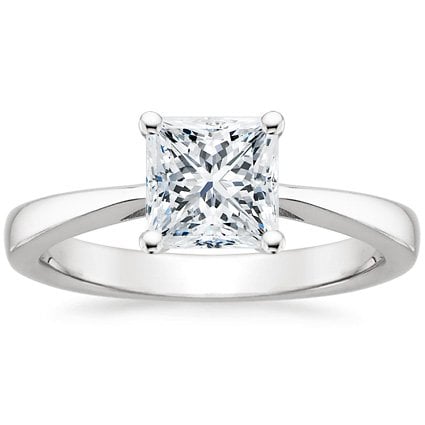 If you love the sparkle and fire of round brilliant diamonds but are drawn to square shapes, a princess cut diamond is an ideal choice. The cut of these diamonds is very similar to that of the round brilliant, but with extra faceting and pointed corners for a perfectly square, contemporary look. Princess cut diamonds are the most popular square shaped diamonds, and the second most popular diamond shape after round brilliant diamonds.
Recommended Settings: While it's hard to go wrong when selecting a setting for a princess cut diamond, they look especially stunning in classic solitaire settings or juxtaposed with round brilliant accent diamonds for added sparkle.  Their angular, contemporary beauty and clean lines are also an ideal match for geometric settings or three-stone settings. Browse princess cut engagement rings.
Cushion Cut Diamonds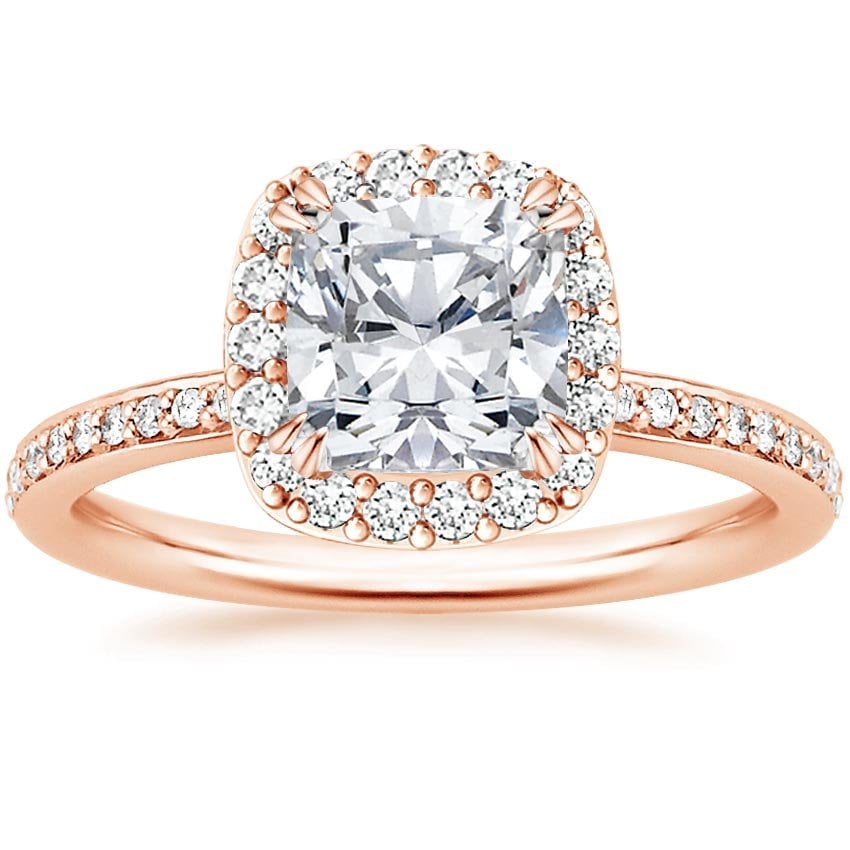 Cushion cut diamonds have some characteristics of a round brilliant diamond, some of an oval diamond, and some of a princess cut diamond. With rounded corners that lend softness, cushion cut diamonds bring a romantic look to a square or rectangular shape, making them an ideal choice for women who love vintage style. While the antique forms of cushion cut diamonds had large facets and a subtle sparkle similar to that of old mine cut diamonds, modern cutting techniques make today's cushion cut diamonds more brilliant than ever.
Recommended Settings: Cushion cut diamonds look especially alluring in halo or vintage-inspired settings and also look beautiful set in delicate pavé diamond bands. Browse cushion cut engagement rings.


Asscher Cut Diamonds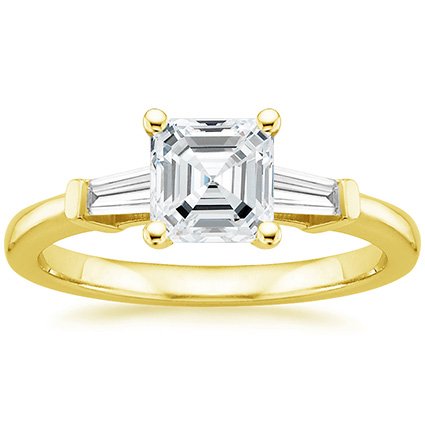 Asscher cut diamonds are sometimes called "square emerald cuts" because they have the same facets and elegant shimmer of rectangular emerald cut diamonds, but in a square shape. Asscher diamonds are classic and supremely elegant, and although they are more widely seen in rectangular proportions, these square emerald cut diamonds have a rich history, making them a both fresh and timeless choice for your engagement ring. Emerald and asscher cut diamonds both feature "step cuts" of broad, flat facets, offering a look that shimmers and dances gracefully with light, for an effect that is less sparkling than some cuts but is incredibly sophisticated.
Recommended Settings: Asscher cut diamonds look sleek and modern in solitaire settings that show off their distinctive shape, but are also beloved by admirers of more ornate vintage designs. Their unique shape and transparent look perfectly matches with an antique inspired feel. For a look that embraces contrast beautifully, select a setting with round brilliant accent diamonds in a shared prong band. Browse asscher cut engagement rings.


Radiant Cut Diamonds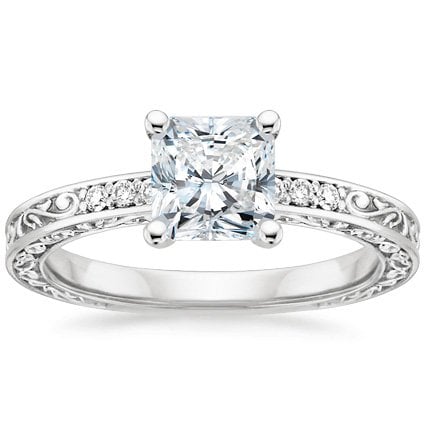 Radiant cut diamonds combine the brilliance of a round brilliant diamond with trimmed corners, for a slightly less geometric look than that of princess  cut diamonds. In this way, radiant cut diamonds unite the sparkle in faceting that comes from modern cutting techniques and the elegance of a step cut diamond.
Recommended Settings: With the soft sensibility created by their trimmed corners, radiant cut diamonds look magnificent in vintage-inspired, micropavé settings. Their intense brilliance is also well suited for glamorous engagement rings.  Because of their unique attributes radiant cut diamonds are work well with accents in any shape and style (such as micropavé, shared prong, or channel set). Browse radiant cut engagement rings.
Shopping for a Square Diamond
Due to the laws of supply and demand, square shaped center diamonds typically offer a greater value than round brilliant cut center diamonds. Selecting a square engagement ring of any type may allow for a larger diamond within your budget.
We recommend that you learn about diamonds before launching your engagement ring search, and bear in mind that, depending upon which type of square diamond you select, some quality traits may matter more than others. For example, color and clarity will be more important if you opt for an asscher cut diamond, as the step cut faceting intrinsic to this cut makes both color and internal inclusions more visible to the naked eye. Our jewelry specialists are happy to offer personalized recommendations for particular diamonds.
Square Non-Diamond Engagement Rings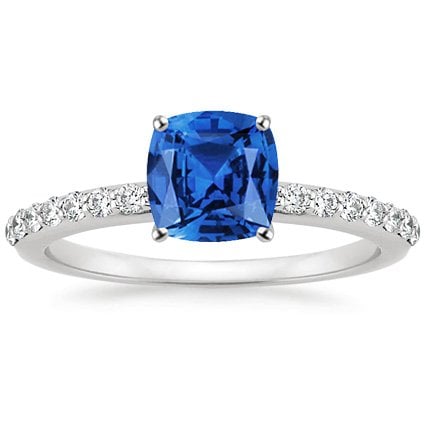 Diamonds aren't the only gemstones that look gorgeous cut into a square shape. You'll find stunning princess, cushion, and radiant shaped sapphires and more in our Unique Colored Gemstone Collection, and we offer deep blue, ethically sourced cushion cut sapphires as a standard option for many of our sapphire engagement ring settings.
Celebrities with Square Engagement Rings
Many of the most stylish celebrities around wear square diamond engagement rings. The massive diamond on the ring given to Jessica Biel by husband Justin Timberlake is a radiant or princess cut, Drew Barrymore wears a radiant cut ring, and Kelly Clarkson's engagement ring features a square fancy yellow diamond. Cushion cut diamonds are especially popular with celebrities, including Ashley Tisdale, Kelly Rowland, Kaley Cuoco, Jennifer Garner, and John Legend's bride Chrissy Teigen.
Vintage Square Engagement Rings
Vintage engagement rings featuring square gemstones are relatively rare, though you can find cushion cut and asscher cut diamonds from earlier eras. The asscher cut was invented in 1902, and you'll find early versions of the cushion cut in Victorian and Edwardian rings.  The sharp-cornered princess cut wasn't perfected until the 1970s, but you'll often see a precursor of it—the less sparkling French cut—in accent gems on vintage rings.
Final Thoughts on Square Engagement Rings
Love square engagement rings and want additional guidance? Don't go it alone. We are dedicated to outstanding customer service and can help you select from our extensive collection of square diamonds and settings.
What is your favorite style of square engagement ring? Let us know on Facebook or Twitter, or in the comments section!